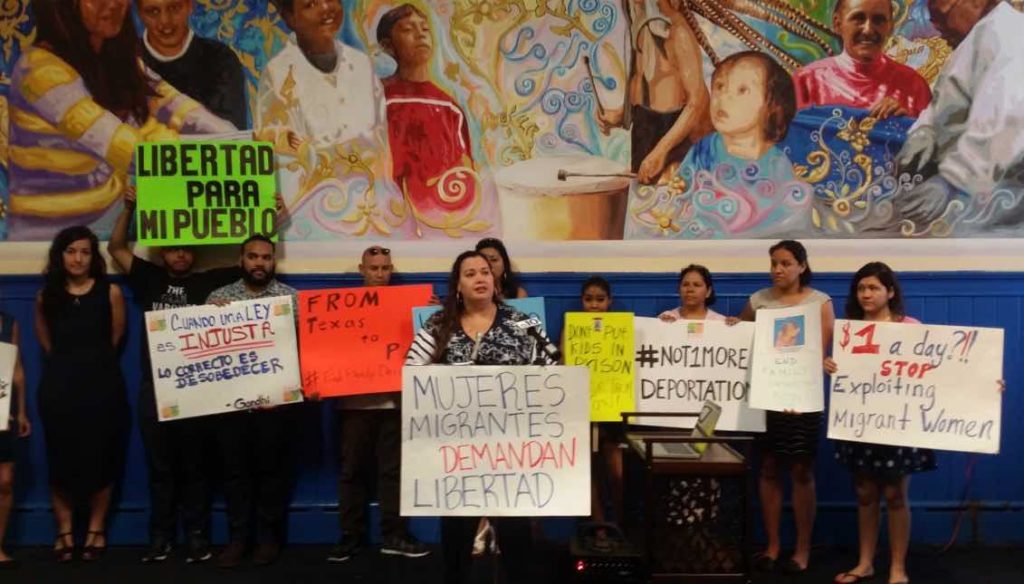 The United States built a special hell for immigrant women and children, Berks Family Detention Center. The only thing "family" about Berks are the lies the State promulgates: "U.S. Immigration and Customs Enforcement ("ICE") established the Berks Family Residential Facility ("Berks") in March 2001. Designed as a non-secure residential facility to accommodate the unique needs of undocumented children and their families, Berks became the first of its kind in the U.S. dedicated to keeping families and children together while undergoing immigration proceedings. Located in Leesport, PA, the eighty-five (85) bed facility that was once a nursing home is nestled in a quiet, small-town community. Berks … provides non-violent, non-criminal families with a variety of supportive services throughout their stay." There is nothing supportive in or about Berks. That's why the mothers of Berks Detention are on work strike. That's why supporters will show up next Saturday, July 11, to demand the State shut it down … now.
While the U.S. immigration policy has swung back and forth between hang-em-high and hang-em-higher, the one constant since 2001 has been Berks Family Detention, and from the beginning it has been criticized for its inhumane treatment and general brutality towards its prison populations, largely women and children. Recently the women of Berks have been turning up the heat.
In April, seventeen mothers held, with their children, in Berks "camp" wrote a letter to ICE, demanding their release. ICE never responded. Cristina and her twelve-year-old son were held at Berks for 14 months: "When I started my journey to the US, all I could think about was keeping my son safe. But after several months locked up, my son didn't even want to eat anymore. He cried all the time and kept telling me he wanted to leave, but he doesn't understand the danger we'd face if we were sent back. He still wakes up shaking with nightmares from the trauma." ICE continued to claim that Berks is top of the line.
On June 10, ten mothers launched a work strike. The women demand to be released and that Berks be shut down. They also demand the "free world" take responsibility for the systematic abuses taking place inside Berks: exploitation, harassment, violence. ICE continues to claim that Berks is top of the line … and perhaps it is, but it's a line that must end today.
On Friday, June 19, at 3 a.m., one of the Mothers of Berks, 34-year-old Ana and her 12-year-old daughter were awakened and sent off to the airport, where they were whisked back to Guatemala. A judge has since ordered that Ana and her daughter be returned to the United States, citing a violation of "due process." When Ana, in Guatemala, heard of the judge's order, she responded, "I just want to come back." Ana and her daughter. fled Guatemala because of partner domestic abuse. Ana and her daughter have already spent over a year in Berks.
The State tries to pass off "family detention centers" as an attempt to preserve the family, but the women and children inside those jails know better. They are prisons designed to punish immigrant women, overwhelmingly women of color, Latinas, indigenous from the Global South, for being women: "The treatment of immigrants … signals, both to immigrant communities, and to the neighbors and other citizens who observe them, that these families can be disrupted at will: children can be separated from their parents, parents can be deprived of their ability to care for or even to discipline their children without findings of inadequacy and without recourse. These families are in fact abjected: expelled from the community symbolically, before they are expelled concretely. They are reduced to beings for whom the quintessentially human imperatives of care and nurturance, and the possibilities of family formation and preservation, seem not to apply."
As one mother inside Berks explained, "When I left the violence of my county, I never thought I would end up in a place like this. It is safer here, yes, but it is just as bad. I'm crying because I just want to leave. I don't know when I will." #ShutDownBerks. Do it now.
(Photo Credit: Al Día)