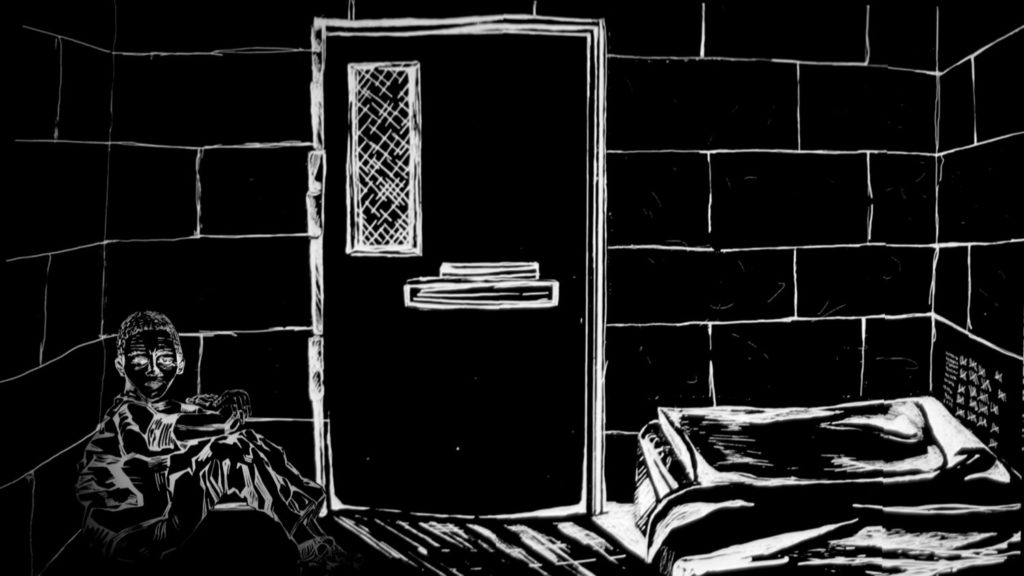 "In a democracy, we do not put children in cages. Period. There is no debating it. Nothing you can say to me will justify putting children in cages."             Patricia Okoumou
Ethan Weinstein, a reporter for the VTDigger, covers southeastern Vermont. Of late, he's had reason to cover the Vermont Department of Corrections. In a recent interview, speaking of the high and rising number of deaths, and particularly suicides, in Vermont's prisons and jails, Weinstein noted, "There's a belief that things are going to be messed up there, that you're not going to be receiving adequate care. And so it has felt like, in order for something to be a story, someone has to die. You know, it's not enough to hear that a person has a concussion, and they can't see a doctor, or a person has been prescribed a medication their whole life and has been refused it once they've been incarcerated. It just seems as though our tolerance for issues within our prisons is so high that it can be hard to get people to care about this." What if that person is a child? Does that matter? Does it matter to you? Recent news reports would suggest the answer is No.
For years, the United States has `struggled' with an epidemic of seclusion rooms and physical restraints in schools. Time and again, one district or another has been forced to `discover' its own alarming propensity for torture of children in the name of schooling. This past week, Alabama put a new twist on an old story by … doing absolutely nothing. Last week, Al.com, Alabama's largest news site, reported that, after six years waiting, the state had still not provided any requested data on school seclusion and restraint incidents. In March 2017, Al.com requested data. Nothing came. In 2020, they tried again, and, again, no response. In June 2022, they tried again, and again received nothing. Public school districts are required to turn over information to the U.S. Department of Education every year. The last year Alabama reported on was 2017 – 2018. As far as Al.com can tell, Alabama's state department doesn't seem to care. The Alabama state department is supposed to collect information from every school district every year. It doesn't, and what it does manage to get doesn't seem to undergo any review.
In 2017 – 2018, Alabama reported nearly 600 incidents of seclusion, of putting a child in a locked room often for hours, and often for days, on end. The use of seclusion rooms in schools was outlawed by the Alabama legislature in 2011, but it's not significant enough to warrant enforcement.
In 2021, an Aboriginal youth, Michael, was `referred' to Cleveland Youth Detention Centre, in Queensland, Australia. Cleveland is almost always described as "troubled." Michael, who lives with intellectual disability, was charged with a violent assault. He spent 744 days in detention, awaiting trial. On Friday, at trial, it was `discovered' that Michael had spent 500 days in solitary confinement, "regularly locked in his cell for more than 20 hours a day." The explanation for this was "staffing issues". Rodney Dillon, a Palawa man and Indigenous rights advocate, has a better explanation, "This system is not about looking after human beings, this is about torture. It's a torture chamber, that's what it is. The effect this will have on this kid's life is irreparable. That kid will be damaged for the rest of his life; that kid will never, ever move on from what's happened. That is the worst thing you can do to any human being, is put them in solitary confinement … We need to change this system, the racism that's in this system, and the hatred."
What exactly are children meant to learn, the ones thrown into solitary, the ones watching their friends go into solitary? Why are we so invested in seclusion and restraint of children, generally, and of children living with disabilities, particularly? What terrible crime have these children committed that entire systems invest so much in maintaining practices that constitute torture?
What terrible crime have these children committed? Must they die to be a story, for us to care? Remember Alan Kurdi, the two-year child who drowned September 2015 and was famously photographed, dead, on the beach? Remember? In England, in 2018, ten-year-old Muhammad Amin entered and won a youth poetry contest. Rather than throwing children into solitary, rather than torturing them, rather than only hearing (of) them when they've died, we should listen to them. Listen to Muhammad Amin listening to Alan Kurdi:
Alan Kurdi
by Muhammad Amin
Alan Kurdi lies on the beach
Like autumn's fallen leaf
Seagulls soar in the sky
Singing a song of grief
His eyes are bright pools
Swimming in the deep
Are forgotten faces full
Of pain, faces that weep
Alan Kurdi doesn't breakfast
No sugar puffs or corn flakes
Snap, crackle and pop. Bombs
Fall like little earthquakes
He has never played nintendo
Nor xbox, truth or dare
Only hide-and-seek with IED's
Landmines and the snipers stare
The water lapping at his feet
His body lies on the sand
Still, silent, frozen, frail
A ragdoll from another land
Alan Kurdi's voice reaches me
"Amin, Amin listen to me
I was put into the sea
Like Moses. Don't you see?"
(By Dan Moshenberg)
(Image Credit: Anna Vignet)