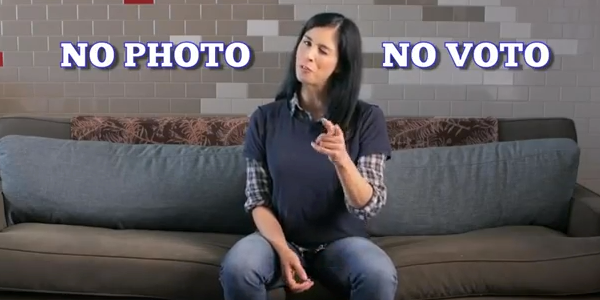 In the United States, 10 states have recently passed so-called voter ID laws, laws that require not only photo IDs but official state-issued photo IDs. The Brennan Center issued a report today, The Challenge of Obtaining Voter Identification. Much of the report confirms what you already knew. The voter ID laws have a disproportionate effect on low- and no-income individuals and communities, on individuals and communities of color, and on rural individuals and populations.
But the voter ID laws go even further than the run-of-the-mill exclusionary practices. They target … married women. Voter ID laws are a poll tax on married women: "More than 1 million eligible voters in these states fall below the federal poverty line and live more than 10 miles from their nearest ID-issuing office open more than two days a week. These voters may be particularly affected by the significant costs of the documentation required to obtain a photo ID. Birth certificates can cost between $8 and $25. Marriage licenses, required            for married women whose birth certificates include a maiden name, can cost between $8 and $20. By comparison, the notorious poll tax — outlawed during the civil rights era — cost $10.64 in current dollars. The result is plain: Voter ID laws will make it harder for hundreds of thousands of poor Americans to vote….
"Married women who have changed their surname face an additional burden: They may need to present a marriage license with their current name to obtain a photo ID. Only 48 percent of voting-age American women who have ready access to their birth certificate have their current name on it. Fees for official copies of            marriage licenses range from $5 to $40. Thus, a married woman            who does not have a certified copy of her birth certificate and marriage license could easily spend $30 to $70 acquiring the documents necessary to obtain a photo ID."
And that is the tip of the iceberg. Passports cost money, birth certificates cost money. The costs for those born without proper birth certificates, for whatever reason, are astronomical. Every aspect of the restrictive voter ID laws addresses and attacks women. Women of color. Low- and no-income women. Rural women. Women who are naturalized citizens. And yes, married women. It's the triumph of patriarchal capitalism.
(Photo Credit: St. Louis Post-Dispatch)