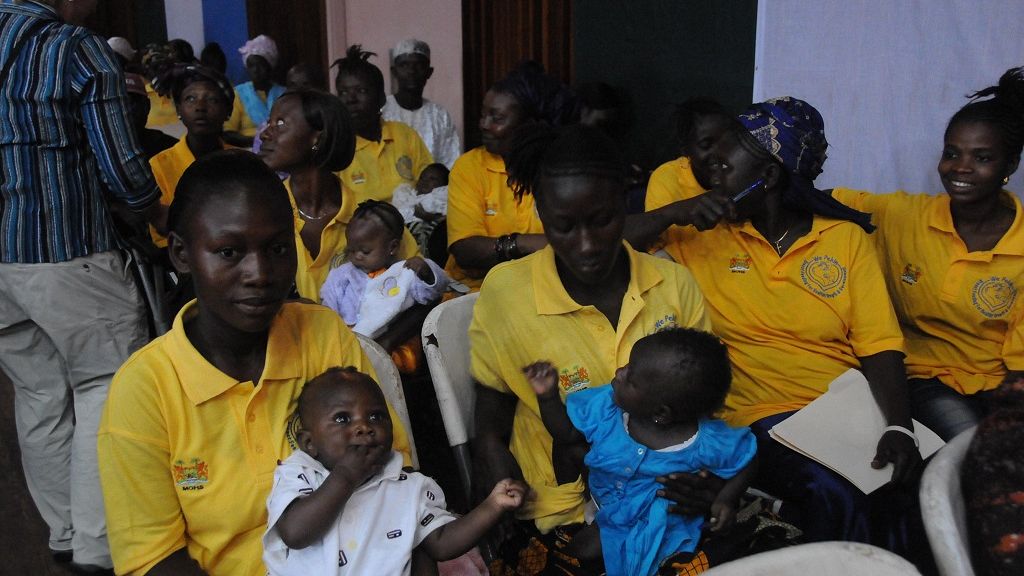 In December and January, separate courts heard and rendered decisions that will expand rights for women and girls in Sierra Leone and South Africa, and beyond. At the same time, this week, a court heard a case, from Ecuador, that could expand rights for girls across Latin America, and beyond. In all three instances, the cases have been described as landmark cases, cases that serve as a guide and mark a turning point in women's and girls' history, and thus in the history of the world. In all three instances, the claim for justice for women and for girls emerged from the persistence of women and girls, pushing, organizing, demanding justice.
In 2015, the government of Sierra Leone issued a ban on "visibly" pregnant girls attending mainstream schools. Once their pregnancy was "visible", the girls were to attend an "alternative" school in which only four subjects were taught, and which met only three days a week. Additionally, all the girls were placed in a single classroom, with no attention to age or academic level. Finally, the girls were prohibited from sitting for exams.
In 2018, a Sierra Leonean NGO, Women Against Violence and Exploitation, WAVES, filed a case, on behalf of pregnant adolescent schoolgirls, before the ECOWAS Community Court of Justice. WAVES was represented by Equality Now and the Institute for Human Rights and Development in Africa, IHRDA. In June 2019, Amnesty International was allowed to join the case, as an amicus curiae, to provide further international context.
The ECOWAS Court ruled "that the ban is discriminatory and impacts negatively on the actualisation of the right to education of the pregnant girls, similarly the establishment of separate school for the pregnant adolescent girls with four (4) taught subjects operating three (3) days a week not being at par with the main stream schools thus providing lesser quality of education is equally discriminatory and a violation of the right to education." The Court further enjoined Sierra Leone to "immediately revoke the prohibitive policy; abolish the separate school established for the pregnant girls and absorb the said girls in the main stream schools; develop strategies, programmes and nation-wide campaigns that will remove the negative societal attitudes that support the discrimination and bias against pregnant girls attending schools; and integrate sexual and reproductive health education into school curricula to minimise the high rates of teenage pregnancy."
Judy Gitau, of Equality Now, exclaimed, "This is a great victory!!! Finally the girls have had their day in court and have emerged victorious. The ECOWAS court has given them their voices back and by that a chance at life again." Marta Colomer, of Amnesty International, added, "Today's ruling is a landmark moment for the thousands of girls who have been excluded from school, and whose right to access education without discrimination has been violated for the past four years because of this inherently discriminatory ban. It is also a glimmer of hope for all those girls who if pregnant in the future will not be punished by being forced to leave school and not being able to sit exams. This also delivers a clear message to other African governments who have similar bans, such as Tanzania and Equatorial Guinea, or may be contemplating them, that they should follow this ground-breaking ruling and take steps to allow pregnant girls access to education in line with their own human rights obligations."
Hannah Yambasu, WAVES Executive Director, added, "This victory belongs to the girls in Sierra Leone who have been degraded and dehumanised because of their status since 2014. Now our government in Sierra Leone has no option but to comply with their obligations as declared by the court." Sabrinah Mahtani, who had originally reported on the impact of the ban, agreed, "The vast majority of girls we interviewed had become pregnant during the 2014-15 Ebola outbreak when there was an increase in teenage pregnancy, accompanied by a spike in sexual violence. The negative economic impact of the crisis led to an increase in exploitative and abusive relationships. Many girls had little information about sex education or access to contraceptives. I was struck by the bravery of the girls and their determination to access education despite the obstacles. Some said they tied their stomachs so teachers could not tell they were pregnant, a risky strategy for their health. Others said they were prepared to face any stigma in order to continue in school and obtain a qualification, something that becomes more challenging for many girls after giving birth due to the lack of child care support."
Patience, who was 17 years old when she was forced out of school, reflected on the decision, "I am very happy because I did not have the opportunity to stay in school myself. If I had been able to stay in education, I would be in my last year at uni now, or maybe I would have graduated already. I would have liked to have studied nursing. Instead, my name was taken off the school register and I was offered vocational training. Yet my daughter's father was never banned from school, and he was able to continue to do everything he wanted to do."
Landmarks change the landscape in all directions. This decision concerning school age girls in Sierra Leone has impacts for the entire continent and beyond, and it was brought about thanks to work of women, organizing, militating, pushing, and, equally, the bravery of the girls and their determination to access education and justice despite all obstacles. They know … the struggle continues.
(Photo Credit: AfricaNews)