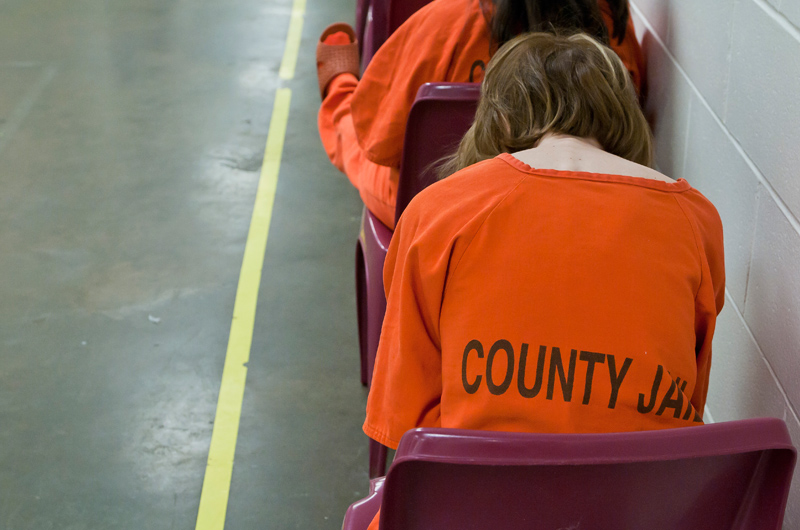 Last Monday, the Disability Rights Network of Pennsylvania filed a lawsuit against Pennsylvania for abuse of prisoners diagnosed as "seriously mentally ill." DRNP claims that over 800 prisoners deemed seriously mentally ill are dumped, for long periods of time, into Restricted Housing Units, basically solitary confinement, where they are kept for 23 hours a day, during the week, and 24 hours a day, during weekends and holidays. No contact with others, no work or education or religious services or rehabilitative programs, and of course little to no mental health care. But the lights are left on in the cells 24 a days. So …
It's a vicious, even criminal, cycle. People deemed seriously mentally ill end up in solitary, which then results in parole denial, which sends them back to the hole. If it weren't so dreadful, it would be considered elegant.
The suit profiles twelve prisoners, 11 men and one woman. The woman prisoner is in SCI-Muncy. Pennsylvania has two women's prisons, Muncy and Cambridge Springs. Muncy is both maximum security and the intake prison for all women prisoners in Pennsylvania. Muncy also houses Pennsylvania's death row for women. Every woman prisoner in Pennsylvania first comes to Muncy, where her `security level' is assigned, based on an assessment of criminal record, medical, mental health, and substance abuse. Lower security prisoners are sent to Cambridge Springs; the rest stay at Muncy. Guess where those with serious mental health issues go?
Muncy has a death row, but it doesn't have a Secure Special Needs Unit, or SSNU. The profile of the one woman prisoner suggests why that matters.
Prisoner #6 is a 39-year-old female prisoner in SCI-Muncy. She has a long history of serious mental illness, including at least one suicide attempt and multiple admissions to state psychiatric hospitals, prior to her incarceration. Prisoner #6 has a "D" stability rating and has been diagnosed with schizoaffective disorder, bipolar type, low normal intelligence (86 I.Q.), and a personality disorder. Prisoner #6 has been charged with disciplinary infractions and sentenced to disciplinary sanction in solitary confinement in the RHU based on behaviors directly attributable to her serious mental illness, such as throwing liquids, covering her cell window with paper, sticking her arms through her cell door food slot, harming herself and demanding to be placed in restraints, and flooding her cell.
"Between May 6, 2001, and January 14, 2012, Prisoner #6 received 115 misconduct reports, mostly occurring in the RHU. Her mental condition has deteriorated in the RHU. Although SCI-Muncy has no SSNU, according to the DOC website, prison records state she has been assigned to the SCI-Muncy "SSNU." However, she has been returned to the RHU as a "time out" from this "virtual" SSNU for weeks or months at a time.
"Prisoner #6 received a negative psychological evaluation for parole purposes in July 2010 because of the behavior described in her numerous misconduct reports, most if not all of which arose from conduct directly attributable to her mental illness. An independent psychiatrist has recommended that Prisoner #6 receive psychosocial rehabilitative treatment, which cannot be provided in an RHU."
The story of Prisoner #6 is in many respects like that of her eleven male counterparts, except for the phantom SSNU. Somehow, Prisoner #6 was sent to a "special needs unit" that doesn't exist. After that, she was returned to solitary. If it weren't so dreadful, it would be ironic.
Women prisoners, even those at maximum-security Muncy, report lower rates of recidivism than male prisoners, but "they are also all women." Women prisoners also report much higher rates of mental health illness, much higher rates of abuse, much higher rates of needing help. Higher than whom? Higher than everyone. Higher than men prisoners. Higher than women in `the free world.' And how does the State respond? It dumps their bodies, for months and years on end, in ferociously well-lit pits where their conditions can only worsen. That is the short and terrible life of Prisoner #6, designed, directed and produced by the State of Pennsylvania. Living with serious mental illness? Welcome to hell.
(Photo credit: SayNoToStigma.com/Menninger Clinic)