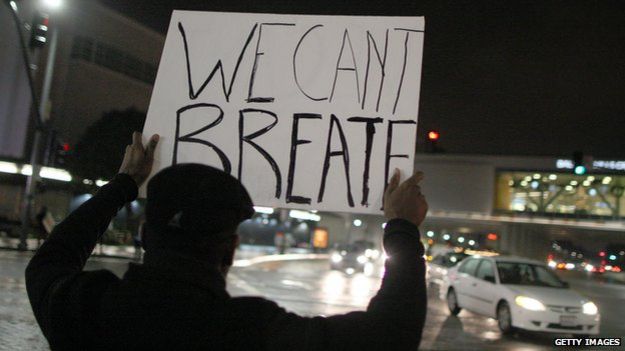 Many murals will emerge bearing the words, "I can't breathe." Maybe one of them will show Charles Jason Toll, Jimmy Mubenga, and Eric Garner, brothers in arms, tender comrades in a war they never declared but which killed them nevertheless. Perhaps another will show Jane Luna, Adrienne Kambana, and Esaw Garner and their combined struggle for justice.
Charles Jason Toll, Jimmy Mubenga, Eric Garner all died, or were killed, by `criminal justice officers.' In each case, according to witnesses, they repeatedly said, "I can't breathe." In all three cases, coroners concluded the death was a homicide. In the cases of Charles Jason Toll and Eric Garner, those charged were acquitted. The trial for those involved in the death of Jimmy Mubenga is going on right now.
2010: Charles Jason Toll was 33, diabetic and living with mental illness. One hot August night, in Riverbend Maximum Security, in Tennessee, where Toll was in solitary confinement, guards rushed into his cell, pushed him to the floor, handcuffed and shackled him. When he repeatedly begged, "I can't breathe", he was told, "You wanted this." A little while later, he died. Toll was in prison for a parole violation. Why was he in solitary? Why did no one in charge know his medical history? Part of Charles Jason Toll's story is the vindictive system in which a slip can send you down a hole from which there is no escape, and for which there is no accountability. Toll's mother, Jane Luna, is suing Tennessee for having killed, and tortured, her son. Jane Luna didn't even know her son was arrested until she received notice of his death.
2010: Jimmy Mubenga had fled Angola and gone to England seeking asylum. According to his wife, Adrienne Makenda Kambana, he was on a government hit list, "They killed my father and they threatened to kill Jimmy. They were looking for him. We had no choice but to leave." On October 12, 2010, having lost his last battle for asylum in the UK, Jimmy Mubenga boarded a plane for Angola. Within 50 minutes on the plane, he was dead.
Witnesses report that the guards, G4S private deportation `escorts', jumped on Mubenga and throttled him to death.  Escort deportation has become big business. This week, in court, witnesses on the plane testified that they could hear Jimmy Mubenga screaming, "You're killing me" and "I can't breathe." Passenger David Brown was sitting 15 rows from Jimmy Mubenga: "I could hear that things were still happening. I could still hear him saying 'I can't breathe, I can't breathe'." Brown said he heard Mubenga scream and, again, cry, "I can't breathe." When Brown spoke to the guards, one responded: "He (Mubenga) is OK, once we take off he will be all right. He is on his way home."
He is on his way home but he is not quite there yet.
In July of this year, Eric Garner repeatedly said, "I can't breathe, I can't breathe," as a police officer ignored and held him in an outlawed chokehold. Garner died, speaking those words. When Eric Garner's widow, Esaw Gardner was asked if she accepted the apology of the man who killed her husband, she replied, "Hell no. The time for remorse for the death of my husband was when he was yelling to breathe."
This is what happens when prisons become zones of abandonment, including abandonment of any rule of law or sense of humanity, and then the streets become extensions of prison. When almost nobody can breathe – Black men, Latinos, Black women, Latinas, Native men, Native women, working people, youth, those living with mental illness, elders, the poor, the homeless, trans women, trans men, lesbians, gay men, those living with HIV, `heavyset people', diabetics, asthmatics, women on the streets `at the wrong time', people with shadows, people without shadows – when almost nobody can breathe, the time for remorse is over. I can't breathe. You're killing me.
(Photo Credit: Getty Images)