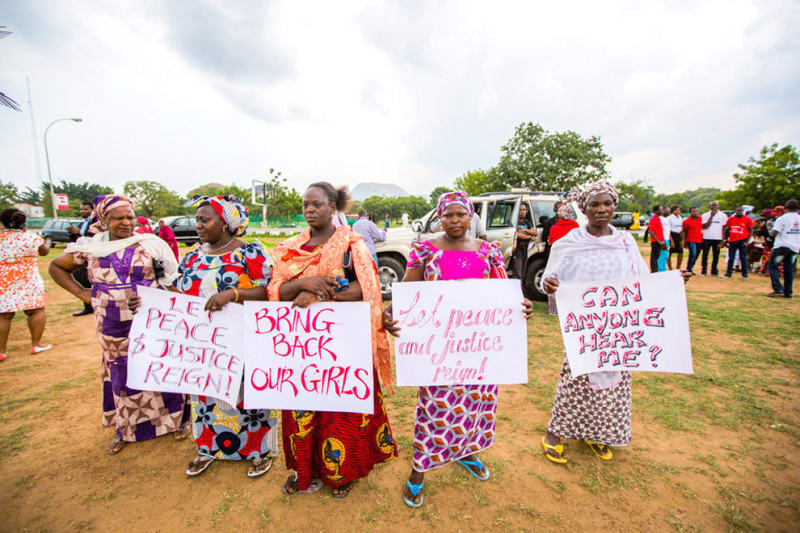 April 14, 2014, over 300 schoolgirls were stolen, like so much property, from their school in Chibok, in Borno State, in northeastern Nigeria. Over at Africa Is a Country, Karen Attiah and I wondered, separately, why the coverage was so little so late. We also wondered why the coverage was so bad. For example, it took a long time for the so-called world press to start reporting on women's organizing efforts, under the rubric of #BringBackOurGirls. Since then, the European and American media have begun to pay attention, sort of.
Meanwhile, women, students, concerned people across Nigeria are organizing, mobilizing, and demanding. They're demanding stronger and more effective action on the part of the government, and they're demanding more consultation and more respect. The mothers of the stolen girls, in particular, understand that this is about women's and girls' dignity, respect, autonomy. Those girls were stolen partly because they are girls pursuing studies, mostly because they are girls. Reports say they are to be sold into slavery. In Borno today eight more girls were stolen.
Yesterday, Naomi Mutah Nyadar, one of the leaders of the #BringBackOurGirls movement, was or was not arrested. Her colleagues, Lawan Abana and Saratu Angus Ndirpaya, say she was detained. The police say the encounter was "purely an interactive and fact-finding interview." There's nothing pure here, and it doesn't matter. What matter is this: #BringBackOurGirls. #BringBackOurGirls #BringBackOurGirls.
That's all that matters.
That's the message delivered today by Fatima Zanna Maliki, a student, a woman, a woman student: "We appreciate the concern and efforts of all the civic society organisations, women groups, leaders and the international communities towards our plight and we are urging them not to relent until our girls are brought back home safely in particular and peace returns back to our country in general. We, the youth and students in Borno State, have endured unimaginable hardship for the past four years and we took it upon ourselves to call upon stakeholders and the President in particular to act urgently… The abducted students of GSS, Chibok are our sisters and colleagues, after 21 days of their abduction, we don't know their condition, we don't know how they are faring, we don't know if they have eaten this morning, we don't know their health condition, we don't know there whereabouts, we don't know! We don't know!! We don't know!!!"
Students of Borno have called for a day of sympathy tomorrow, during which no classes or lectures would occur. They also warned the President that if something isn't done, they'll be back.  If the girls, all the girls, aren't back by May 24, 40 days into their captivity, the students and youth of Borno will mobilize students from across the country to gather in Maiduguri, the capital of Borno:  "Students will be brought across the nation if no success is recorded before the 40th day of the abduction, to sit tight on Ramat Square to protest until the schoolgirls are freed."
I teach and work in a Women's Studies Program. Every year that I've taught, somewhere a group of women students, girl students, has been attacked, for being students, for being girls and women, for being girls and women pursuing education. It's a long and tragic list that the schoolgirls of Chibok have now joined. Tomorrow, stop at some point at least and do something to acknowledge the schoolgirls of Chibok and the long list of women and girls, of women and girl students, who have suffered the same violence they are now suffering. For women and girls, there has to be something other and better than the work of mourning.
#BringBackOurGirls #BringBackOurGirls #BringBackOurGirls
Bring them all back.
(Photo Credit: Tom Saater for Buzzfeed)