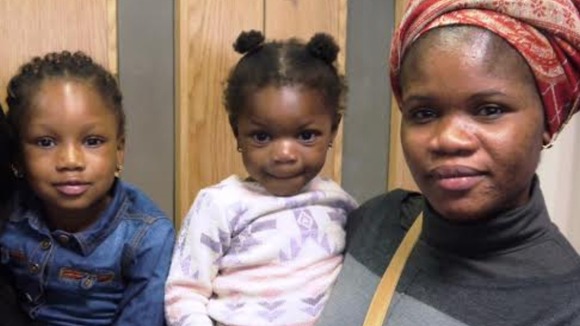 Two girls, both under five years old, were released after two days and nights in detention. Last night, Basirat and Rashidat, and their mother, Afusat Saliu, were released from Cedars pre-departure `accommodation'. They spent Wednesday at Cayley House, "a non-residential short-term holding facility at Heathrow Airport." It's not a facility. It's a prison. Here's how their mother, Afusat Saliu, describes their first night: "It was terrible. We had to sleep on the floor. There was no privacy – if you went to the toilet, you went in front of everyone. I felt terrible. Some of the crew at Cayley House were nice, but it was not a good environment for a child."
No place for a child. In a report released today, Her Majesty's Inspectorate of Prisons agrees. Too much force is used too often. Officers show up in full battle gear, don't announce themselves, don't knock on the door, batter the door down and rush in. They have two speeds: terrifying and terrorizing: "Whatever one's views on immigration, the distress described in this report of the families passing through the centre and its potential impact on the children involved is disturbing. It was difficult to see how the children's welfare was being promoted in line with statutory requirements."
42 families `passed through' Cedars last year. Suicide and self-harm measures were initiated 25 times. This is the new math of neoliberal fortress nations. The mothers who seek help are bad mothers, the children who need help are bad girls. They're defective products that must be removed.
Thanks to a mighty hue and cry, including leaning on Richard Branson not to allow his airline to be used for deportation, Afusat Saliu and her daughters, Basirat and Rashidat, were given a reprieve, while their case is `reviewed.' In the name of the girls, Afusat Saliu applied for asylum, because she fears her daughters will be forced to undergo female genital mutilation in Nigeria.
Think of all the work and time that has gone into keeping two young girls out of prison.
Those two young girls, those babies, should never have been in prison in the first place. They should never have been forced to leave their home in Leeds and shuttle from one hole to another. They should never have been forced to feel their mother's distress. You don't need a government commission – not from the United Kingdom, nor Australia, nor the United States, nor anywhere – to know that. You know in your bones and in your soul.
Detention centers, prisons, are no country for young girls. They are terrible. I feel terrible.
(Photo credit: Anj Handa / PA)