Last year, Her Majesty's Chief Inspector of Prisons concluded a report on Yarl's Wood: "Yarl's Wood is rightly a place of national concern … Yarl's Wood is failing to meet the needs of the most vulnerable women held … We have raised many of the concerns in this report before. Pregnant detainees and women with mental health problems should only be held in the most exceptional circumstances." Over the weekend, it was reported that the Home Office refused to reveal how many women have been raped or sexually assaulted because "disclosure would, or would be likely to, prejudice the commercial interests" of companies that run Yarl's Wood. Serco runs Yarl's Wood, and G4S provides Yarl's Wood health services. Today, the United Kingdom's Information Commissioner demanded that the Home Office release information about the number of pregnant women held in immigration detention, which would mean primarily Yarl's Wood. This demand comes after months of the Home Office refusing to answer questions, refusing to acknowledge that questions and requests have been made. When it comes to women, the only thing that counts is corporate and State profit. Mass produced illegality is big business, generally. The big business of women's illegality has been secured in black sites in our backyards. Across the suburban spectrum of so-called liberal representative democracies, women asylum seekers are being renditioned.
Yarl's Wood is filled with pregnant women, women trauma survivors, lesbian women, African women, women torture survivors, women seeking help, and it is as it has always been, a special "hell on earth" designed to torture precisely those women. Ira Putilova, a Russian LGBTQ activist who sought asylum in England and was thrown into Yarl's Wood, reflected on the case of Prossie N, a Ugandan LGBTQ activist who was deported to Uganda: "We came and left, but Yarl's Wood stayed and we should do something with it. Help people inside. … Because borders and detention centres should disappear and all homophobes and racists should be sent to the moon! Fuck them! Free Prossie N!"
Borders and detentions centers must disappear. This is the inhuman geography of purchased security, in which the State acts as nothing more than the bouncer at the door of the global club of "commercial interests." The time for "concern" is over. Yarl's Wood is a black site in which women are being abused in an ever growing infinite of ways. It is an abomination, and it is being replicated everywhere. Tear it down … now. Shut Yarl's Wood and its fraternal order of detention centers across the "free world" today.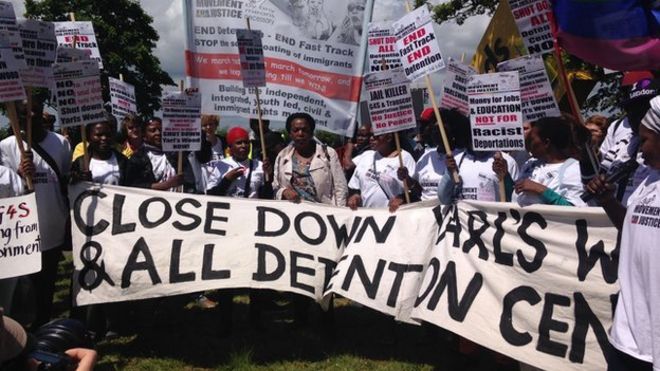 (Photo Credit 1: The Establishment) (Photo Credit 2: BBC News)