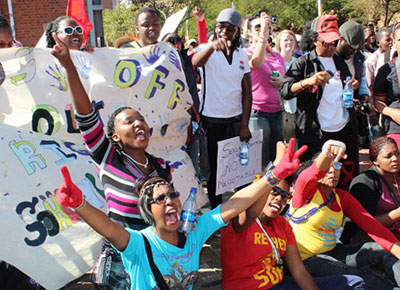 Where is the boundary between solidarity and paternalism?
Last week, a prominent New York Times' columnist wrote that South Africa [a] is an adolescent going through that awkward phase; [b] lacks the maturity to develop a mature, sustained opposition, as witness the failure of Ramphele and Zille to consummate the deal and the various locations of Cyril Ramaphosa; and, most African of all, [c] is mired in something called tribalism. He did all of this in the name of caring for the `fledgling' nation.
There's so much wrong with the piece it's hard to know where to begin. The author locates `opposition' in a curiously isolated purely electoral laboratory, the location of which only he knows. Even the Democratic Alliance is unfairly treated, which is a hard trick to pull off. Somehow, the roles of Helen Zille, Lindiwe Mazibuko, Patricia de Lille, and others, especially other women, don't qualify, unless they have someone who can pull them out of the morass of `tribalism.' What? Somehow, Marikana never happened, and NUMSA isn't happening. Somehow, women aren't organizing critical interventions into State practice as well as party formations.
The week after the Times piece, the Traditional Courts Bill was killed … largely by the work of women organizing across the country. The Mail & Guardian had a long piece on prominent activists, such as Zanele Muholi, who are organizing all over the place, and not as individuals but as members and promoters of movements and organizations. Somedays, it seems there's nothing but opposition in South Africa. Others have written, and others, especially those better placed than I, will write about those issues and more.
I want to to reflect on the scenario in which a White Man who "watches and roots for this struggling young democracy" declares that a Sub-Saharan Africa, read Black, nation and population is going through its `adolescence."
In a period in which much of the United States fixes its gaze on the United States' lethal agenda for Black youth, and in particular for young Black men, who's calling whom not yet ready for prime time? As much of the United States, agonizes and struggles with the death of Jordan Davis, and behind him that of Trayvon Martin, and behind him that of … so many others, as Black parents look at their adolescent sons and daughters with love and anguish, how does anyone in the United States blithely render a majority Black population as adolescent?
But that's precisely what happens … all the time. Those who `watch and root' turn to dismay and despair at the drop of hat, or the refusal to drop a hat into a ring, as they use the oldest narratives of Black delayed political, read mental, development. Where is the boundary between solidarity and paternalism? Ask the `adolescent' Black individuals and populations of the world.
(Photo Credit: Mambaonline.com)