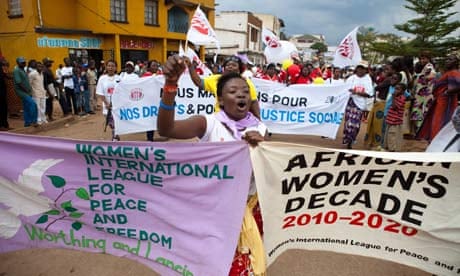 Friday, November 25, 2011, was International Day for the Elimination of Violence Against Women, the twelfth one since the United Nations 1999 resolution. November 25 is the beginning of 16 Days of Activism Against Gender Violence, a campaign which formally began November 25, 1991, twenty years ago.
Around the world, women and men are organizing events, workshops, vigils. Artists, such as Zanele Muholi, are articulating both the horror and the hope in their works and exhibitions. Activists and healers, like those of Rape Crisis Cape Town Trust, journey by bus to the homes and communities of their neighbors, near and distant, and engage in intensive discussions about sexual violence, about sexual freedom, about democracy.
Violence against women is global. It occurs everywhere and all the time. In households, in work places, in schools and hospitals, in police stations and prisons, in social movements, in political parties, in trade unions. Everywhere. All the time. The threat of violence against women is always already in the air. It's an environmental hazard women face every day.
So, it is with some confusion that one notes the invitation by the Guardian, issued on November 25: "16 days of activism to stop global violence against women begins today. We want you to write for us about how change can be brought about in developing countries".
Setting aside the division of the globe into "developing" and "developed", the question remains, "Why?" Why "developing countries"? Do the Native women of the United States and Canada not count? Do the women of color, especially migrant and immigrant women, across Europe, Canada, the United States not count? Do all the women and girls across Europe, in the United States and Canada, who suffer, and organize to end and eliminate, domestic violence, do they not count?
The 16 Days of Activism to End Gender Violence emerged from a conversation among 23 women … from around the world. They spoke as a united group who recognized their differences and their shared experiences. They continue to do so. Violence against women is not a function of "under-development." It doesn't happen `over there'. It happens here … and here … and here … and here … and …
So, write to, and for, the Guardian, wherever you are. Share the news of the mixed things of organizing efforts, of the difficulties, successes, despondencies, joys. Make sure they find out that, when it comes to violence against women, the whole world is "developing."
(Photo Credit: The Guardian)