In 2006, India passed The Scheduled Tribes and Other Traditional Forest Dwellers Act, known as the Recognition of Forest Rights Act. While not perfect, the Act was a step in the right direction. It was "a weapon for democracy in the forest", because, for the first time, the State recognized and secured community and individual rights over common property resources; rights in and over disputed land rights concerning land use; right to protect, regenerate or conserve or manage the forest; right to intellectual property and traditional knowledge related to biodiversity and cultural diversity; rights of displaced communities; and, finally, rights over developmental activities. That act came after decades of struggle by forest dependent communities. Women were at the core of those struggles. This week, with one court decision, millions of forest dependent communities, often called the most vulnerable of thevulnerable, were informed that they were to be evicted by July 24. It is estimated that as many as 2,300,000 families will ultimately be affected by this decision. Who are the most vulnerable of the vulnerable? Women and children.
From the moment its inception, the Act was challenged by mining, agricultural and so-called development interests. More recently, some conservationists argued that the forests were dwindling and that the forest dependent populations had to be moved to save the forests. In the case decided this week, the key was the provision of the act by which forest dependent families had to formally lay claim to land. This proved difficult given low levels of formal literacy and often impossible bureaucratic processes. For women, the issue of land titles was complicated by even lower levels of literacy and local traditions that precluded women having title to land. The State colluded with those local traditions. For example, many, if not most, forest households are women-led, because male partners have left, for work or just because, or have died. The State never addressed the particularities of women-headed forest households.
While the conditions for women forest dwellers have been particularly harsh, with increased industrial and State violence against forest-dependent women, women have consistently engaged in individual and collective direct action and mobilization for tribal rights and for tribal women's rights. From Odisha to Chhattisgarhto Rajasthanand beyond, women self-organized to defend their commons. They carry the legacy of the women's Chipko movement, from the 1970s in Uttarakhand. On March 25, 1974, Gaura Devi, the leader of the Chipko movement, led local women to confront logging companies about to chop down the trees. Calling the forest her mother's home, Devi wrapped her body around the trees. The women persisted, and the loggers left. That was the early 1970s. In 2013, a reporter returned to the site and saw that the women had saved the trees … but lost the woods. Now only elders, women, and children live there, since the men have gone, either to find work or just because. Six years later …
Forty five years, almost to the day, after Gaura Devi and the women of Reni village stood up for the dignity of Niluribhur forest, those women, their daughters and granddaughters have been informed they have five months to vacate. While the world press is paying some attention to this crisis, thus far almost none have noted, or wondered, "Where are the women?"
Feminist activist scholar Swarna Rajagopalan has asked and answered: "What does it really mean to be an internally displaced person—or a refugee, for those who cross borders in flight? … As a woman, you did not get to go to school for long and you studied another language. How are you to navigate this state's administrative offices and claim the paperwork, the food and medical assistance and other entitlements that are your due? You fled to survive, but now you have to fight to survive each day … As a woman, maybe stepping out of the house for the first to find employment, you can do domestic or care work. Sometimes you beg; sometimes you trade sexual favours to feed your family. Living on the margins, crowded by strangers, you are visible and vulnerable in so many ways—on the way to a communal toilet; to fetch water; to earn a living; and in your interactions with officials and house-owners. But disadvantaged as you are as a woman, you are not weak. You and your sisters asked questions, protested and stood your ground until the ground itself shifted. Now, after one… two… three displacements, the fight is going out of you …. Some women will miscarry en route; some will give birth in camps. Those children may grow up as 'IDPs' or 'refugees,' living in camps or IDP settlements all their lives. Small gardens will be planted, rangolis drawn, makeshift temples and churches set up. But they will always remember home. They were once from somewhere else—a lost forest home where they belonged and which truly belonged to them."
Where are the forest dependent women in the Indian Supreme Court's decision, in national and regional policies, in press accounts? Everywhere and nowhere. The Forest Dwellers Act recognized the rights of over 200 million individuals living in more than 170,000 villages. This week's decision is a step in the removal of all 200 million. At every step of that plan and at every instance of resistance, ask, and demand to be answered, "Where are the women?" Everywhere and nowhere is not good enough.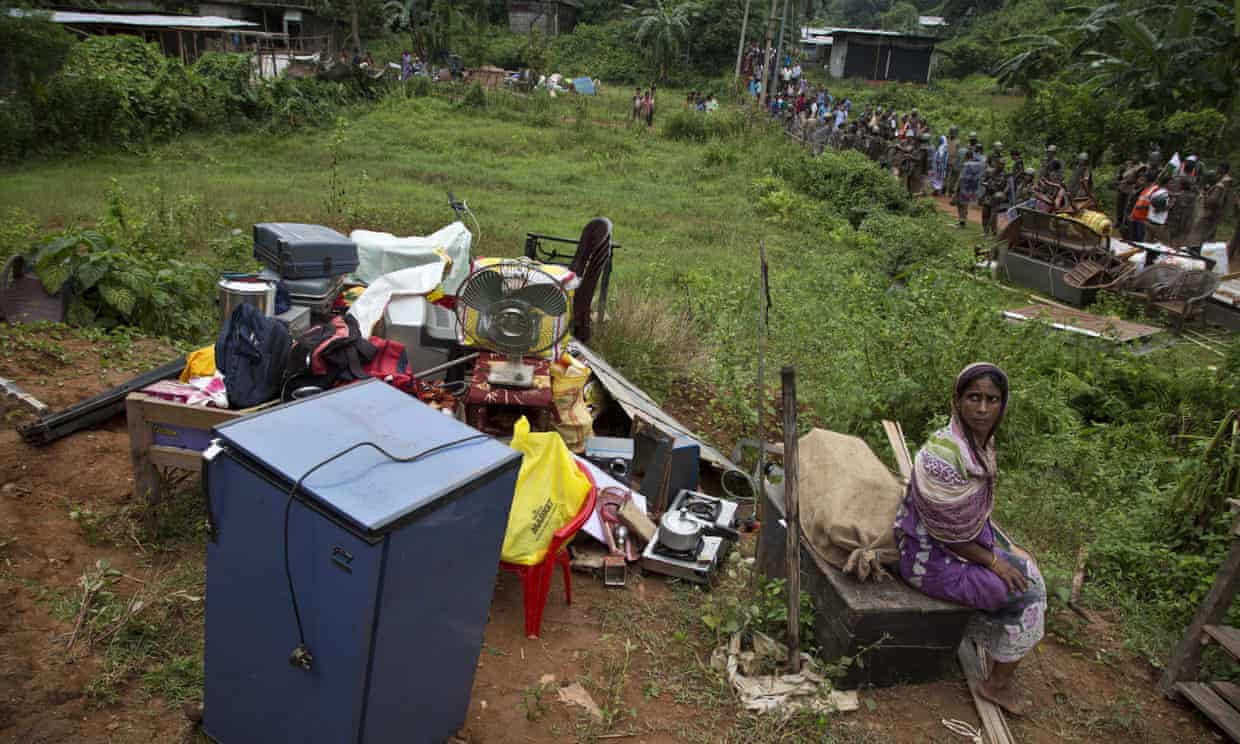 (Photo Credit: Guardian / Anupam Nath / AP)