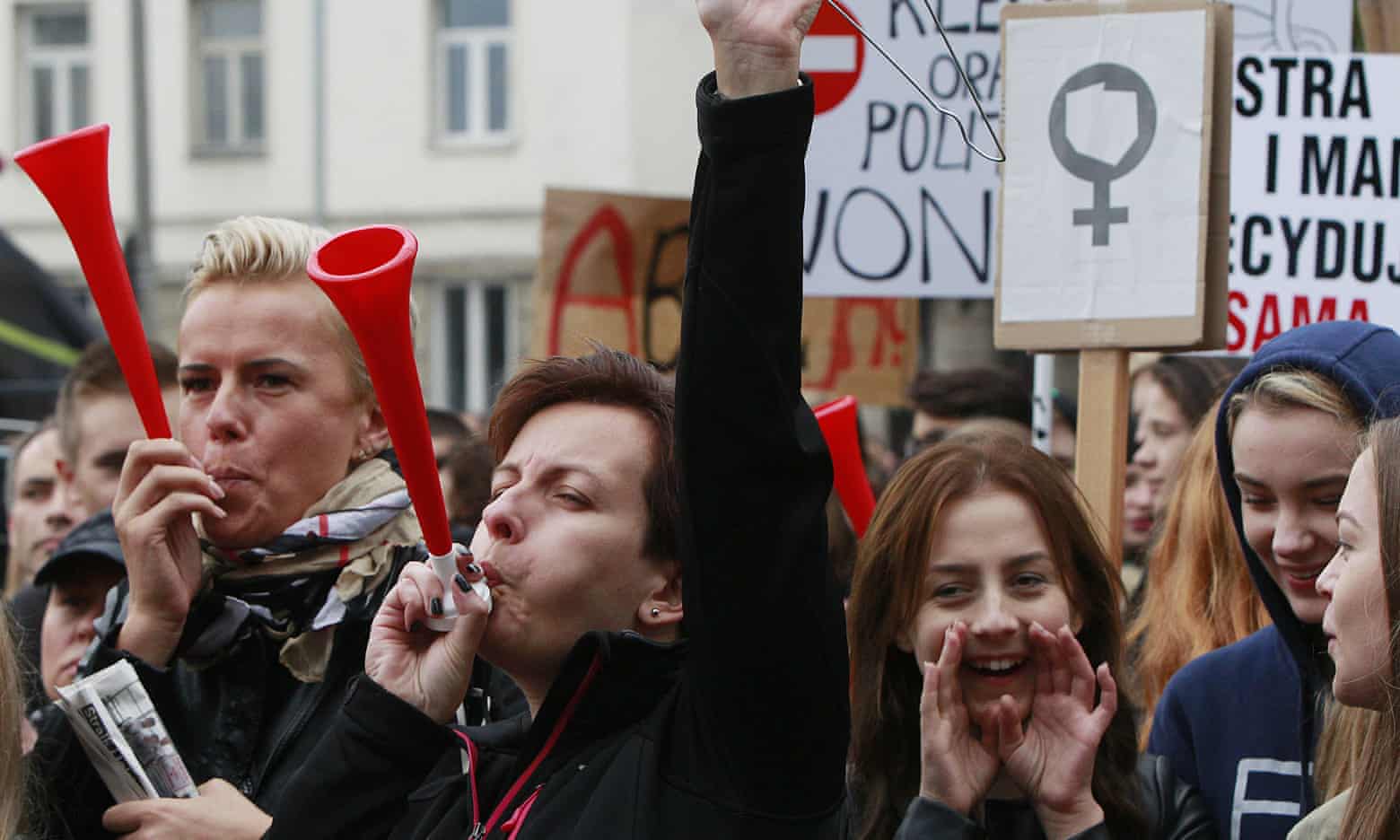 In Poland last week women went on a general strike, dressed in black. Thousands demonstrated in the streets of cities to defend their remaining right to abortion as the government pushed for a total ban on abortion. The concept of women's general strike was first used in Iceland on October 25, 1975 when 90% of women stopped working, taking care of children, cooking etc. They wanted equality and were fed up with low wages, low consideration, low everything. The entire country stopped. The effect was profound. The Polish women were after the same effect, fed up with seeing political and economic manipulations control their sexual and reproductive rights and putting their lives in jeopardy.
Since Poland transitioned to a capitalist system, reproductive rights including the right to abortion have been the recurrent issue, and women have seen their rights steadily reduced. Women in Poland won the right to abortion for social reasons in 1956. Nina Sankari for 50-50 magazine, recounts the work of Maria Jaszczuk, the MP who sponsored the original bill. She put in the public debate the crude reality of women's right to decide for their lives, breaking the code of silence. At the time, more than 300 000 illegal abortions were practiced a year with 80 000 of them ending up in the hospital leading to a 2% death toll. Thanks to this bill, Polish women had enjoyed this reproductive right for over 36 years. But the so called democratic process gloated about by the capitalist order demanded the end of this basic women's right to decide for themselves. Nina Sankari recalls that in 2007 shortly before her death at 90 years old, Maria Jaszczuk expressed her sadness to see all these basic women's rights being wiped out.
Nina Sankari notes the irony of the infamous democratic transition bringing the Catholic Church with its conservative neoliberal allies back to power. In 1989, when the new constitution was being designed, the Church vetoed the concept of separation of church and state, of laicity or neutrality of the church. The Polish Catholic establishment was ready to play a crucial political role in the country.
Consequently, in 1993 one of the most regressive anti-abortion laws in Europe passed, allowing abortion in only three cases: if the woman's life is in danger, if the fetus has serious disabilities, and if the pregnancy is the result of a rape including incestuous rape. But that was not enough for the conservative forces led by Jarosław Kaczinski. He is the leader of Law and Justice party that won the elections in October 2015.
Currently, the xenophobic religious neoliberal right is looming large in Europe. The current Polish leadership is in line with Viktor Orbán's leadership in Hungary proclaiming religious notions on family as divinely imposed and reducing public services, especially when women's rights are at risk. These changes constitute a breach in European laws. Recently three cases from Poland have been challenged in the European Court of Human Rights. The latter found that women and girls in Poland "encountered unacceptable obstacles to access to safe and legal abortion." It put Poland in violation with its responsibilities and obligations under the European Convention on Human Rights. Malta and Ireland are also in this position. Meanwhile, no official actions have changed this status quo. Only women and men's street demonstrations have brought change.
This time, the Polish women's strike defeated the bill that would have led to a total ban on abortion, including jail time for women seeking abortion and for doctors who would dare help them. As Gauri Van Gulik of Amnesty International said, "This is a huge victory for the millions of women and girls who mobilized, showed their fury, and successfully blocked a law which would have taken away their rights and endangered their health."
This victory should lead to more actions in support of women's rights and human rights. Each year in Poland, 1000 legal abortions are performed while an estimated 150, 000 clandestine abortions occur behind closed doors, not to forget that the lethal danger of clandestine abortion is spread according to social lines. The reduction of women's rights accompanies many social and political restrictions. The women of Poland have shown the possibilities to counter the rise of the deadly combination of xenophobic, neoliberal and religious power.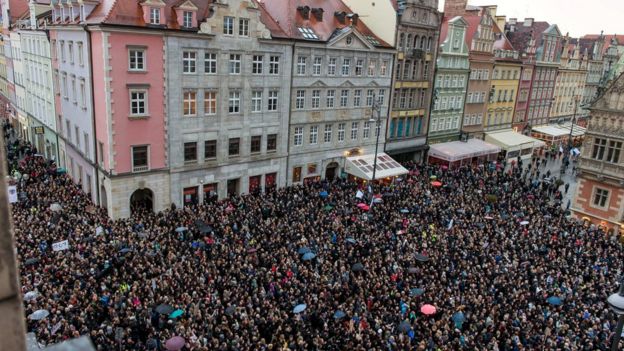 (Photo Credit 1: The Guardian / Czarek Sokolowski / AP) (Photo Credit 2: BBC / EPA)
(This article is part of the on-going collaboration between Women In and Beyond the Global and 50-50 magazine. Click here for 50-50's coverage of Poland's women in black.)