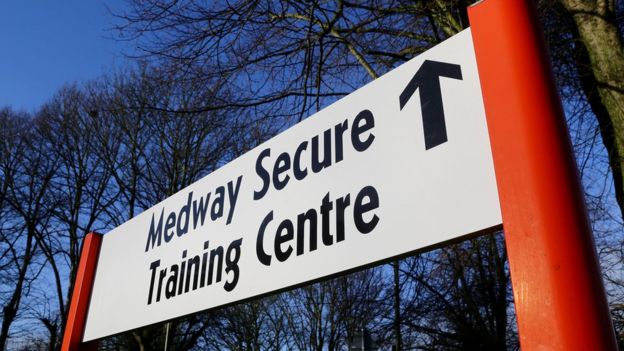 In England, children are being sent into "secure training centres" where they are brutalized by staff. On Monday, the BBC aired an undercover report concerning Medway Secure Training Centre. The program showed children, girls and boys, aged 12 to 17, physically and verbally abused by staff, morning, noon, and night. The program also showed staff conspiring to conceal their misdeeds. While dismaying and heart wrenching, none of this is new or shocking. Physical, verbal and mental abuse amounting to torture is the norm in juvenile centers, and it's not merely the actions of one or two staff members. Violence against children is State policy.
Frances Crook, Chief Executive of the Howard League for Penal Reform, responded to the BBC documentary: "Watching this programme made me cry. The deliberate cruelty against children was one of the most upsetting things I have seen in this country. Shocking also was the institutionalised fraud being perpetrated to cover up that abuse."
Many have noted that Medway is managed by G4S. While certainly the contract with G4S should be rescinded and the money repaid, it's not only Medway that is "rotten to the core." It's the entire institution of State and social responsibility for children. Behind institutionalized fraud lies institutional violence against children, and that, again, is State public policy. Whatever the reason that children end up in cages called "secure training centres", the bottom line is that the State has decided they are to blame for everything that happens to them from here on out. That's why deaths of children in custody, such as those of Adam Rickwood, 14 years old, and Gareth Myatt, 15 years old, in 2004, produce investigations and commissions of inquiry and then absolutely no change.
The United Kingdom has three kinds of institutions for "juvenile offenders": secure children's homes; secure training centres; and young offender institutions. Secure children's homes actually look after the children's welfare and well-being. They cost more than the "training" centers. In the past decade, the number of secure children's homes has been cut, while the budgets for "training" centers has ballooned. This didn't just happen. The State chose to send children into the night and fog of secure training, where it was widely known that "force", call it violence, is used more often and more energetically. When children become training, what else can you expect?
So, what happens now? Some have said, "Enough is enough. We don't need further reviews or vague promises that lessons will be learned." Others have begun to describe a "collective shame": "Far too often it's children who have been abused and neglected from infancy – many of whom have mental health problems and learning difficulties, and are in need our protection – who end up incarcerated and written off. Worse still, many will experience violence and mistreatment while in prison, as recent reports of abuse by staff at G4S-run Medway secure training centre in Kent show. And Medway, exposed by Panorama, which led shadow home secretary Andy Burnham to call for G4S to be stripped of its youth prisons contract, is far from an isolated case."
Where there is no collectivity, there is no collective shame. Where there is no memory, there is never enough. The commissions will not produce more secure children's homes. They will rename secure training centers, relocate them, paint the walls a pastel `soothing' color, and continue to torture children. England built a special hell for children, and Medway Secure Training Centre is not its name. It's name is England.
(Photo Credit: BBC / PA)