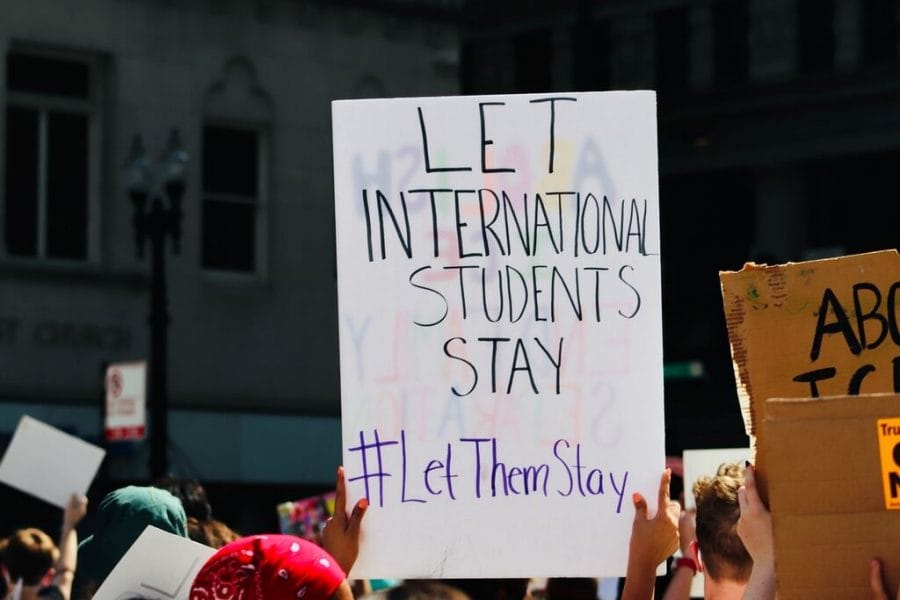 Just as university administrators, faculty, and students breathed a sigh of relief from the panic created by the Department of Homeland Security (DHS)'s Immigration and Customs Enforcement (ICE) July 6 directive barring international students from the United States if their university chose to go online-only in the fall, ICE issued a new one on July 24:
"Nonimmigrant students in new or initial status after March 9 will not be able to enter the U.S. to enroll in a U.S. school as a nonimmigrant student for the fall term to pursue a full course of study that is 100 percent online."
New international students who have been through a demanding eighteen-month process of college applications, visa application, and financial arrangements now face the heartbreaking prospect of being barred entry to the United States. DHS was forced to rescind its initial directive after a lawsuit brought by Harvard and MIT (backed by more than two hundred schools and the AAUP) and the attorneys general of twenty states. The new directive feels like a punitive measure designed to force colleges to open campuses in the midst of the world's worst public health crisis since the 1918 flu.
While no logical reason was given for this policy announced a month before many campuses start their fall semester, right-wing twitterati have hailed it as a good step; after all, they say, if courses are online, why can't they be taken by students from within their own homes in Nairobi, Seoul, New Delhi, and Shanghai? Why must these students be physically present in the United States?
Education experts in the field have denounced this policy as malicious and foolish. Not only is it xenophobic, it will cause short- and long-term damage to both US colleges and our incoming international students. This harm will be psychological, material, professional, cultural, and economic:
For international students, the difficulty of taking online courses scheduled in US time zones abroad presents a physical challenge. In order to join a virtual class session across the globe, students may have to stay awake through the night. Research has shown this to impact cognitive function, absorption of the learning materials, and subsequent performance.
Further, broadband internet connectivity is an equity and access issue around the globe. With weak or unreliable connections, international students may simply not be able to join your virtual classroom. In turn, this prevents access to the full educational benefits of class lectures and discussions available to their US-based classmates. Connectivity challenges may prevent students from submitting assignments or posting on discussion boards, especially if the school's platform crashes (as one of my students this summer, based in China, experienced with Blackboard). Connectivity also impacts students' access to library and online learning materials, as many items may be restricted for download or purchase abroad (as my students based in Paris and Karachi reported this summer). I regularly teach films available on Google Play, Vudu or Amazon for $3.99; however, these rentals are often restricted or unavailable internationally. Without access to required library resources like textbooks, articles, films, and research databases, how can students abroad achieve learning outcomes?
For many international students, summers offer opportunities for professional career growth and applied learning through internship or work experience in the United States. However, strict rules govern internship access and eligibility for Curricular Practical Training visa status (CPT) requires students on F-1 visas to have completed one year of study in the United States. DHS has not clarified how this new directive will impact CPT rules so preventing international students from entry this fall deprives them of future opportunities to gain crucial professional experience. Limited learning and professional growth opportunities make the US a less attractive destination for international students to pursue dreams of higher education than countries like Canada and Australia.
Layoffs, furloughs, and closures of American colleges and universities are announced daily. International students bring $44 billion into the country annually. This new policy, along with the government's failure to bring COVID-19 under control, could result in a 63 to 98 percent reduction of international students next year compared to 2018 –2019 levels. Campus administrators are by now hoarse from explaining that the lost revenue from international students on campus will only exacerbate financial crises as housing occupancy and room and board revenue fall. Each year's loss of international student enrollment will cascade into subsequent years, diminishing long-term financial health.
For campuses, the long-term harm is cultural as well as economic. International students bring an invaluable and immeasurable dimension to campus culture: their talent and diverse perspectives from other nations expands both the vision and learning of domestic students. To reduce their presence on campus as this new order intends is to damage the learning experience of domestic students, who benefit greatly from the knowledge and experience of their international classmates.
In other words, the United States and its institutions of higher learning simply cannot afford the harmful consequences of this misguided and xenophobic policy. All faculty, administrators, and students must stand up and continue to fight back against DHS's divisive overreach, and advocate for a more international and diverse community of students. Our international students bring incredible talent, energy, and joy to our communities. With them, we forge global connections and imagine a new world order. We are lucky to have them in our midst, and we must forcefully challenge policies that harm our communities and our students.
(Photo Credit: Eric Henry / The DePaulia)