While the Indian Prime Minister Modi's upcoming visit to Silicon Valley is being much discussed in the media, less visible seems to be his government's disturbing treatment of India's film students over the last three months. Just hours ago, The Hindu and The Indian Express both reported that in India, the FTII students' strike has reached 100 days, with no solution in sight. The Film and Television Institute of India in Pune (est. 1960) is arguably the most prestigious film school in India. For the past 10 days, many of these striking students have been fasting to protest the political appointment of a BJP party worker Gajendra Chauhan to lead this illustrious institution; five students were hospitalized in the last two days.
India's Information and Broadcasting Minister who controls the institute and its appointments seems to show no interest in visiting the campus, or resolving the issue. Having called the students thrice to Delhi for talks, with no results, the government seems unable to hear the legitimate perspective of India's students and indeed, the art and film community—which has resoundingly spoken up, tweeted, and marched, in support of the students' demands. From Bollywood celebrities like Pallavi Joshi, Anupam Kher, Rishi Kapoor, Ranbir Kapoor, Kiran Rao, and others, to social activists and writers, many have concurred that FTII's newest Chairman Gajendra Chauhan's appointment is politically tainted, and students have a right to an education that is free from indoctrination in the dominant political party's ideological agenda
The Indian film industry has a history of being strikingly diverse in terms of the politics, and the religious and ethnic affiliations of its various members. Indeed, India's film, literary, and artistic community has historically been largely secular in its orientation. FTII is an educational institution that has produced some of the greatest artists and filmmakers of Indian cinema-experimental or 'art' cinema as well as popular films. No wonder then that the students of FTII have been upset at what looks like a political appointment of Chauhan as Chairman. Chauhan acted as Yudhisthira in the popular television series "Mahabharata" which aired on nation-wide state television from 1988-1990. That is his claim to fame in the world of film and television production; since 2004, he has worked for the Hindu nationalist BJP party. He hardly resembles the renowned and illustrious chairpersons who preceded him like the internationally acclaimed filmmakers Shyam Benegal, Mrinal Sen, and Adoor Gopalakrishnan; the legendary cartoonist R. K. Laxman; the actor, filmmaker and playwright Girish Karnad; and the writer and Padma Bhushan winner U. R. Anathamurthy, among others.
In comparison, students say, Gajendra's appointment looks more like a reward to a good BJP party worker with a powerful position, than the appointment of a leader who has a track record of a genuinely creative body of work with national and international impact. Thus, FTII students have been on strike to protest his appointment: they want his resignation. One protesting student's placard said: "We are against saffronisation of education;" in the meantime, the right-wing Hindu organization RSS has called the protest "anti-Hindu," lending credence to the charge that the recent influx of BJP and RSS members in the institute's ranks is politically motivated.
Some news reports note that the government seems to be intent on both privatizing and saffronizing the premier film school. However, if it wants to project a positive image in America with its claims of being an efficient and clean organization which will usher in "better days," the Indian government must treat India's students and schools better than it has thus far—and heed the legitimate demands of the striking young women and men for better, more qualified, institutional leadership. In support of the FTII strike, students on campuses across India's cities have organized protests and will continue to do so: witness Delhi, Bangalore, Patna, Bhopal, Chandigarh, Thrissur and Lucknow.
So, where are the women? What remains unremarked is also the gender bias of these government appointments: overwhelmingly, it is men who have been appointed to the position of chairperson. In the past 20 years, FTII has only had 3 women full-time faculty; all 21 of its current faculty are men.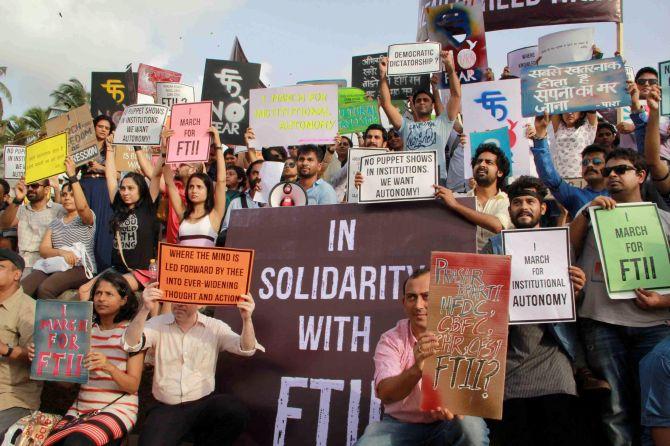 (Photo Credit: Rediff)