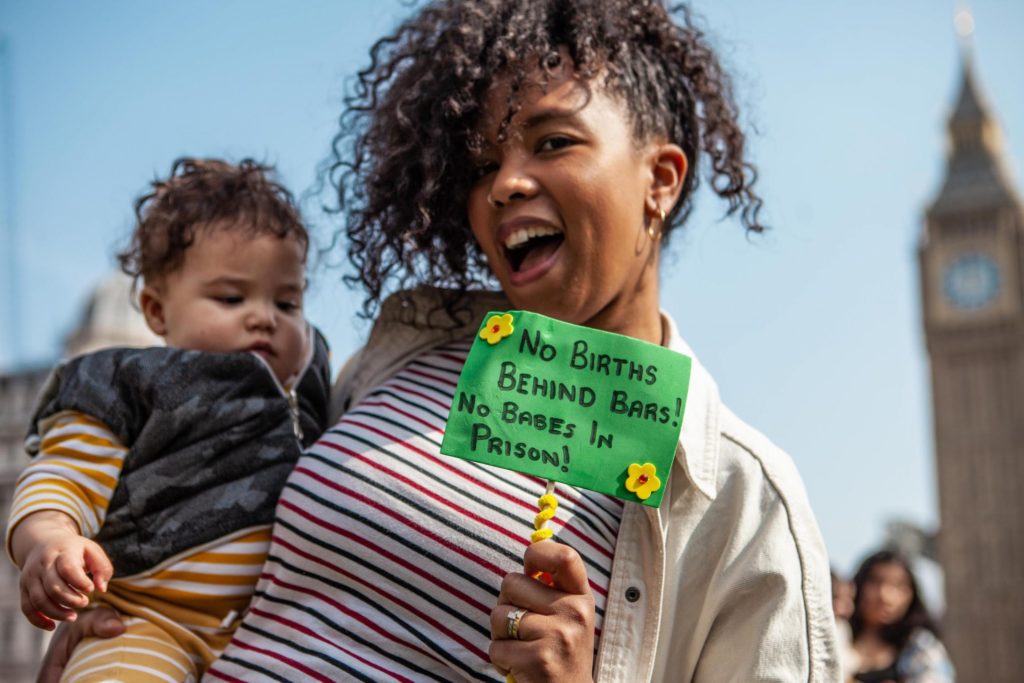 This week has been filled with movements towards improving the conditions of pregnant incarcerated people. The Missouri legislature considered the Missouri Prison Nursery bill, which would keep incarcerated mothers and their children together, in prison, for 18 months, establishing the Correctional Nursery Program. In Tennessee, the legislature is debating a bill that would end the shackling of incarcerated pregnant people. Similar laws have been passed in every state that borders Tennessee. The Alabama legislature is debating bills that would bring Alabama state prisons and jails in compliance with Federal legislation concerning incarcerated pregnant people. At present, the Alabama Department of Corrections does not include information on births and pregnancies in its monthly report. It's just not important enough.
All these advances, and they are advances, come from the pain that pregnant people and people giving birth and people going through post-partum have suffered. All these advances, and they are advances, emerge from the extraordinary work of currently and formerly incarcerated people, especially women. Remember, for example, that Alabama's women's prison, the Julia Tutwiler Prison for Women, has long been established to be a terrible place, a hellhole for women.
But we must remember that the United States is deeply committed to mass incarceration, so much so that people have to debate whether or not a woman in childbirth should be shackled to a bed. In 2006, Rebecca Figueroa was two months pregnant when she was arrested and sent to Riverhead Correctional Facility, a jail on Long Island, New York. She wasn't worried because she knew she was innocent. Seven months later, because she refused to accept a plea bargain, because she was innocent, she was still In jail, and living with a high risk pregnancy. When she went into labor, she was finally taken to the hospital, where, during childbirth, her hand and her leg were shackled to the bed. Four months later, all charges were dropped: "The judge looked at me and said, `We apologize.'"
We apologize.
On Monday, 50 babies, and their parents, showed up at Parliament, in London, and demanded an end to incarceration of pregnant women. Level Up, an organization fighting gender injustice, and the campaign No Birth Behind Bars brought the group together. No births behind bars, no babies behind bars, no pregnant people behind bars. No more stillbirths such as those a Styal and Bronzefield in recent years. Between 2013 and 2018, the number of women going through childbirth while serving sentences rose 56%. 10% of those women never made it to a hospital. Most of those women are in for short sentences, involving non-violent offenses, not that that matters.
As Emma Hughes, of No Births Behind Bars, explained, "Nothing has been learned from the horrific deaths of two babies born in jail. Pregnant women and new mothers continue to be imprisoned by UK courts as part of a barbaric and outdated justice system. It is never OK for a baby to be in jail; it is never safe for a woman to go into labour in a cell, and pregnant women and babies in prison are exposed to lethal risks."
`Anna Harley' recounted, "When I was six months pregnant with my first child, I stood in court for the first time in my life and heard the words `remanded into custody'. This meant that I would be held in prison for six months as I waited for my trial date … No woman should suffer as I did." The line connecting Rebecca Figueroa to Anna Hartley is actually a network, and it spreads across the globe.
Janey Starling, co-director of Level Up, concluded: "Prison will never, ever be a safe place to be pregnant. The trauma and toxic stress of the prison environment causes lasting harm to both mother and child. It's time for the government to end the shameful imprisonment of pregnant women and new mothers, and make sure they are supported in the community instead."
Why is that so difficult to understand? Ending the shackling of pregnant women, providing nurseries for them and their children, providing actual reproductive health care are all important, but in some sense, they only move us out of the negative. There is no reason to keep pregnant people incarcerated. Period. Prison will never, ever be a safe place to pregnant. Stop incarcerating pregnant women.
We must do more and we must do better than apologize.
(By Dan Moshenberg)
(Photo Credit: Huck Magazine)