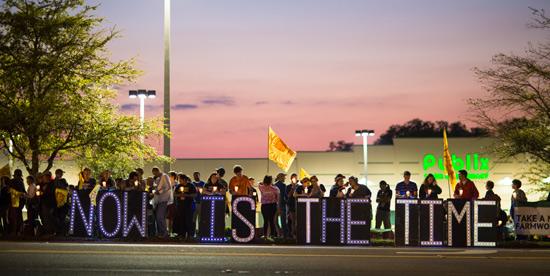 Around the world, rural women are organizing and mobilizing, and leading agrarian movements, land rights movement, farm workers and peasant movements, and more. From the farmlands and highlands of Peru and Colombia to the farmlands of Zimbabwe and the United States, to the polling stations of India, and beyond, rural women are taking charge.
In the highlands of Peru, in Cajamarca, women are fighting to stop a multinational mining consortium from devastating their waters, lands, and lives. At the helm of this struggle are Máxima Acuña Chaupe, who began her campaign as an attempt to secure her family's land; and Mirtha Vasquez Chuquilin, a lawyer who works for Comprehensive Training for Sustainable Development (Grupo de Formación Integral para el Desarrollo Sostenible, GRUFIDES). Together, these two women are bringing together popular forces, women's groups and knowledge, and legal and technical skills. They combat the mining security forces as well as the mining companies' lawyers while they also combat State security forces and other, more anonymous agents.
The risk to their lives is great, but the risk of not struggling is greater.
Likewise, in Colombia, peasant farmers are engaged in an agrarian strike that has paralyzed much of the country. At the helm of this campaign is Olga Quintero, a leader of the Asociación Campesina del Catatumbo, which was on strike last year for 52 days. Last December, two armed masked men broke into Quintero's home. She wasn't there, and so they bound and gagged her three-year-old daughter. Quintero's response: "Ni el dinero ni la tierra. El miedo fue lo único que quedó bien repartido entre todos en Colombia." "Neither money nor land. Fear was the only thing well distributed among all in Colombia."
Her response is to meet fear with courage, hope, love, and mass organization.
In Zimbabwe, Lena Murembwe, saw a problem. Rural women didn't know their rights to land. More to the point, rural women didn't know they had any rights. And so Murembwe's organization, the Women's Resource Foundation, began giving workshops and trainings to women in their own rural districts. Widows like Lucia Makawa, 43 years old and the mother of five children, grabbed the opportunity, studied hard, organized, met with traditional chiefs, and took claim to their land. Now Makawa owns six hectares of land, and can see something like a future: "As women we were not even allowed to own a piece of land. But with support from WRF, we have managed to mobilise the support of the chiefs and we have helped solve cases where women were deprived of their right to own land. Now I have my own land and I am in the process of sourcing materials to start building structures. I also have enough space to do my farming."
Other women, such as Beulah Muchabveyo, studied, learned their rights, and organized to create a dignified, safe space for themselves: "In the past my husband was not treating me as a person at all. He was abusive and never helped with farming work but expected me to give him money after selling our produce. Things are now different in my family after I underwent training in gender and human rights. The training has also given us a platform to meet and discuss issues affecting our lives as women."
These women know and teach: there is power in knowledge, in union, and in organizing.
In India, as the elections proceed, there's unprecedented movement among rural women, and unprecedented discussion of `what rural women want.' What do rural women want? Everything! Rural women say they want public dialogue. They want to be heard. They want a say. They want respect and dignity. They want decent jobs, education, health care. They want an end to violence against women and girls. They want an end to violence. They want an end to predatory lending that targets rural populations and often sends them headlong into bondage or death. They want their own representatives – like Dayamani Barla or Soni Sori – and their proven allies, like Medha Patkar, in Parliament. They want the State. They want democracy. They want it all.
And in the United States, the women of the Coalition of Immokalee Workers want it all as well. When women in the tomato fields of Florida, women like Lupe Gonzalo and Isabel, organize for farm worker's rights and dignity, they put the struggle to end sexual violence and harassment front and center. They say they cannot wait til after the vote, after the contract, after the revolution for their bodily and spiritual well being to become `an issue.' They say now is the time.
From Peru and Colombia to Zimbabwe to India to the United States, and beyond and between, rural women, peasant women, women farm workers are organizing intensely because their lives matter urgently: NOW IS THE TIME!
(Photo Credit: Forest Woodward / Facebook)