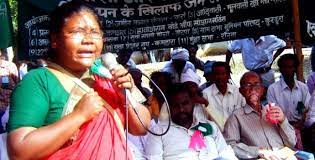 Dayamani Barla is back in jail, and the State won't say why.
Dayamani Barla lives in Ranchi, the capital of Jharkand, in India. There she runs a small tea shop. That is not why she's in jail. That is not why the State `released' her on bail, only to put her back in jail immediately. It's not tea that has placed Dayamani Barla in a  revolving door of jail – jail – jail, always accompanied by thunderous State silence.
Dayamani Barla is a journalist, according to some the first Tribal journalist from Jharkand. She is a women's activist, tribal activist, and anti-displacement activist. She's a popular leader who has refused to be intimidated by either multinational corporations or by the State. She has been described as "Iron Lady" and as "a woman with a steely resolve."
Actually, she's not made of steel or iron, but rather of flesh and bone and commitment and action and vision. Transformation and liberation come from ordinary people engaged in ordinary practices. Real change is and must be ordinary.
Dayamani Barla organizes, teaches, and writes in the realm of the ordinary. In 2008, she famously opposed construction of an Arcelor-Mittal plant in Jharkhand. Between 2005 and 2008, the State of Jharkhand signed 112 memoranda of understanding with multinationals. Development was booming … at the expense of those who lived on, nurtured and cherished the land. Dayamani Barla opposed the displacement of those who take care of the land, and of the Earth.
The Arcelor-Mittal plant would have involved 12,000 acres and would have displaced over 70,000 people from some 45 villages. For those people, land is not an asset. It is heritage. Ironically, officially at least, the Indian government agrees. This land is protected, and so cannot be sold for non-agricultural use. And yet, repeatedly, it is.
Dayamani Barla listened to her neighbors and helped them organize. Her neighbors understood the essential truth of displacement. Once displaced, you never return: "We will not allow the Arcelor Mittal Company to enter into the villages because one can not be rehabilitated if once displaced. The lands, which we cultivate belong to our ancestors therefore we will not leave it".
The "simple" folk of rural Jharkand already knew what the International Red Cross and Red Crescent would only `discover' four long years later. As the World Disaster Report stated, last week: "Development is a major, but often ignored, driver of forced displacement." And where's a hotspot for development-driven displacement? India. The poor of India `bear the brunt' of development, making up one of the largest populations of internally displaced persons anywhere … ever. And, as is so often the case, there is actually little data concerning those displaced through development. This is ironic given that, unlike all the other drivers of displacement, such as natural disasters and conflict, development is always planned. And yet … the data is `surprisingly' missing.
But the cost of development to the poor has not been ignored by the poor, by the marginalized. Dayamani Barla has not been surprised by the lack of information, by the ignorance. Neither the State nor the multinational corporations nor the un-civil society made up of journalists, academics, ngo's and so on, know how to or care to listen to the people actually on the ground.
Since 2010, Dayamani Barla has led a movement to stop government acquisition of farmers' land for three schools, one of management, one of information technology, and one a law school. Villagers have gone on hunger strikes. Others mobilize. They are not opposed to `knowledge' or to schools being built. They want consultation. They want a say as to which plot, or plots, of hundreds of acres will be used. They want an end to military occupation. And they want answers. For example, they want to know who decided that Jharkhand needs a knowledge triangle of technology-management-law, rather than, say, basic healthcare or primary education?
Many answer, What Jharkand needs is Dayamani Barla. The Gandhian activist Himanshu Kumar agrees. In a recent poem he asks: "Why do we need Dayamani Barla?" Here's the beginning of his answer:
"It is a grave danger now to be Dayamani Barla
It is a danger to be an adivasi
It is a danger now to reside in the village
There is land in the village
There are trees in the village
There are rivers in the village
There are minerals in the village
There are people in the village
There is also Dayamani Barla in the village"
There is also Dayamani Barla in the village. We need Dayamani Barla, and not just in the village. We need her in the world. We need her writing. We need her organizing. We need her reminding us that women are the shakers as well as the bakers of revolutionary action and praxis: "The participation of the adivasi women in our struggles has been more than that of men. They are more vociferous as they have to bear the major brunt of the economic and cultural destabilization. Adivasi women in the villages facing the threat of displacement … have clamped a people's curfew. They equally participate with men in blocking any project-related vehicles, machinery or personnel inside their villages. Women ploughed up the roads and sowed seeds. Volunteers stood as watch guards to see that no one tramples upon their sown fields. Organizations involved in the struggle cannot take any decisions or make any settlements without consulting women's groups."
Women tear down walls of `development' and plant saplings of self-determination and autonomy. We need Dayamani Barla.
(Photo Credit: India Resists)