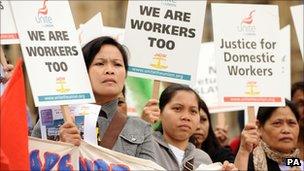 Last year, England declared October 18th as Anti-Slavery Day. Today is the second Anti-Slavery Day. How will Prime Minister David Cameron and his wife Samantha Cameron celebrate this day? Let's ask their nanny, Gita Lima.
Gita Lima is originally from Nepal. She worked, in England, for a family that proved to be abusive. She received assistance from Kalayaan, an advice and advocacy center for migrant domestic workers. Lima's situation was all too familiar to Kalayaan. According to Kalayaan, nearly 70% of migrant domestic workers work seven days a week, almost half work 16 hours a day, and nearly 20% have been physically abused. More than half of the transnational domestic workers report that their bosses seize their passports and do not let them leave the house unaccompanied. Many report being denied food, many report sexual abuse.
Among its services, Kalayaan runs an ethical employment agency. David and Samantha Cameron came to that agency and hired Gita Lima, a number of years ago. Lima cared for their four children. In particular, she took care of the eldest child, Ivan, who had been born with a combination of cerebral palsy and severe epilepsy, and required round the clock care. Ivan died in 2009, at the age of six. Gita Lima continued to work for the Camerons, moving with them to 10 Downing Street.
The government, David Cameron's government, recently proposed a change in visa regulations. This change would require migrant domestic workers to stay with the employers who sponsored them. Like the song says, "You'd better dance with the one that brung ya." Or else.
Many domestic workers, and their allies like Kalayaan and the trade union Unite, understand the removal of the limited protections provided by the current system, the elimination of the right to change employers, as slavery.
They're right, it is slavery, and it's the Parliament of the United Kingdom that says so, in its Anti-Slavery Day Act: "In this Act "slavery" includes—
(a) trafficking for sexual exploitation,
(b) child trafficking,
(c) trafficking for forced labour, and
(d) domestic servitude."
Domestic servitude. Gita Lima, Marissa Begonia, Noor, Mira, and all the transnational domestic workers did absolutely nothing wrong, did everything right, in fact. They have worked hard, they have taken care of children and households, and in the case of some, like Gita Lima, they have wept at and mourned the loss of a loved one. Who is the criminal here, the one placed in slavery, in "domestic servitude", or the one who holds the woman worker in bondage?
(Photo Credit: BBC)