In the United Kingdom, today, October 18, is Anti-Slavery Day. Today, October 18, in two separate decisions, England's Supreme Court decided that domestic workers employed by diplomats have the right to sue their former "employer". These rulings have been hailed as landmark decisions, and hopefully not only for the United Kingdom. For migrant domestic workers, they could be the shot heard in capitals round the world.
The first case involves Cherrylin Reyes, directly, and Titin Rohaetin Suryadi. Cherrylin Reyes, a Filipina worker, worked for the al-Malki household from January 18, 2011, until March 14, 2011. Titin Rohaetin Suryadi, an Indonesian worker, worked for the household from May 16, 2011, to September 19, 2011. Both women have described inhuman working conditions. They worked 18 hours a day, seven days a week, and were not allowed to leave the house, except to take out the trash. Cherrylin Reyes reports that the al-Malkis took her passport and prohibited any contact with her family. Titin Rohaetin Suryadi says that her payment, such as it was, was sent directly to her family, rather than being given to her. The two also allege that they were trafficked, and have letters from the UK Border Agency that note that there are "reasonable grounds" for the claim. Additionally, Cherrylin Reyes and Titin Rohaetin Suryadi argue they were paid below minimum wage, and that they were subjected to racial discrimination.
On March 14, 2011, Cherrylin Reyes reported the situation to the police, after which she fled. On September 19, 2011, while the ambassador was away and his wife was asleep, Titin Rohaetin Suryadi escaped. In 2011, Cherrylin Reyes tried to take the al-Malkis before an Employment Tribunal. The Tribunal and then lower courts held that al-Malki, who was a diplomat from 2010 to 2014, had diplomatic immunity. With the help of the Anti-Trafficking and Labour Exploitation Unit (ATLEU) and Kalaayan, an organization that works for justice for migrant domestic workers in the United Kingdom, Reyes appealed the decision.
Today, the Supreme Court ruled that the employment of domestic workers in the diplomat's household was not part of the diplomat's official function, and so residual diplomatic immunity was lost once al-Malki left his post. Further, a majority of the Court added that human trafficking is a 'commercial activity', and so also falls outside of the diplomat's functions and therefore outside of the reach of diplomatic immunity. Both ATLEU and Kalayaan are pursuing other cases that will challenge so-called diplomatic immunity of domestic worker employers while they are in post.
In the second case, two Moroccan women, Fatima Benkharbouce and Minah Janah, had worked for employees of Sudan's and Libya's embassies, respectively. The two claim they were forced to work unlawful hours and were paid far below the minimum wage, and took their employers to the Employment Tribunal, which denied the claims, again on the basis of state and diplomatic immunity. The claims were based on both UK and EU laws. The Supreme Court today ruled that the claims based on EU laws had to be considered.
This means that Cherrylin Reyes, and ultimately Titin Rohaetin Suryadi, and Fatima Benkharbouche and Minah Janah can proceed, as regular workers, to take their cases and cause to the Employment Tribunal.
Avril Sharp, Policy Officer for Kalayaan, explained, "These cases were about access to justice for domestic workers, including those who had been trafficked to the UK and exploited in domestic servitude and forced labour. Human trafficking and modern slavery are grave human rights violations … Kalayaan will continue to support domestic workers and assist them to bring cases before the employment tribunal to ensure their employers are held to account. Diplomatic immunity should not act as a bar to enforcing rights and is at odds with the UK's stated aims of combatting and preventing modern slavery."
Cherrylin Reyes added, "I am delighted that the supreme court agrees that I can take my claim against the al-Malkis. I know there are lots of other domestic workers who have suffered like me and I am delighted that they will be able to use this case to get redress, and that they will not have to wait as long as I have done. I see myself as a fighter. Bringing this case has made me stronger." Bringing this case has made us all stronger, and that much closer to justice for all.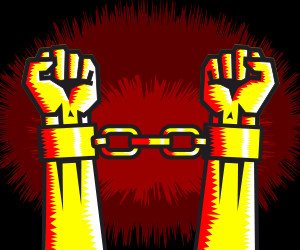 (Photo Credit: Kalayaan) (Image Credit: Lexisnexis)