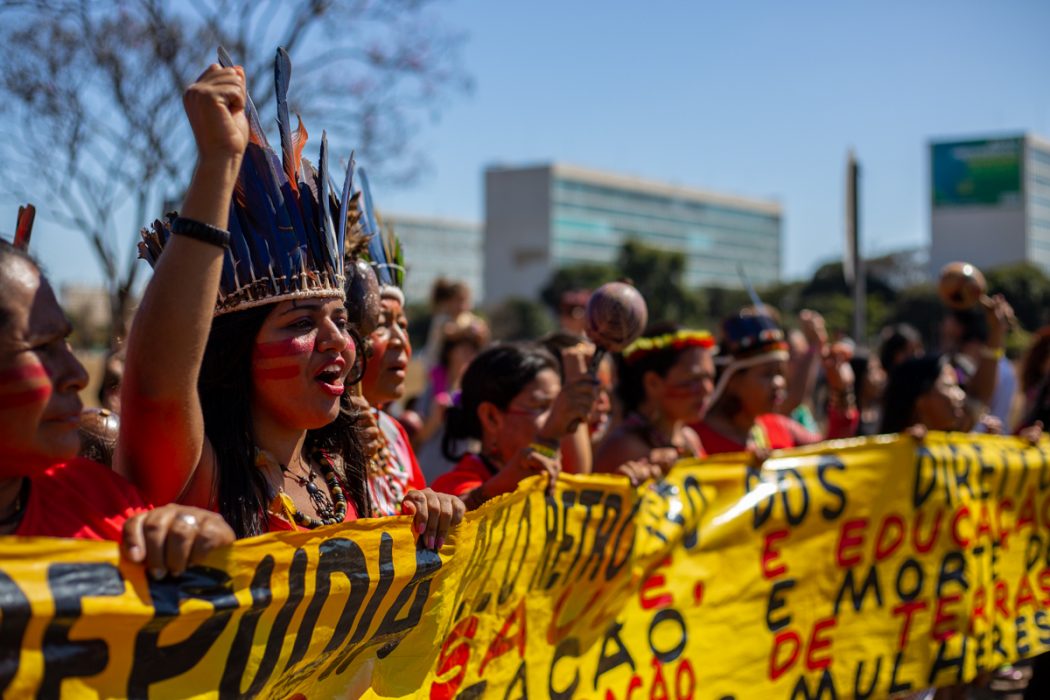 It only took three weeks or so for the world to take note that Brazil's Amazonian rainforest is on fire, a fire whose smoke turned Sao Paola's midday to midnight, a fire that from deep space portends an immediate threat to all living beings on the planet Earth. According to those watching the Amazon, the rainforest has suffered close to 73,000 fires this year alone. In the past week, around 10,000 fires have erupted. This represents a 70% increase in fires since January 2018. This sudden peak in rainforest fires is directly attributable to the policies of the Bolsonaro government. The Amazon is on fire, the Earth is on fire. Amazonian Indigenous peoples warned us that Bolsonaro, and the system of which he is a part, would do this to the forests and to the Earth. Few listened. In this struggle, Indigenous women lead the effort to liberate the Americas and the world. From the outset, they argued the struggle for Indigenous and environmental autonomy was and is a liberation struggle. Maybe now, maybe, more of us will listen. 
On August 13, 2019, Indigenous women converged on Brasilia for the first Indigenous Women's March. Under the banner "Territory: our body, our spirits", thousands of Indigenous women from hundreds of different Indigenous populations gathered and filled the streets for days. Sônia Guajajara, leader of the Articulação dos Povos Indígenas do Brasil (Brazil's Indigenous People Articulation), APIB, explained, "We came to denounce the president's hateful discourse, which has increased violence and destruction in our territories, which directly impacts us, women. We are counting on international solidarity to advance this movement for our future." Her colleague, Célia Xacriabá added, ""For the first time in history, the indigenous women's march convenes more than 100 different peoples in Brasilia with more than 2,000 women present. This is a movement that is not only symbolically important but also historically and politically significant. When they try to take away our rights, it's not enough to only defend our territories. We also need to occupy spaces beyond our villages, such as institutional spaces and political representativity. We call on the international community to support us, to amplify our voices and our struggle against today's legislative genocide, where our own government is authorizing the slaughter and ethnocide of indigenous peoples. This is also an opportunity to join our voices to denounce this government's ecocide, where the killing of mother nature is our collective concern."
At one level, as in the past, the real tragedy in Brazil is that there is no tragedy. There is only redundancy, murmurs of complicity, and, then, as in Gabriel Garcia Marquez's Chronicle of a Death Foretold, the inconceivable: "It was inconceivable that they would suddenly abandon their pastoral spirit to avenge a death for which we all could have been to blame." However, today, as in the past, Indigenous women are organizing, refusing to accept that script that renders them abject and renders the world as empty and farcical. They are demanding that we, all of us, recognize we have the possibility of liberation. As Tamikua Faustino explained, "Deforestation is a killer. If we don't stick together, in the near future we'll be eliminated." It's time to reject those who would impose a death sentence on all living beings, to refuse the vampire thirst for the blood of all living creatures. It's time to see the sun at midday, the moon at midnight. Eight years ago, in a different environment crisis in Brazil, Indigenous woman organizer Juma Xipaia declared, "We will not be silent. We will shout out loud and we will do it now." Another world is possible. Shout out loud, do it now.
(Photo Credit: CIMI / Tiago Miotto)