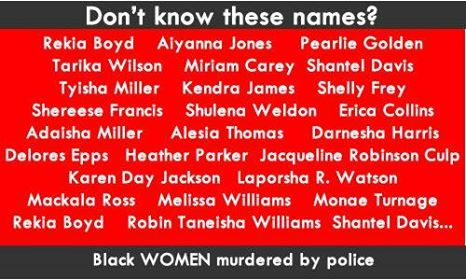 Do you know these Black women's names? They are part of a national tradition, from sea to shining sea. And this is only a very partial list.
Yvette Smith (Bastrop, TX) 2014: Bastrop woman's family, friends say she was unarmed when she was killed by deputy
Miriam Carey (Washington, DC) 2013: Her name was Miriam Carey
Malissa Williams (Cleveland, OH) 2012: Deadly police chase from Cleveland into East Cleveland brings questions, leaves families sorrowful
Rekia Boyd (Chicago, IL) 2012: Off-Duty Chicago Police Officer Shoots Couple On Chicago's West Side
Shantel Davis (New York, NY) 2012: The Shantel Davis Story Ignites Protests in Brooklyn
Shereese Francis (New York, NY) 2012: Did The NYPD Suffocate a Mentally Ill Woman To Death While Trying to Cuff Her?
Aiyana Jones (Detroit, MI) 2010: How a Police Officer Shot a Sleeping 7-Year Old to Death
Tarika Wilson (Lima, OH) 2008: Police Shooting of Mother and Infant Exposes a City's Racial Tension
Alberta Spruill (New York, NY) 2003: Woman Dies After Police Mistakenly Raid Her Apartment
"So it is better to speak
remembering
we were never meant to survive"
Audre Lorde, "A Litany for Survival", The Black Unicorn
They were never meant to survive.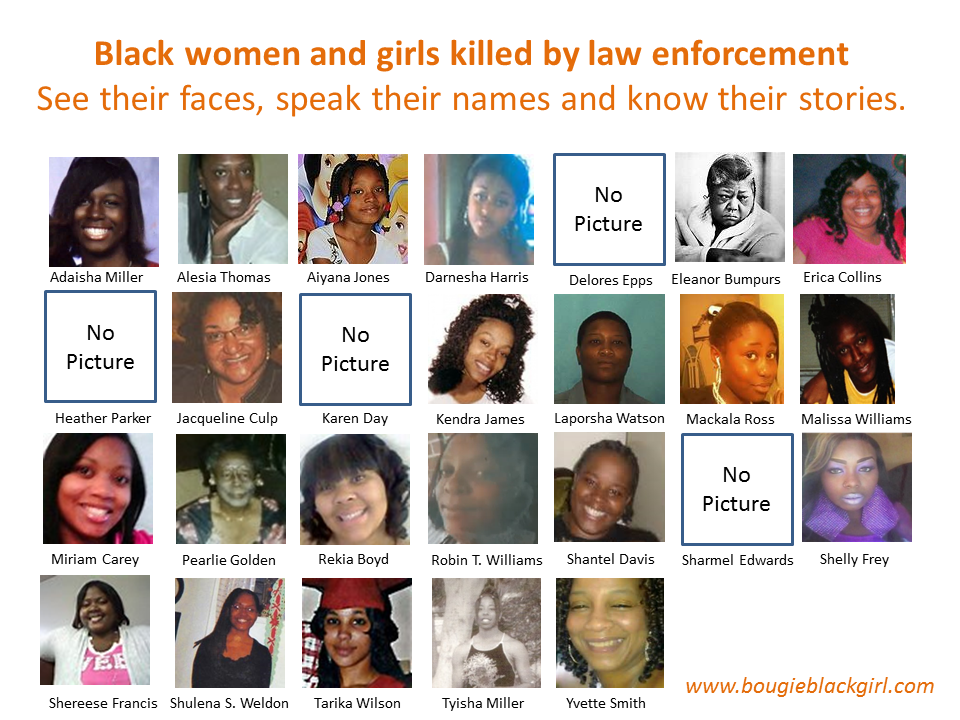 (Image Credit: BougieBlackGirl.com)