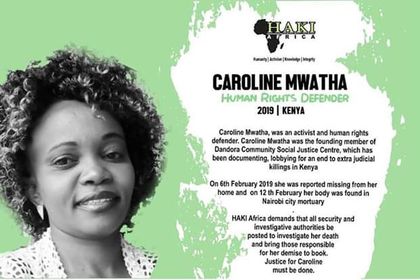 "The witch-hunt, then, was a war against women; it was a concerted attempt to degrade them, dehumanize them, and destroy their social power. At the same time, it was in the torture chambers and on the stakes on which the witches perished that the bourgeois ideals of womanhood and domesticity were forged. In this case, too, the witch-hunt amplified contemporary social trends. There is, in fact, an unmistakable continuity between the practices targeted by the witch-hunt and those banned by the new legislation that in the same years was introduced to regulate family life, gender and property relations."            
Silvia Federici, Caliban and the Witch: Women, the Body and Primitive Accumulation
The news this week reminds us that the witch hunt is thriving and in process. In Kenya, human rights defender Caroline Mwatha disappeared and then was found, dead. Police quickly determined that the cause of Caroline Mwatha's death was a "botched" abortion. While questions abound concerning that report, not in question is the severity of Kenya's restrictions on abortions and on women's access to reproductive health care and justice. In El Salvador, yesterday, Evelyn Beatríz Hernández Cruz walked out of the hellhole of Ilopango Women's Prison, where she had been held for almost three years for "aggravated homicide", which judgment was based on Evelyn Beatríz Hernández Cruz not having sought prenatal care while she was pregnant. We live in the world that spins between Caroline Mwatha and Evelyn Beatríz Hernández Cruz.
On February 6, Caroline Mwatha was reported missing. Caroline Mwatha lived and worked in the Dandora neighborhood of Nairobi, where she had founded the Dandora Community Justice Centre. Caroline Mwatha was well known for her investigations into extrajudicial killings, specifically, and police abuses more generally. She was a fierce and dedicated human and women's rights defender and warrior. At the same time, she was a pregnant woman living in Kenya. According to certain reports, Caroline Mwatha chose to terminate an unwanted pregnancy. According to all reports, Kenya is an especially dangerous place in which to make that choice. That danger is caused by especially harsh restrictions as well as by government political policies. In November 2018, Marie Stopes Kenya, the single largest provider of safe abortions in the country, was forced to close its abortion operations. Meanwhile, also last year, the government reported that every year in Kenya about 2,600 women die from unsafe abortions. That's seven women every day. What killed Caroline Mwatha? Evelyn Opondo, Africa director at the Center for Reproductive Rights, put it simply: "Caroline did not have to die. Her death was preventable. She is just one of so many women who are killed needlessly due to unsafe abortion in clinics run by 'quacks'." Caroline Mwatha did not have to die, but she was executed by state policy.
In July 2017, Evelyn Beatríz Hernández Cruz was found guilty of aggravated homicide. Evelyn Beatríz Hernández Cruz was a high school student at the time, who was repeatedly raped by a gang member. She became pregnant. She didn't know she was pregnant. She knew that she had stomach pains, but, because she also was bleeding, she thought she wasn't pregnant. Then In April 2016, she gave birth in the bathroom of her family's home. She passed out. When she regained consciousness, she was arrested. At the trial, medical experts couldn't ascertain whether the fetus died in utero or after the birth. The prosecution maintained that Evelyn Beatríz Hernández Cruz had not sought prenatal care because she didn't want the child. The judge agreed, and sentenced Evelyn Beatríz Hernández Cruz to thirty years in prison. After a little less than three years in the hellhole of Ilopango Women's Prison, Evelyn Beatríz Hernández Cruz was granted a new trial. Evelyn Beatríz Hernández Cruz can stay out of prison until a new trial, April 4. Mariana Moisa, of Agrupacion Ciudadana por la Despenalización del Aborto, or Citizen's Group for the Decriminalization of Abortion, noted, "In 2019 we shouldn't be fighting for the presumption of innocence when a woman loses a pregnancy. We shouldn't have to be proving that motherhood is not related to crime. We should have full human rights as Salvadoran women."
Kenyan activists mourn the death of Caroline Mwatha. Salvadoran activists celebrate the release of Evelyn Beatríz Hernández Cruz. These are pages in the history of the witch-hunt. While both Kenya and El Salvador explain their anti-abortion policies as a consequence of their being "religious", the tie that binds the two is the marriage of patriarchy and capitalism at whose altar the power and knowledge of autonomous, self-aware women is demonized and criminalized. Caroline Mwatha wanted help, and instead she was given a death sentence. Evelyn Beatríz Hernández Cruz needed help, and instead she was given a 30-year-sentence, which is akin to a death sentence. That's the modern witch-hunt, and it must end now. It's time, it's way past time, to demand justice for Caroline Mwatha, Evelyn Beatríz Hernández Cruz, and all the women subjected to the witch-hunt. Shut it down … now!