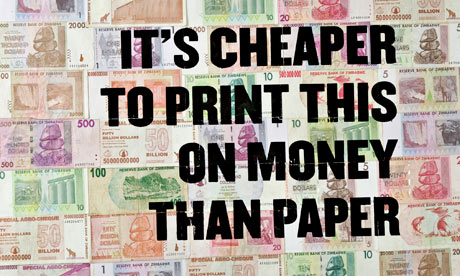 In Harare now, some say heaven can be found in the middle class suburbs of Arundel, Borrowdale and the Avenues. This heaven comes in the form of Spar supermarket and the queues of people waiting to get through the metal gates are long.  After all, "Spar is good for you"!
Once inside you would be forgiven for thinking you are in any South African Supermarket. A walk down the aisle will land you ricotta cheese for $1.10; oven baked chips at $3.90; Flame grilled honey and mustard chicken breasts, $5.60 … anything and everything can be found here.  People navigate their way up and down the aisles their shopping carts rolling on the well oiled wheels of "hard currency".
If you do not have the ma usa or ma rand, you are not permitted to enter heaven.  Infact currently in Zimbabwe, if you do not have the US dollar or South African rand, there is very little you can do. 
Venturing out of Harare, rural women run a roadside equivalent of a US dollar store.  They sell home-grown fresh produce to get forex.  The vegetables are stacked in piles, each valued at a dollar: 5 bunches of Muriwo (collard greens); 6 tomatoes; 4 green mealies; 15 small mapudzi (squash); 1 large pumpkin, a big bag of groundnuts. 
While the price is quoted in dollars, seeing me ruffle through Rands in order to pay for the giant pumpkin, the seller, Moreblessing, quietly says "10 Rand".  There is no longer an exchange rate.   1 dollar = 10 rand.
When the deal is done, Moreblessing tells me she needs to get foreign currency.  That will buy her and her children a future. "I don't want to talk about politics" she tells me. 
While she may not know that Morgan Tsvangirai is now the new Prime Minister, Moreblessing and many people like her, in rural and urban Zimbabwe are equally aware of the limitations and precariousness of the Zimbabwean currency caused by stratospheric inflation, unstable exchange rates and the inability of people to get their money out of the banks.
Gradually then, Zimbabweans began trading in hard currency on the parallel market.  In order to attract foreign currency back into the official market and reign in inflation, the central bank licensed some retailers, mostly multinationals, to charge for services in foreign currency.  (Although no one will admit it, currently dollarisation is the greatest threat to "national sovereignty" in Zimbabwe!)
But if the Zim dollar has led us to a dead-end, dollarisation has acted as a form of collective hypnosis. It's created an illusion of possibility and freedom.  If only you have the hard currency, anything is possible. All people have to do is get with the programme. 
At first glance this has its merits.  Its true.  US dollars can buy you access to … Spar, to wealthier, healthier, more comfortable lives. But there are also problems here, for the one does not automatically translate into the other.  Freedom for the mighty is slavery for the weak and dollarisation only exacerbates this position.  It's kind of like capitalism beyond control.
While some Zimbabweans revel in the availability of basic and luxury commodities, the devil lies silently in the detail.  Dollarisation is backfiring in the same way that the floatation of exchange rates back in May 2008 accelerated the collapse of the Zimbabwe dollar.  For some dollarisation has translated into greater deprivation and a rising sense of injustice.
Economists argue that dollarisation can result in a rapid rise in the price of commodities which in turn results in a sharper increase in levels of poverty.  This trend is already apparent.  There has been an accelerated inflation of the US dollar in Zimbabwe, which is now estimated at more than 50%, compared to 5.3% in the US. What does this mean in reality?  It means that the prices of everything sold in US dollars in Zimbabwe is four to five times higher than in South Africa or other countries with convertible currencies.
The anesthesia created by dollarisation has also erased the fact that with an estimated 80% unemployment, foreign earnings capacity is less than 5% of the population. Of course cross border trading is rampant and besides remittances from the diaspora, there is very little other evidence to suggest that the majority of Zimbabweans have access to foreign currency.  
So it is logical that the effect will be a natural and legitimate demand by those who are employed to be paid in foreign currency.  This demand gained even more traction after the February 11th inauguration speech by Prime Minister, Morgan Tsvangirai, when he boldly committed to pay 150 000 civil servants in foreign currency until the economy is stabilised.   These empty promises are a brand of very dangerous populism. Where this money is going to come from is anyone's guess. 
But for now, the current situation presents even more challenges for an already exhausted and abused people.  Not only does the country not have the foreign currency reserves, but the banking system itself is largely not a US dollar depository.  This means foreign currency circulation will fall outside the banking system which has the potential to ignite another banking crisis, as all Zim dollar accounts are now, de facto, frozen.
But as the cycle goes, with nearly everyone, licensed or not, attempting to sell goods and services in US $, what's more free than a free for all?  
Prespone Matawira