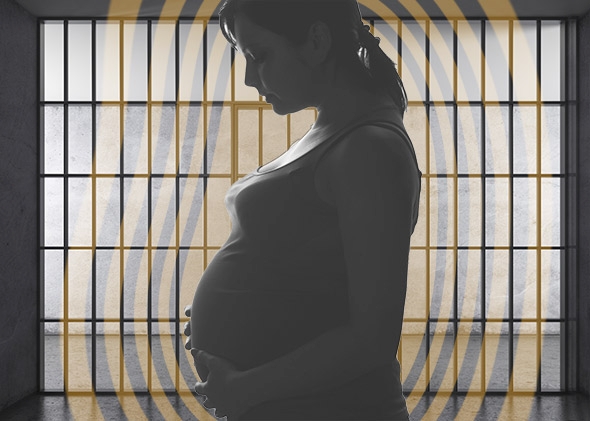 The year ends with a childbirth in New York in which the mother, Jane Doe, was shackled, even though New York law prohibits that, and the report of a childbirth in Western Australia where the mother was thrown into a cell and left, alone, to give birth, alone. In one instance, those who came arrived with chains; in the other, no one came at all. For the past few years, we've followed and shared the stories of those born, not in a manger, but rather in solitary confinement or in a prison cell and those born to women whose legs were shackled. Today's a good day to remember those, and so, without further ado …
Let's talk of those women who were thrown into cells, alone, to give birth.
Texas' Minimum Security Death Row for Women: In 2013, in Texas, Autumn Miller was force to give birth to Gracie Miller in a holding cell toilet. Guards then rushed in, shackled and handcuffed the mother, and took mother and daughter to the hospital. Gracie died four days later, in her shackled mother's handcuffed arms.
How many women are forced to give birth in solitary confinement?: In 2014, Nicole Guerrerofiled a lawsuit against the Wichita County Jail, in Texas, and others for having forced her to give birth in solitary. The baby died. It's a terrible story, and it's an increasingly common one.
In England, women in prison give birth without midwife. Who cares?: In November 2018, a report detailed the conditions of childbirth in England's prisons. The study centered on Layla who was forced to give birth without any care,
In Western Australia, Bandyup Women's Prison is still (akin to) torture: In December 2018, the Inspector of Custodial Services for Western Australia released a report that focused on the experiences of Amy, an Indigenous woman who was forced to give birth, alone, in a prison cell.
In each instance, the women – Autumn Miller; Nicole Guerrero; Layla; Amy – said they were in labor, and in each instance, the staff disbelieved and did nothing … or worse.
Let's talk about shackling women in childbirth:
Women prisoners haunt the modern era: Our journey begins in 2009, when New York State passed the anti-shackling Bill S01290A, which "prohibits the use of any restraints during labor". Remember that, and remember that it was 2009.
Did Mother's Day end early this year?: In 2010, Pennsylvania passed its own anti-shackling law. In 2014, pregnant women prisoners were still being shackled, routinely, including during childbirth.
In New York, Jane Doe was shackled in childbirth, despite New York's anti-shackling laws: And finally, just this month, "Jane Doe" sued the NYPD because, earlier in the year, they had insisted on shackling her, in childbirth, despite the prohibition on such shackling since 2009.
So, where is that shining star, the one that will lead us to healthy childbirths for all, irrespective of status and location? States are passing anti-shackling laws:
Shackling the birthing, dead and dying: All in a day's work: In 2014, Nevada outlawed shackling women in childbirth, thanks largely to Valorie Nabors, who had been incarcerated in the at the Florence McClure Women's Correctional Center and refused to accept the shackling she had undergone as inevitable or acceptable.
In January 2014, Maryland passed the Healthy Births for Incarcerated Women Act. In February 2014, Massachusetts stopped shackling women in childbirth. In March 2018, North Carolina stoped shackling women in childbirth.
The news has been difficult … and partial. Jails are largely opaque and seldom report the conditions of childbirth. Immigration detention centers are worse. When laws are passed, as in New York and Pennsylvania, constant monitoring and intervention is needed. But for now, let us thank the wise women and their supporters who campaign tirelessly for the dignity of women … everywhere. The struggle continues.