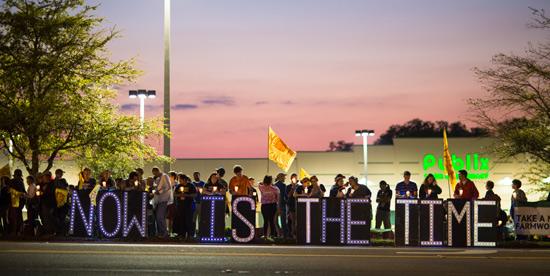 For women farmworkers seeking an end to workplace sexual violence, now is the time! On January 6, 1941, in his State of the Union Address, Franklin Roosevelt elucidated the four freedoms: freedom of speech, freedom of worship, freedom from want, and freedom from fear. The Monday before Thanksgiving, the Coalition of Immokalee Workers' Women's Group declared it's time to demand a Fifth Freedom: freedom from sexual violence. With other members of the Coalition of Immokalee Workers and with supporters, including the T'ruah Tomato Rabbis, women tomato pickers from Florida stormed the Park Avenue office building where Wendy's Board Chairman, Nelson Peltz, holds court. They chanted, "Nelson Peltz, escucha, mujeres en la lucha!" and "Nelson Peltz, shame on you, farmworkers are people, too!" Denied entry to the building, they shouted their message to the streets and to the world. Workplace sexual violence must end. Now is the time!
The Coalition of Immokalee Workers has been working with the Fair Food Program to secure real dignity and justice in the tomato fields of Florida and beyond. At this point, Wendy's is the only large restaurant chain to refuse to sign onto the Fair Food Program code of conduct. Why? They say they have their own code … which is precisely the problem. McDonald's, Taco Bell, Subway, and Burger King have signed onto the code, and have found that it works. Whole Foods, Aramark, Walmart, and Trader Joe's have also signed. All these major players find that a worker-run code of conduct works. Report after report after report after report after report demonstrate that the Fair Food Program works. And yet Wendy's continues to hold out.
In the decades' long process of organizing and of developing strategies and structures, women tomato pickers and farmworkers – such as Lupe Gonzalo, Silvia Perez, Nely Rodriguez, and scores of others – began organizing a quiet revolution. As the Coalition of Immokalee Workers organized, the Immokalee Women's Group pushed the recognition of women as central to the struggle for farm workers' rights, dignity and power. Recognizing women's centrality meant recognizing that the struggle for rights, dignity, and power is a community wide struggle rather than strictly a `shop' issue. From exorbitantly expensive, predatory housing to food deserts in the midst of farmlands to rampant, and often illegal, use of pesticides to sexual abuse at work, women were particular targets.
On Saturday, March 8, 2014, the women of Immokalee wrote and delivered a letter to Wendy's, "Hear the voice of the woman, who today dares to defend her dignity in the fields. A new day is coming to Florida's fields, with the Fair Food Program. It guarantees that dignity of women is respected. We have to keep fighting, and we have to keep shouting, at Wendy's and other corporations, that the hour has arrived. NOW IS THE TIME!"
They have kept fighting. Lupe Gonzalo was one of the leaders then, as she is today. On Monday she had a message for Nelson Peltz, for Wendy's and for all of us: "It doesn't matter which country we're from, which language we speak, which color is our skin. We are human beings, we are women, and nobody is going to keep stepping on our dignity. It's time to take the hand of the person that's next to you, to walk together.  Let us not abandon each other, let us not leave each other.  Wendy's will sign.  Sooner or later, they will come to the table of dialogue, and we will feel so proud to walk together with them in this struggle."
Today, November 25, is the International Day for the Elimination of Violence Against Women and Girls. That sounds big, and it is. But it's also realizable. Ask Lupe Gonzalo and the other members of the CIW Women's Group. It takes commitment, clarity, concrete structures and collective action. It's time to walk together. Now is the time!
(Photo Credit 1: Forest Woodward / Facebook) (Photo Credit 2: Coalition of Immokalee Workers)