The privilege of whiteness is the ability to take up as much space as we want, without recourse, to do whatever we want. We are seeing the stark differences between white protestors angry over the loss of luxury and Black protestors angry over the continued murder of Black men and women, and how those white people are able to act in a space they think is ONLY for them.
While white people still are trying to defend a police officer that has had a history of brutality against Black and Brown bodies and criticize justifiable rage over it, other white people are carrying AR-15s and machine guns into state Capitol buildings and able to take up as much public space as they want with no teargas; no pepper spray or rubber bullets; no death.
White women are able to threaten to call the police on an "African American man" because they know the police will protect their ability to take up space, and that that Black man will potentially be harmed and killed because she did.
White people in New York City will congregate en masse in parks. They will congregate without masks, and they will receive masks from the police while Black people are ticketed and tased for not having one. Even the process of wearing a mask can be deadly for Black men and women.
A Black man was jogging and three white vigilantes, without provocation, murdered him in broad daylight. The police did nothing. White people jog with little fear, save for the dangers of reckless motorists.
A Black woman couldn't sleep in her own bed without being murdered by police and her partner arrested for defending himself.
White people, start learning our privilege. Stop protecting institutions that literally were created to maintain a white racial hierarchy. Start understanding how much space we take up and stop defending those that try to keep it that way.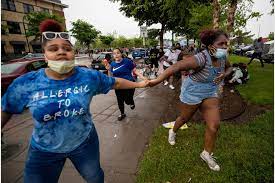 (Photo Credits: Carlos Gonzalez / Star Tribune)