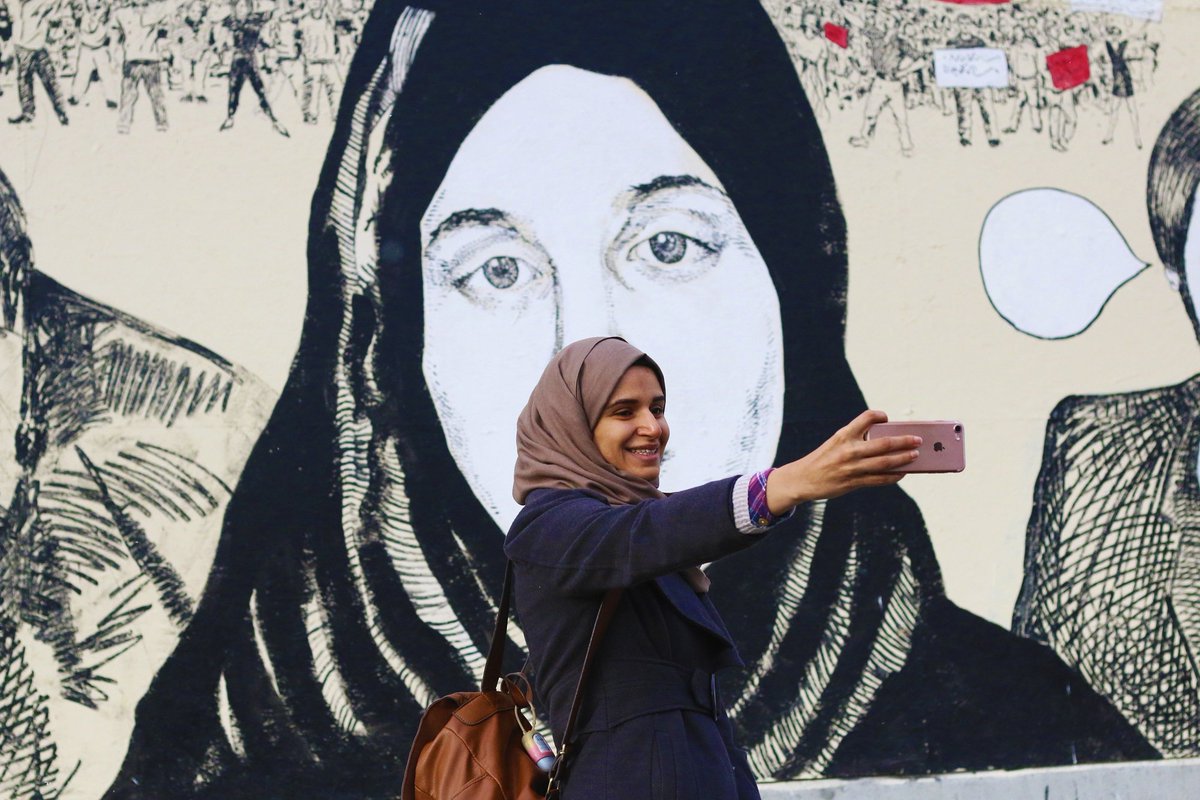 In Bahrain yesterday, thousands filled the streets in pro-democracy protests. In Bahrain today, Ayat al-Qurmozi was sentenced to a year in prison. Her crime is poetry. In February, the twenty-year-old teacher trainee, a student at the Teacher's College of Bahrain, attended a pro-democracy rally in the Pearl Roundabout. She read a poem to the crowd. The crowd went wild. Then the State did as well. It hunted her down. She went into hiding. Police, by the busload, flooded into her parents' home and promised to kill her brothers first, and then the parents, if she wasn't located … promptly. She turned herself in. That was March. Since then, Ayat al-Qurmozi has been tortured, held incommunicado for long periods, blindfolded and forced to sign a document which claims to be a confession. Today, June 12, she was sentenced to a year in prison. The State has invested quite a bit of energy and resources into the education of this young Shia woman student poet's education.
Some now call the young Ayat al-Qurmozi the Revolution Poet. Others call her the Freedom Poet. What did Ayat al-Qurmozi say to the crowd? In part, the following:
"My name is Ayat al-Qurmozi. I am a student at the Teachers' College of Bahrain, and I have a message. It is short. It is for those who think they will dance on our pain and suffering, built from sectarian strife and led by the one-eyed TV channel:
We do not want to live in a palace and we do not want to live like the President.
We are the people.
We are the people who kill humiliation and assassinate misery.
We are the people!
We are the people who use peace to destroy the foundation of injustice.
We, the people, do not want our brothers and sisters to remain in suffering and despair.
One day, a spirit came to the King and said, O Hamad!
They have touched me, your people. Do you not hear?
Do you not hear their cries?
Do you not hear?
Do you not hear their screams?
Sunni, Shia, brothers, sisters, God cares for you without distinction."
And the crowd went wild. And so did the State. Today, Ayat's mother asks, "What did she do? She wrote a poem." Is the price of poetry really martyrdom?
Now Ayat al-Qurmozi sits with Zainab al-Khawaja, Dr. Fareeda al-Dallal, Eman Abdulaziz Alaswam, Roqaya Jassim Abu Rwais, Fadhila Mubarak Ahmed, and all the unnamed and all the unknown women and girls in Bahrain who have been targeted for repression, who receive special attention when seized, arrested, interrogated, incarcerated. The women of Bahrain are paying dearly for freedom of expression, for expression and for freedom. The State is investing a great deal in their education. But as elsewhere the revolution will not be educated.
(Photo Credit: Nobel Peace Center / Twitter)