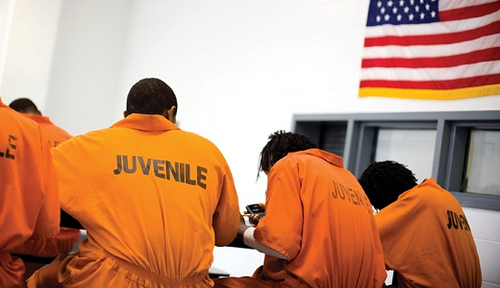 Two recent reports, taken together, describe a United States in which the violence of mass and hyper incarceration has become an intrinsic part of the contemporary American project. As at least one writer noted years ago in a different context, the rule of law is the force of law. And that force is coming down on Black populations with particular intensity.
The American Civil Liberties Union's report, A Living Death: Life Without Parole for Nonviolent Offenses, has attracted attention and sparked conversation, although thus far not beyond the circle of usual participants. The ACLU findings, while horrible, are not all that surprising. The so-called War on Drugs has fueled the life without parole, or LWOP, economy. Pretty much any hint of `drug involvement' can land a person in jail for life without parole. Most of the LWOP prisoners are first-time drug offenders.
Here's the heart of living-death: "There is a staggering racial disparity in life-without-parole sentencing for nonviolent offenses. Blacks are disproportionately represented in the nationwide prison and jail population, but the disparities are even worse among the nationwide LWOP population and worse still among the nonviolent LWOP population. Based on data provided by the United States Sentencing Commission and state Departments of Corrections, the ACLU estimates that nationwide, 65.4 percent of prisoners serving LWOP for nonviolent offenses are Black, 17.8 percent are white, and 15.7 percent are Latino. In the 646 cases examined for this report, the ACLU found that 72.9 percent of these documented prisoners serving LWOP for nonviolent offenses are Black, 19.8 percent are white, and 6.9 percent are Latino."
Staggering? Yes. Surprising? Not at all.
According to the ACLU, 3, 279 people are serving life without parole for nonviolent crimes. Of that group, 2,074 are in federal prisons and jails. Of the 2074, 1757 are Black. That's 60%. 91.4% of Louisiana's LWOP prisoners are Black, and so Louisiana wins the Race Race to the Bottom.
The individual stories are heartbreaking… and not surprising. Life without parole is a death sentence. It emerges not only from the War on Drugs, but also from a national belief that rehabilitation does not work, that `criminals' are not human and so must be caged.
As the Sentencing Project report, Life Goes On: The Historic Rise in Life Sentences in America, suggests, the initial impetus for the LWOP was the elimination of the death penalty. So, state-by-state, over twenty years, the `nation' replaced the instant of death with a lifetime of dying.
The Sentencing Project findings, while useful, are also not surprising. Serious crime is down, and the number of LWOP prisoners, in the same period, has more than quadrupled. Last year, over 159,000 people were serving life sentences. Close to 50,000 were LWOP.
One in nine prisoners is in for life, and, as the Sentencing Projected documented earlier in the year, this includes an increasing number of juveniles, of children. Around 10,000 people have been sentenced to life in prison for nonviolent offenses. Almost half the `lifers' are Black. Nearly 10,000 people have been sentenced to life behind bars for crimes that occurred before they turned 18. Around 2,500 of that 10,000 were sentenced to life without parole. Children waiting to die.
More than 5,300, or 3.4%, of prisoners sentenced to life are women.
According to the Sentencing Project, the United States boasts 5,361 women serving life sentences. That's up 13.2% since 2008. Who are these women?
"Women serving life sentences often have particularly tragic histories. Among the females serving LWOP for offenses committed in their teenage years, the vast majority experienced sexual abuse in their childhood. Among women convicted of intimate partner violence-related homicides, the majority have been battered. This is even more evident among women serving life sentences. Statistics from nationally representative inmate survey data show that 83.8% of life-sentenced women were sexually or physically abused and that abuse is significantly more common among female lifers than male lifers or female prisoners not serving life sentences."
Who are the women serving life sentences, and even more those serving life without parole? They are the abandoned. Growing up in a period in which public and social services, caring services, were slashed, growing up in a time and place in which needing help was criminalized, as girls they were left to fend for themselves. Today, they are the fantastic products of a national social factory, one that stretches from `Welfare Queens' to `Drug Mules'.
There is no surprise in this, and there is no `genius.' There is only the staggering work of heartbreaking.
(Photo Credit: ACSlaw.org / lawanddisorder.org)