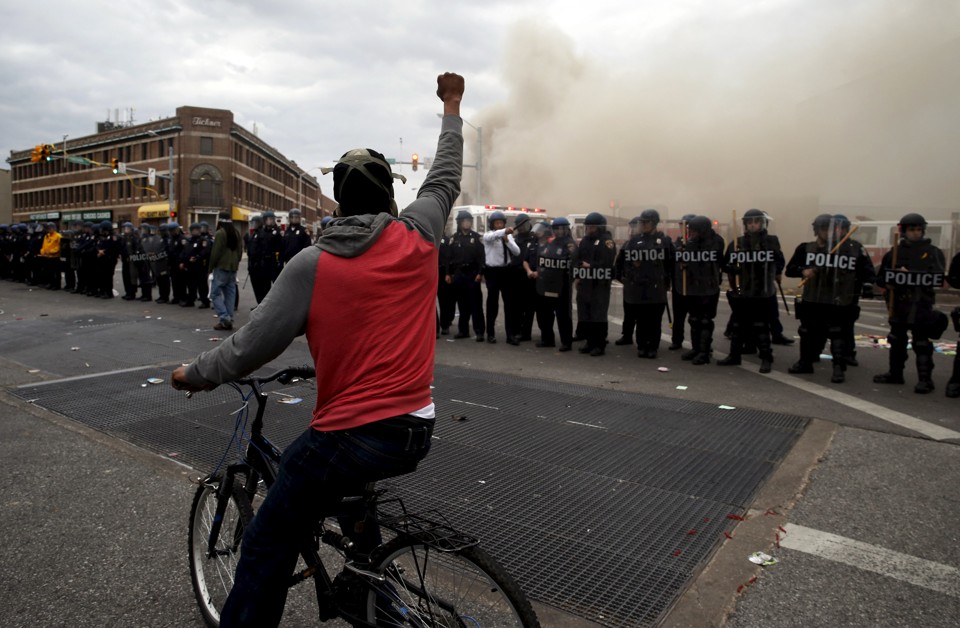 What qualifies as a State emergency, and who gets to call it? Not the State of Maryland and not the City of Baltimore. They lost that privilege decades ago.
After decades of publicly acknowledged police brutality directed specifically at Black and Brown skinned residents of the city, of spending millions of dollars to support violent extremists in the Baltimore City Police Department, neither the City of Baltimore nor the State of Maryland has the moral authority to declare a state of emergency. They wouldn't know an emergency if it bit them.
Since 2011, Baltimore has invested $5.7 million in lawsuits dealing with police brutality. As Ta-Nehisi Coates noted, "The money paid out by the city to cover for the brutal acts of its police department would be enough to build "a state-of-the-art rec center or renovations at more than 30 playgrounds." Instead, the money was used to cover for the brutal acts of the city's police department and ensure they remained well beyond any semblance of justice."
Coates grew up across the street from Mondawmin. Considerably earlier, I lived most of my pre-school life across the street from Mondawmin. We both understand the lie of peace and responsibility when they come from the mouths of State representatives. As Coates argues, "When nonviolence is preached as an attempt to evade the repercussions of political brutality, it betrays itself. When nonviolence begins halfway through the war with the aggressor calling time out, it exposes itself as a ruse. When nonviolence is preached by the representatives of the state, while the state doles out heaps of violence to its citizens, it reveals itself to be a con."
What's this war in Baltimore? Freddie Gray was killed while riding in a police van. Violence in police vans is so ordinary it has its own lexicon. There's the "rough ride", when the handcuffed and perhaps shackled prisoner is not seat belted, and so is thrown all over the van. This is also known as the "cowboy ride." Then there's "bringing them up front" where the driver slams unexpectedly on the brakes, throwing the prisoner against the cage behind the driver's seat. This is also known as the "screen test".
Last September, The Baltimore Sun ran a major investigation into the payouts, including the stories of horrible police violence against Black women: 87-year-old Venus Green; 26-year-old Starr Brown; 58-year-old Barbara Floyd. Between 2010 and 2014, 31 people died in `police in encounters' in Baltimore. The culture of police brutality, Baltimore's disgrace, has long been public knowledge. Did anyone in Annapolis or on the Baltimore City Council even contemplate stating that there is an emergency in Baltimore?
Individuals and agencies that have absolutely no moral authority to declare any kind of emergency are now in charge of declaring and maintaining a State of Emergency. None of this is a surprise. As John Angelos, Orioles team executive, noted early on, "My greater source of personal concern, outrage and sympathy … is focused rather upon the past four-decade period during which an American political elite have shipped middle class and working class jobs away from Baltimore and cities and towns around the U.S … plunged tens of millions of good, hard-working Americans into economic devastation, and then followed that action around the nation by diminishing every American's civil rights protections in order to control an unfairly impoverished population living under an ever-declining standard of living and suffering at the butt end of an ever-more militarized and aggressive surveillance state."
In his 1962 essay, "A Letter to My Nephew", James Baldwin alluded to a slave spiritual, "You Got a Right":
"You got a right, I got a right,
We all got a right to the tree of life.
Yes, tree of life.
The very time I thought I was lost,
The dungeon shook and the chain fell off.
You may hinder me here,
But you can't hinder me there.
'Cause God in the Heaven's
Going to answer my prayer."
We all got a right to the tree of life.
(Photo Credit: Jim Bourg / Reuters)