In 2014, Maryland and Massachusettsstopped shackling women prisoners in childbirth. Last year, at this time, North Carolina ended shackling women prisoners in childbirth. Sometimes, a state legislature decides; sometimes a prisons director. or a governor decides. Advocates for banning the shackling of pregnant women insist that legislation is preferable to executive orders. This year, Utah, Georgia, Tennessee, Arkansas and South Carolina legislatures considered banning shackling pregnant women prisoners and, in some instances, the use of solitary for pregnant and post-partum women prisoners. Utah, Georgia. and Arkansas passed legislation ending shackling. Tennessee failed to pass. Missouri, which already bans the use of shackles on women in childbirth, extended limitations on the practice to jails in Missouri … with "extraordinary circumstances" exceptions. 
In Utah, both houses of the legislature unanimously passed a bill banning the use of shackles in childbirth. Jake Anderegg, a Senate sponsor of the legislation, called the bill "one of the most no-brainer bills I've ever run." In Georgia, both houses passed, although the Senate vote was 52 – 1. The one opponent was "a former law enforcement officer". In both Utah and Georgia, legislators were moved to action by testimony of formerly incarcerated women who had suffered childbirth while in shackles, Michelle Aldana; in Utah; Pamela Winn, in Georgia.
In 2001, Michelle Aldana was in Utah State Prison for seven months. She was also pregnant. When Michelle Aldana gave birth, she was shackled to her hospital bed for somewhere between 30 and 40 hours. Throughout, her legs and one arm were chained to the bed. Throughout, her ankles bled. As Michelle Aldana remembers, "I felt like a farm animal … I just don't think any woman, when they're that vulnerable, should ever be treated that way. It's just wrong." Michelle Aldana's child was born with meconium aspiration syndrome (MAS) and emerged from the womb unconscious: "They hurt my baby….and he didn't do anything to anybody. I felt like it was my fault because I had a drug charge…but he didn't do anything – ever – to anybody. He's just a tiny little baby and they hurt him really bad…and I still feel really bad." According to Michelle Aldana, because of her body type, she was told a vaginal birth would be dangerous. Utah refused a Caesarean section, and so she had to endure a vaginal birth, during which her pelvis was broken: "I felt like an animal in a cage. I felt like I wasn't human … Nobody in this world deserves to be treated like an animal."
In 2008, Pamela Winn. entered Robert A Deyton Detention Facility, a facility in Clayton County, Georgia, that was designed for men. At intake, she discovered she was six weeks pregnant. At that point, Pamela Winn was a healthy single mother of two children, a college graduate, a registered nurse, and a home owner. Whenever Pamela Winn was transported anywhere, she was shackled, wrists to belly chain. At one point, entering a van, she fell and, being shackled, couldn't catch herself. According to Pamela Winn, "From that point is when I started bleeding." She asked for medical attention. No one came for days. It took twelve weeks to actually get any medical attention. Then, one night, Pamela Winn started bleeding and cramping. Shackled to her bed, Pamela Winn suffered a miscarriage. Then, she was taken to the hospital, where she was informed that she had already miscarried. When she asked where her baby was, the guards told her they had thrown out the sheets, and with them the baby. Soon after, Pamela Winn was transferred to another facility, where she was immediately placed in solitary. Pamela Winn is now Executive Director of RestoreHer, a nonprofit organization dedicated to enhancing the lives of incarcerated pregnant women and ending the mass incarceration directly impacted women of color: "I think that's what's really driven me to do this work and to fight for these laws to be passed. The fact that they tell you there's nothing you can do. That just didn't sit well with my soul to know that someone can treat a person like this."
We keep reading this sentence: "Women are America's fast-growing segment of prisoners." So what? Last week a first of a kind study considering pregnancy outcomes in US prisons was published. That studynotes, "Being in prison or jail during pregnancy can be a difficult time for many women, fraught with uncertainty about the kind of health care they might receive, about whether they will be shackled in labor, and about what will happen to their infants when they are born. Some pregnant women in custody may experience isolation and degradation from staff and insufficient pre-natal care." The study ends with a call to recognize "the need to address the numerous complexities of birth in custody, such as the medically unsafe practices of placing pregnant women in solitary confinement and shackling women in labor, ensuring proper pregnancy and postpartum care, and determining who will care for the infants born to mothers in custody." Who doesn't know that?
Michelle Aldana and Pamela Winn refused to be treated like animals, refused to give up or give in. They have gone on to become inspiring advocates for common moral decency. Who are we when we have to struggle to prohibit forcing women to give birth in shackles? It's time to stop `discovering' that women are the fastest growing prison population; that women in prison are pregnant and are giving birth; that prison is bad for pregnant women. Stop shackling pregnant women and stop sending pregnant women and post-partum women into solitary. Stop sending pregnant women to prison. Tear down the prison walls and build a better world.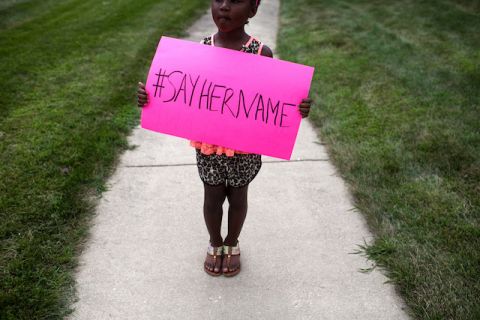 (Image Credit 1: Radical Doula) (Image Credit 2: Colorlines / Stokely Baksh)