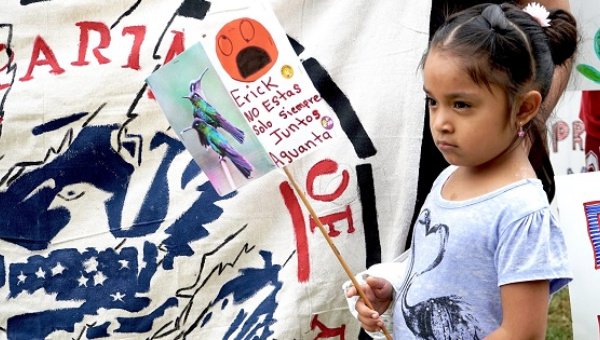 This week, twenty-two women held in the Berks County Family Detention Center launched an indefinite hunger strike. After so many violations of their dignity and of the humanity of their children, the Mothers of Berks, las Madres Berks as they call themselves, still believe in humanity, not only their own but that of their captors, and so, after the violence and lies and campaigns designed to teach them despair, they continue to write open letters and to launch new campaigns. They continue to wage hope. This week, hope is a hunger strike, to the death if necessary.
The women continue to say that peace, love and justice will prevail over violence. The violence comes in many ways. The State forces the women into prison. The State forces the women's children into prison. It forces the women to watch the children suffer. Then, the State lies. More than lies, it covers the women and children in ever intensifying blankets of lies, as it attempts to poison the very concepts of asylum, refuge, and humanity with lies.
The Madres Berks' letter reads, in part:
"The Immigration Department has made a public announcement stating that in family detention center parents and children are detained no longer than 20 days.
WE WANT TO DISPROVE THIS INFORMATION!!
We are 22 mothers who are detained at Berks Family Residential Center being mothers who have been from 270 days to 365 days in detention with children ages 2 to 16 years old, depriving them of having a normal life, knowing that we have prior traumas from our countries, risking our own lives and that of our children on the way until we arrived here, having family and friends who would be responsible for us and who are waiting for us with open arms and that immigration refuses to let us out. Seeing these injustices, we have decided to go on an indefinite hunger strike until we obtain our immediate freedom because all of us left our countries of origin fleeing violence, threats and corruption that not even the government of each of our countries in Central America can control.
On many occasions our children have thought about SUICIDE because of the confinement and desperation that is caused by being here. The teenagers say BEING HERE, LIFE MAKES NO SENSE, THAT THEY WOULD LIKE TO BREAK THE WINDOW TO JUMP OUT AND END THIS NIGHTMARE, and on many occasions they ask us if we have the courage to escape. Other kids grab their IDs and tighten them around their necks and say that they are going to KILL themselves if they don't get out of here. The youngest kids (2 years old) cry at night for not being able to express what they feel. For a long time, the children have not been eating well, but they have never paid attention to our complaints about the food until now.
We are desperate and we have decided that: WE WILL GET OUT ALIVE OR DEAD.If it is necessary to sacrifice our lives so that our children can have freedom: WE WILL DO IT!"
The women signed the letter as "Mother with … "; for example, "Mother with 6-year-old-daughter with 365 days in detention." 22 women; 25 children, ranging in age from 2 to 16; six children are four and under. 47 women and children share 5923 days behind bars, almost 16 years. This is the bitter math of democracy today. This is, and cannot be, our truth. The women of Berks say they deserve freedom today, and they say their captors deserve to set them free.
"The ministers lie, the professors lie, the television lies, the priests lie.
What are these lies?
They mean that the country wants to die …
These lies mean that something in the nation wants to die."
The Mothers of Berks refuse to die, though they are ready to do so for their children … and for ours. They are the part of the nation that wants to live, that wants to move from the violence and trauma to the better math of democracy and justice, which is that of love. #ShutDownBerks #EndFamilyDetention #Not1More
(Photo Credit: Telesurtv)