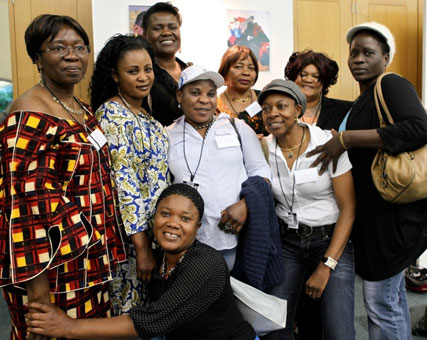 "What are these lies?
They mean that the country wants to die."
Haitians, Zimbabweans, everything at home is just fine. So say the United States and the United Kingdom. Everything is just fine and you must just go.
Except that everything is not just fine.
In Harare yesterday, Saturday, April 9, 2011, thousands met at a church service at St Peters Kubatana in Highfield. They engaged in a peaceful demonstration to pray for peace. They came together to pray to end the escalating violence in Zimbabwe. Police threw tear-gas canisters into the church, and when the parishioners and congregants ran out or leapt through the windows, the police attacked them, beating them with batons.
This is peace and unity in Zimbabwe today.
But, according to the UK, Zimbabwe is a-ok, so much so that it's time to start deporting all those pesky `failed' and `undocumented' asylum seekers, people like Nyasha Musvingo. Musvingo fled Zimbabwe after her husband was beaten, tortured, and then died as a result. She knows she can't return, because of `the situation'.
The UK would disagree. Last month, on March 14, the most senior immigration judge in the country, Mr. Justice Blake of the Upper Tribunal (Immigration and Asylum Chamber), ruled that Zimbabwe is fine. The violence is over. People need not live in fear in Zimbabwe nor need they fear returning. So what if disappearances, indefinite detention, torture and violence have returned and are on the rise? Zimbabwe is `safe' enough.
Likewise, in Haiti, everything is not just fine.
In Haiti, high levels of violence continue. Rape is epidemic. Over a million people remain homeless. Everyday, the so-called temporary camps seem to become more and more permanent. Cholera is on the rise. A recent study suggests that by November the number of cholera cases in Haiti will be close to 800,000, and the number of deaths will reach a little over 11,000. The crisis is worsening in Haiti.
The United States would disagree. This week, the United States government announced it has formally resumed deportations to Haiti. Haiti is `safe' enough.
Cholera is on the rise in Zimbabwe as well.
In 2008 – 2009, in large part due to the intensification of political violence, Zimbabwe suffered a cholera epidemic that killed over 4000 people. Close to 100,000 cases were reported, and, according to a recent report, a rapid response, once the 400 cases were reported, would have reduced the number of cases by 34,900, or 40%, and the number of deaths by 1,695 deaths, also 40%. Why was nothing done, why were so many allowed to die? `The political situation.'
But that was then. This past Friday it was reported that over the last month, 36 people died of cholera in Manicaland and Masvingo provinces, in Zimbabwe. In the past week alone, 13 died, and the Ministry of Health notes that the death toll could be higher, as records are not up to date.
Sending people back to Zimbabwe is a death sentence. The United Kingdom would disagree … or would it? The Foreign and Commonwealth Office describes Zimbabwe:  violence on the farms, in the streets, random and targeted; abominable prison conditions; torture; and a culture of impunity. The most recent Foreign and Commonwealth Office Human Rights report, from 2009, paints an equally grim picture.
The Department for International Development describes the state as `unstable'. 25% of Zimbabwean children are described as `vulnerable'. Most live in households, and neighborhoods, built of poverty, HIV/AIDS and State violence. Well over half live in households headed by single women or girls. Of special concern are children living alongside incarcerated mothers and pregnant and breastfeeding women.
All of these statements come from United Kingdom government websites. And yet, somehow, Zimbabwe is now `safe enough' for asylum seekers to return to.
Sending people back to Haiti is a death sentence. The United States would disagree … or would it? This past week the US State Department released its 2010 Country Reports on Human Rights Practices. Haiti? "Alarming increases of sexual violence" against women and girls. Alarming increases of domestic violence. No effective agency to deal with sexual or domestic violence, and not much of a plan to do so. "Corrupt judges often release suspects for domestic violence and rape." Often. LGBT persons face constant violence. The prisons are a hotspot for violence, torture, cholera, and worse.
All of this comes from the US State Department.
If the government of the United Kingdom finds Zimbabwe perilous and the government of the United States finds Haiti perilous, how is it possible in the same breath to determine that Zimbabwe and Haiti are `safe'? In both Haiti and Zimbabwe, the prisons are a nightmare. Deportees to both countries typically `return' through an extended stay in prison. In both Haiti and Zimbabwe, cholera is on the rise, violence is epidemic, violence against women and girls is more than epidemic, and not only sexual violence.
Sending asylum seekers and prisoners to Zimbabwe and to Haiti is a death sentence. Whether the individual persons live or die matters … terribly. At the same time, the political economy of this moment is that the lives of Zimbabweans and of Haitians to the so-called democracies of the world are of no value. If you are Haitian, if you are Zimbabwean, you must just go. If you die, you die. If you live, perhaps you were fortunate, perhaps not. Either way, you are no longer `our problem'. Your country is `safe enough'. Just go.
(Photo Credit: http://www.marieclaire.co.uk)