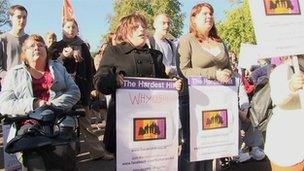 Over the weekend, thousands across the United Kingdom joined, under the banner of the Hardest Hit Campaign, to protest cuts that target people living with disabilities. These include changes in the disability living allowance system, cuts in local services, time limits for out-of-work support, and reductions in the support for parents with a disabled children.
The changes in disability living allowance involve a shift from the Disability Living Allowance to the Personal Independence Payment program. Under the new assessment regime, almost everyone on Disability Living Allowance loses something, and often they lose everything. How? They submit to a "fit-to-work test", a test that has proven horribly flawed in its elements and outcomes, but no matter. People living with disabilities must learn, or be taught, to pay for themselves. They must learn, or be taught, the lesson, "something for something." They must learn, or be taught, "independence". Personal independence.
And who will teach them? The testers. And who exactly are the examiners? The United Kingdom contracted that job out to Atos Healthcare: "Atos Healthcare provides independent medical advice to the Department for Work and Pensions (DWP). We conduct disability assessments for people claiming a range of disability … Each year Atos Healthcare process over 1.2 million referrals for medical advice completing over 800,000 face-to-face medical assessments within our nationwide network of over 140 medical examination centres."
That's an annual contract of around £100million-a-year. According to many, the assessments are, first, often way off. The stories are legion of people living with severe and immobilizing disabilities being deemed perfectly fit for "independence", meaning denial of services and funding. Second, the face-to-face meetings are intimately degrading. The tone of the entire process is felt to be prosecutorial. "Clients" are made to feel they must prove themselves both "deserving" and "beyond reproach." Who among us could pass the "beyond reproach" test?
The meetings themselves are also often demeaning. Women living with terminal illnesses, women who had worked all their lives are told they must come in and justify the end-of-life assistance they're receiving. They must learn the lesson of independence. Some Atos Assessment Centres, such as the one in Croydon, are inaccessible, and so those in wheelchairs must either scale 46 steps or take a 14-mile round trip to the next Atos center. If it weren't so bad, it would be laughable.
Women are particularly targeted. "Cuts for the disabled" targets women, "cuts for care providers for the disabled" attacks women even more specifically and more ferociously. And for the women living with disabilities who are themselves care providers … it's a nightmare.
For some, like Jennyfer Spencer, the nightmare is quite simply a death sentence. Spencer was wheelchair bound and placed in a fifth-floor apartment. For years, she protested and tried to get moved to a ground floor apartment. Finally, she died and was "discovered", later. Also discovered was a letter she had left for a local newspaper: "No human or animal should ever go through life as I did."
Of animals, Jeremy Bentham noted, "The question is not, `Can they reason?' nor, `Can they talk?' but, `Can they suffer?'" Can they suffer? For Jacques Derrida, Bentham's question of suffering is actually a question of inability: ""Can they suffer?" amounts to asking "can they not be able?"" If suffering, anguish, vulnerability are all part of a political economy of not-being-able, what is the State policy of rendering suffering, anguish, and vulnerability? When the State actually gets into the business of producing suffering, when the State actually gets into the business of outsourcing the production of suffering to a major corporation, one that, by the way, has already failed the competency test but "promises to do better in the future", what is that? What is it called when the State chooses to turn disability into inability, all in the name of independence?
(Photo Credit: BBC)