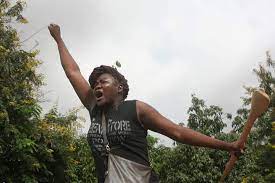 Last October, Burkinabé women picked up their spatulas and took to the streets, calling for the end of one-party and one-man rule. As women and as members of Balai citoyen, Citizen Broom, they charged the State with "a constitutional coup d'etat." And they won, and ever since they've been organizing. On Wednesday, the military took control of the government, and the women have kept on organizing. Once again, they have taken to the streets, spatulas in hand.
Unable to organize in Ouagadougou, the women brought broomsticks and spatulas to the streets of Bobo-Dioulasso, the second largest city of Burkina Faso and the country's economic capital. Once again, they demanded a clean sweep. Once again, women inspired others to principled, militant action.
Saran Sérémé, president of the Party for Development and Change, noted, "We must fight for the nation's well being and for justice. The Burkinabé people are ready to defend ourselves, whatever the cost. We find the situation deplorable. We will not bow down to anyone."
In Bobo-Dioulasso and across Burkina Faso, the women agree. They will not bow down, and they will stir the pot. In October of last year, hundreds of women marched, chanted, carried spatulas, and sparked an uprising, a spatula uprising. On Tuesday, tens of thousands marched in the streets. On Wednesday, a general strike was called, and soon after, the regime was swept out of power. The women did not put their spatulas away and they did not forget how to use them. The struggle continues.
Burkinabé women know the struggle continues. Women like Joséphine Ouédraogo, Genevieve Zongo, Mariam Sankara, and thousands of others know how to maintain the long march and the short sprint to democracy, while across Burkina Faso women hold on to their spatulas.
(Photo Credit 1: Twitter)