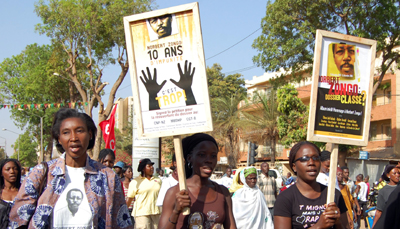 In October, women carrying spatulas took to the streets of Ouagadougou, and sparked an uprising that finally overthrew Blaise Compaoré. With spatulas and brooms, they pushed open doors and windows that had been long closed. Thomas Sankara's widow, Mariam Sankara, called for a real investigation into the circumstances of her husband's death. Joséphine Ouédraogo, a minister in Sankara's government, was appointed Minister of Justice. This week, Ouédraogo announced that she will re-open the investigation into the murder of Norbert Zongo, a prominent journalist who was killed in 1998. Genevieve Zongo, his widow, has been pushing for an investigation for the past sixteen years. Now, at last, as a result of women's organizing, that investigation will take place.
In December 13, the anniversary of Norbert Zongo's murder, Genevieve Zongo told the thousands of demonstrators who had gathered to demand justice, "I demand that that the perpetrators be arrested and judged for the full extent of their crimes." Burkinabé women never stopped demanding justice, for their loved ones, for themselves, for the strangers who had been imprisoned, tortured, murdered.
As a militant feminist, trade unionist, and journalist, Genevieve Zongo never gave up on the struggle for justice. First, she tried the Burkinabé courts. Then, in 2008, she launched the Ten Years campaign, and went international. In 2011, Zongo took her case to the African Court on Human and Peoples' Rights, in Arusha, Tanzania. On March 28, 2014, the Court "concluded that the Respondent State, Burkina Faso, failed in its obligation to take measures, other than legislative, to ensure that the rights of the Applicants for their cause to be heard by competent national Courts are respected. The Respondent State … failed to act with due diligence in seeking, trying and judging the assassins of Norbert Zongo and his companions. Hence, Burkina Faso simultaneously violated Article 1 of the Charter by failing to take appropriate legal measures to guarantee the respect of the rights of the Applicants pursuant to Article 7 of the Charter." The Campaoré administration did nothing in response.
But that's all changed now, thanks to the persistence of women, the road to justice and democracy is being built. Some of the women – like Mariam Sankara, Joséphine Ouédraogo, and Genevieve Zongo – are well known. Others are not. But the women's message across Burkina Faso is clear. The years of impunity are over. Women with spatulas and brooms and elbows and voices and dreams and aspirations and demands are pushing for more. Thanks to these women, a new day is dawning, and hopefully not only in Burkina Faso.
(Photo Credit: AFP)