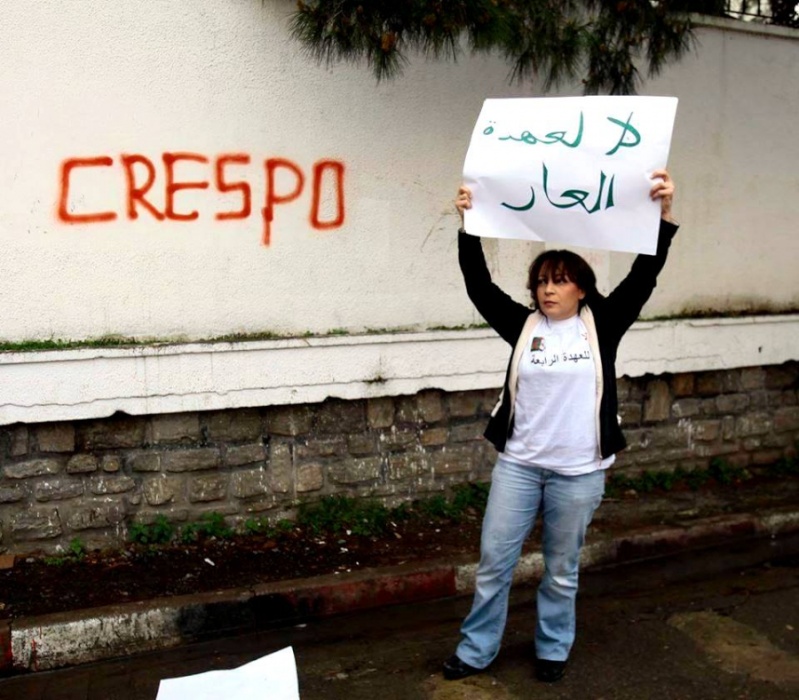 Enough! That's Amira Bouraoui's message for Algeria's President Abdelaziz Bouteflika, in office now for 15 years and running for another term. Bouraoui started a new, and yet not so new, movement in Algeria, a movement of  "Algériens indignés". Indignant Algerians. Algerians who refuse to be counted out or, worse, counted among the dead: "L'Algérien n'est pas mort, il réfléchit et il n'est pas d'accord." The Algerian is not dead. He thinks about what's happening, and he does not agree.
Amira Bouraoui is a gynecologist, a mother of two, and an ordinary woman. On February 22, before Bouteflika had formally announced his candidacy, Bouraoui showed up at the gates of her local university, stood there alone with a placard, and said, STOP. She said, Barakat! Ça suffit! It's enough! Around the world, people heard a woman saying, yet again, "¡Ya basta!"
Within two days, that singular action sparked a movement.
On Thursday, hundreds gathered in a peaceful demonstration and were met with police intimidation and, for some, brutality. Bouraoui was arrested. Of Thursday's demonstration, Bouraoui said, "We organized this protest not only to say NO! to a fourth term for Bouteflika, which would be a shame for Algeria, but also to promote the struggle to dispel people's fear of expressing ourselves freely and openly in our own country."
Around the world, women, individually and singularly and collectively and together, organize to say NO to patriarchy, domination, oppression, violence. Women organize to say YES to expression, sharing, collaboration, real peace, love.
Amira Bouraoui got up one day, kissed her children, and walked out the door. Alone, she carried a sign to the local university, because she thought and thinks students matter and education matters, and she said, NO! Barakat! Enough is enough! Ça suffit! And around the world … the world heard a woman saying, yet again, "¡Ya basta!" It was a woman's solitary, small gesture that lit up the sky.
That's the message for March 8, 2014, International Women's Day. ¡Ya basta! Enough! Ça suffit! Barakat!
(Photo Credit: Le Portail des Hommes Libres)