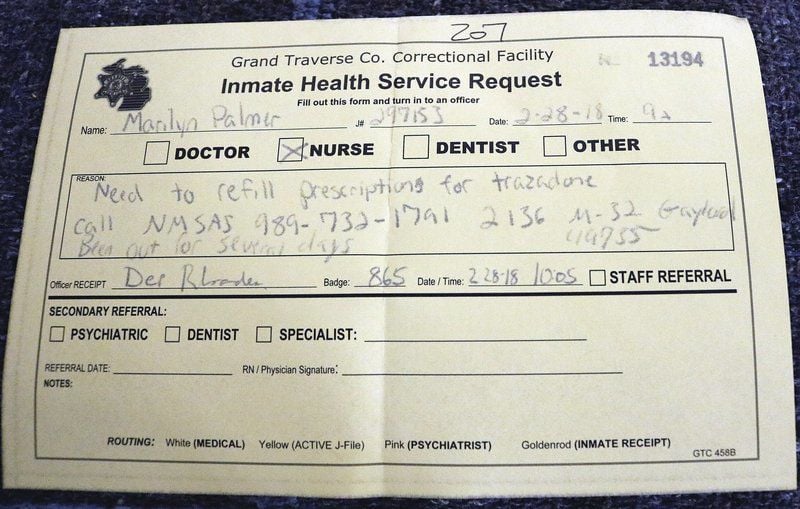 What happened to 36-year-old Marilyn Lucille Palmer? On February 28, 2018, Marilyn Lucille Palmer, mother of a 13-year-old son, was "found" hanging in her jail cell shower, in the Grand Traverse County jail, in Traverse City, Michigan. According to the Sheriff's Office, "She was unresponsive and not breathing." Since then, the Sheriff has maintained that the jail could use some help and funds, but basically everything is ok. Everything is decidedly not ok, not in the Traverse County Jail nor in jails across the United States.
On January 12, Marilyn Lucille Palmer pled guilty to one count of identity theft. She was sentenced to three months. She was to be released in May. The day before she died, she was denied a request for an early release. There is no early release possible for three-month sentences. Marilyn Lucille Palmer told her cell mates that she was distraught about missing Easter with her family and missing her son's thirteenth birthday. Additionally, Marilyn Lucille Palmer used Trazadone, an anti-anxiety medication. A little over a week before her death, Marilyn Lucille Palmer filled out a health service request: "I think I'm having detox symptoms because I have really restless legs and my anxiety is through the roof." On February 28, Marilyn Lucille Palmer filled out yet another health request: "Need to refill prescription for Trazadone … Been out for several days." Hours later, in response to cell mates' "panicked screams", Marilyn Lucille Palmer was found "unresponsive and not breathing."
What happened to Marilyn Lucille Palmer? She was dumped in a local, and nationwide, hole of systemic unresponsiveness … to women, to people of color, to those living with mental health needs, to those living with any health needs, to people.
In 2003, Amy Lynn Ford was sent to the Traverse County jail. Amy Lynn Ford was a recovering alcoholic who lived with epilepsy. She took Dilantin to control the seizures, but on the day she was booked, Amy Lynn Ford had not taken her Dilantin, because she had been drinking alcohol. She reported all of this to the intake official who noted the fact and then ignored it. Amy Lynn Ford was never given Dilantin. She was placed in an upper bunk, where she suffered a seizure, fell to the floor, and was seriously injured. She sued the jail, successfully, and, in 2007, was awarded $214,000. Judges and jury found that the County "exhibited deliberate indifference to and was the proximate cause of Ford's injuries."
Amy Lynn Ford was injured due to deliberate indifference. On July 22, 2017, Alan Halloway was "found" unresponsive and not breathing in the same Traverse County jail. Apparently, Halloway, who also hanged himself, was found for some three hours. The Halloway family is suing the County and jail. Their attorney, who has offered to represent the Palmer family as well, said, "Everybody wants to know what led up to this and how this was possible again. The whole place is dysfunctional from the top down. … We've been dealing with these problems for years and this all just needs to come to an end. How many more mentally ill people are going to kill themselves in that jail?"
In 2014, the National Institute of Corrections issued a report on the Traverse County jail. They found the jail ill equipped for "special populations". They found the cells worsened the health of those living with mental illness. They estimated that around 80% of inmates were living with mental illness; they found that suicide attempts had become a common occurrence. What's the word for an institution that exhibits deliberate indifference and in which suicide attempts have become the new normal? Jail.
In 2015, more people committed suicide in U.S. jails than over the preceding decade. In its most recent report, the Bureau of Justice Statistics notes, "In 2014, there were 1,053 deaths in local jails, an 8% increase from 2013 … Suicides, the leading cause of death, increased 13% between 2013 and 2014, from 328 to 372 … The suicide rate increased 8% between 2013 and 2014 to 50 suicides per 100,000 local jail inmates. Males accounted for the majority (900 deaths) of jail inmate deaths in 2014, but the number of female deaths (152) increased 22% between 2013 and 2014."
What happened to Marilyn Lucille Palmer, in 2018? She went to jail. She needed and asked for help; none came. She killed herself. She was found unresponsive. She went to jail.
(Photo Credit: Traverse City Record Eagle)