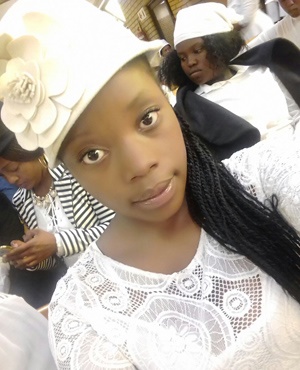 August 9, 2017. It's Women's Day in South Africa, a national holiday that commemorates the 1956 women's anti-pass march on the Union Buildings in Pretoria: "Now you have touched the women you have struck a rock: you have dislodged a boulder: you will be crushed."Wathint' abafazi, Strijdom! wathint' abafazi,wathint' imbokodo,uza kufa!" The women, 20,000 strong, sang that song on that historic day, and it has inspired, and continues to inspire. Inspirational as it is, it is a song of survivors, of those who lived to attend. Two weeks ago, in Gauteng not too far from Pretoria, 17-year-old Brenda Sithole committed suicide, or was killed, because she didn't have proper papers to attend school, and so … she's dead. She was not a rock. No boulder was dislodged. Brenda Sithole is dead. There was little notice at her death, and, today, August 9, 2017, who sings for Brenda Sithole?
Brenda Sithole's personal story is brief. When Brenda Sithole was three months old, her mother left. Her mother died before registering her daughter's birth. Brenda Sithole was raised by her aunt, Terry Sithole, and her father. Only recently was it discovered that Brenda Sithole didn't have a birth certificate. When they were about to sort things out, Brenda's father died. Brenda Sithole returned to school, explained the circumstances, and the school replied. According to Terry Sithole, "When school opened last Monday, she was told that the school wanted a birth certificate by the next day or she shouldn't come back."
That night, Brenda Sithole, by all accounts a happy child, a good student, a young girl with dreams for the future, went home, cut a piece of paper into the shape of a heart, wrote a note on that heart, and ended her life. The note reads: ""Am sorry. I do not mean to hurt anyone. Am sorry. I had loved and respected you all. I give my best to everyone but I felt like I did not belong here with you. I am only an embarrassment to you my family. I did not have a future even [though] I had big dreams that I wanted to see them come true but that was not going to happen because I was going to go to be kicked out of school because I did not have the rights like having an ID to show where I belong. I was just a normal person living my life at the [mercy] of God but yet that didn't pay up. Am just useless."
This is what happens in the state of abandonment. The State says that students must have birth certificates, and if a student doesn't, she's out. That's it. Brenda Sithole was seventeen years old, a child. She had big dreams. For her, there was no rock, there was no boulder. Today, on Women's Day, who sings for Brenda Sithole? And tomorrow?
(Photo Credit: News24)