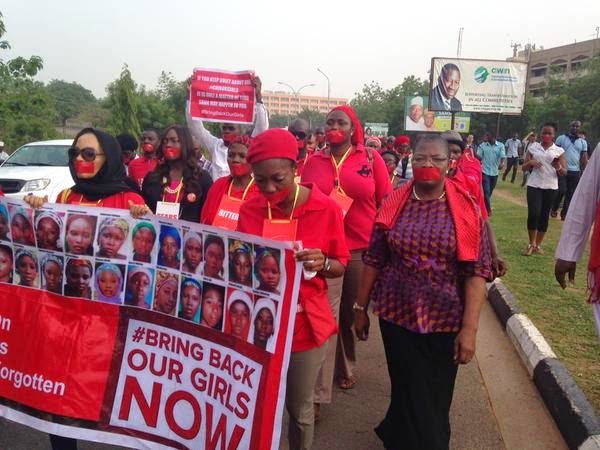 A year ago 276 high school girl students were kidnapped from Chibok boarding secondary school located in the state of Borno in the north east of Nigeria. One year later, clearly the national response and global response has been ineffective and disappointing since 219 girls are still missing.
The response from the former President Goodluck Jonathan was slow. Emmanuel Ogebe, a human rights lawyer, showed that the authorities' apathy was obvious. He interviewed the population and the girls who escaped three months after the kidnapping, and reported that no police or other forms of inquiry had taken place.
Meanwhile, the insecurity is real and affects everyday life in Borno, straining means of subsistence and the region's social balance. There is massive displacement of the population with 1.5 million forced out of their homes among whom 70% are women and children.
Since the beginning of 2014, over 2000 women and girls were killed in Nigeria.
Although the #BringBackOurGirls campaign got international attention with celebrities involved, a code of silence still sticks to the regular violence against women and youngsters in this part of the world.
While the killings in Paris were shocking and created the movements we know, the killing of 2000 people in Baga, Nigeria did not receive that same attention. BringBackOurGirls along with many activists have not given up. Malala Yousafzai, the Pakistani Nobel Peace Prize Winner who defends school education for girls, has declared, "In my opinion, Nigerian leaders and the international community have not done enough to help us."
When women are taken hostages and utilized in a military way, whose patriarchal interest does it serve?
Should we question the lack of clear engagement of some leaders in the region of Lake Chad where important reserves of oil have been found? This oil reserve is shared by Niger, Nigeria and Chad.
Chad's president, Idriss Deby Itno, has played a very obscure role, sometimes supporting efforts to control Boko Haram and sometimes retreating from the coalition. He also trapped the Nigerian president into a deal to get back the girls, last September, and then nothing happened. Boko Haram's chief has been seen in armored vehicles made in Israel and used by the Chadian army. The French government has supported Deby, and French companies have also had important interests in the region. Nigerian leaders claim Chad is exploiting Nigerian oil using new drilling methods, while Nigeria is destabilized by Boko Haram's assaults. The Chadian opposition organization, Mouvement du trois fevrier M3F, sees Deby as a pyromaniac fireman, spreading fire to better control oil exploitation in this area, thus expanding his political and economic control in the region, having already extended his stranglehold on the Central African Republic. Corporations from abroad enjoy a piece of the pie. Boko Haram's thuggery is aided and abetted by this collusion by governments and corporate interests. And the victims are the school girls, who are still unaccounted for, and the terrorized population.
The questions surrounding the girls' kidnapping and disappearance are a reminder that women's lives are subjugated to the interest of a market system that knows no limits in using manipulation and spreading violence.
The exploitation of Nigeria's oil reserves has a long history. Three decades ago, activists and writers tried to defend the precious Ogoni lands from being exploited by Shell Oil Company. The Nigerian government colluded with Shell Oil, which in turn was strongly supported by both the U.K. and the U.S. Nigeria tamped down the protests by executing the activists, despite international protests. Ken Saro-Wiwa, whose death, he himself predicts in his writing, clearly articulated and challenged the neoliberal corporate and political interests at the expense of the Ogonis. Today his words ring truer than ever as we see the brutal murder of women that mask the transnational neoliberal corporate and political greed to increase the oil fortunes of the one percent.
In this context, Boko Haram's members maybe viewed as modern mercenaries. Their main targets are women, and to complete their grip on the populations they also target schools, with 900 schools burned in northern Nigeria and some 176 teachers killed. They seek to normalize violence and vulnerability. But resistance continues to be organized and women's rights organizations have engaged in making these crimes visible. Resistance movements are not giving in. On March 14, one year after the abduction of the girls, a Global School March was organized worldwide. Women are demanding the newly elected Nigerian president Muhammadu Buhari who will start his mandate on May 29th to fulfill his promise and to step up the process to save these young women. The movement goes further and demands global protection of women and girls to teach and attend school and to enforce protection of rights. This is a global threat against women and against humanity, which is not poverty driven but driven by vested interests that impoverish and manipulate populations.
We cannot stop marching.
In Pramila Venkateswaran's "When they Hang a Poet," poet – activist Ken Saro-Wiwa protests neoliberal exploitation of the Ogonis, and is killed by the Nigerian government. But his words live on, and the protests continue. Try as they might, government and corporations will fail to snuff out the voices raised to preserve democracy free of violence 
When they Hang A Poet…
For Ken Saro-Wiwa
You spoke of a green earth—your dream
a filament of the earth's desire.
You wrote of Africa pillaging
herself, a prostitute "choosing"
her destiny. I see your blood
in my quiet hands, in the hands
of my country, in the hands
of every human being caught
in the clamor of living,
in the hands of corporate souls
on whom desire sticks like sin;
in the hands of your land, your sentence
is as extraordinary as a poet's nightmare.
They hanged Saro-wiwa: syllables shock the air
as leaves weep on the cold, cold dirt.
But your words spread like a rain-storm filling
decrepit croplands of the Ogoni.
(published in The Kerf, 1997)
(Photo Credit: bellanaija.com)