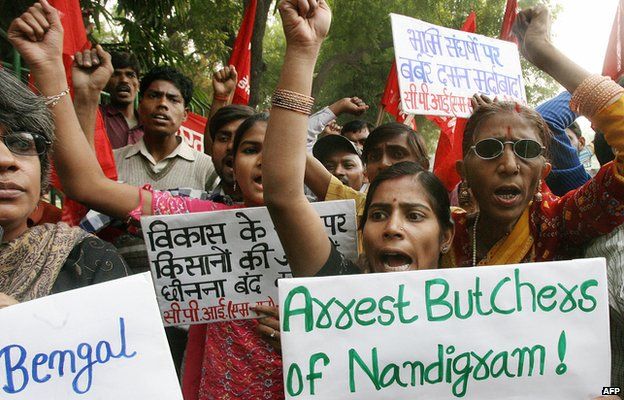 In India, last month, rural women shouted, "Enough is enough!" They marched, organized, and raised a ruckus about proposals to make corporate and State land "acquisition" easier and more "efficient." They marched by the thousands to Delhi to express more than opposition. They went to articulate the value of their presence. And they promised that if no one in authority listened, they would return by the tens and hundreds of thousands.
In 2013, the Indian government passed a Land Acquisition Act that addressed consent, public purpose and urgency, and social impact. While the 2013 law had issues, it began a process of democratizing land acquisition. Local populations had to be consulted. The State was under stricter guidelines and controls concerning its capacity to declare a public need or urgency and thereby seize land. Social impact, such as mass dislocation, would have to be factored in. These provisions have complicated large scale land purchase, and so the new government has decided to prove its corporate creds by erasing over 65% of the national population. After all, farming communities are surely the source of India's poverty, not "big capital [which] could get away with unconscionable waste, choke off all credit in the economy, externalise their costs on to society and flout regulation" and certainly not "the state [which] could fritter away vast land resources without any accountability."
The new bill has been called anti-farmer, anti-Dalit, anti-poor, anti-women, and so Dalit women, tribal women, poor women, and women farmers united and went to Delhi. Kallan, from Uttar Pradesh, explained the women's mobilization, "You see, men are scared of police. They flee at the first sign of trouble. We do not. Take us anywhere — to the police station, to the court anywhere, we will go… We will only go home when we get out patta (land documents)."
Sabubai, a tribal woman from Madhya Pradesh, agrees, "The farmers near our village sold off their land to the government, they wanted money and the land was to be used for a sugar factory. We are sharecroppers, we never owned the land. But we wrested it back from them. We have it now, but not the patta… we want the patta too."
Baldiya Rana, an Adivasi from Assam, asked why the State is "so desperate to cease tribal cultivation close to forests, however encourage tree felling for firms". Adivasis make up 8.6 percent of the Indian population, and 40 percent of those displaced by "improvement tasks." Of those Adivasis who have been displaced, only 21 percent have been resettled.
Dalit farm laborer Hiranya Devi, from Uttar Pradesh, noted, "If solely the landowner will get a job and rehabilitation in trade, then the lots of like me will come and fill your cities. Anyway, that's the place all of the street, electrical energy and water goes."
Konsa Bai, a tribal woman from Madhya Pradesh, put it succinctly, "We have no land. Only big people have land in the village."
Life for rural women has never been easy, anywhere in South Asia, and the everyday struggle for survival has always been hard. Where the food has been grown, hunger has always stalked women and children first. But recent years have been catastrophic. From 2001 to 2011, the number of women agricultural laborers increased 24 percent, while the total number of women farmers dropped 14 percent. Of nearly 98 million Indian women who have agricultural jobs, around 63% are agricultural laborers, dependent on the farms of others. Force women off their own land and then force them to return as laborers, in order to barely survive. It's an old story and a very new one, and it's part of the reason women marched to Delhi. They have seen the cost of `shining development', and they know it targets women, viciously and violently.
Last month, thousands of women went to Delhi to say NO to the theft and devastation of their lands and lives. They went to say YES to their own dignity, to affirm the value of their presence and lives. That was last month. And next month … ?
(Photo Credit: BBC / AFP)