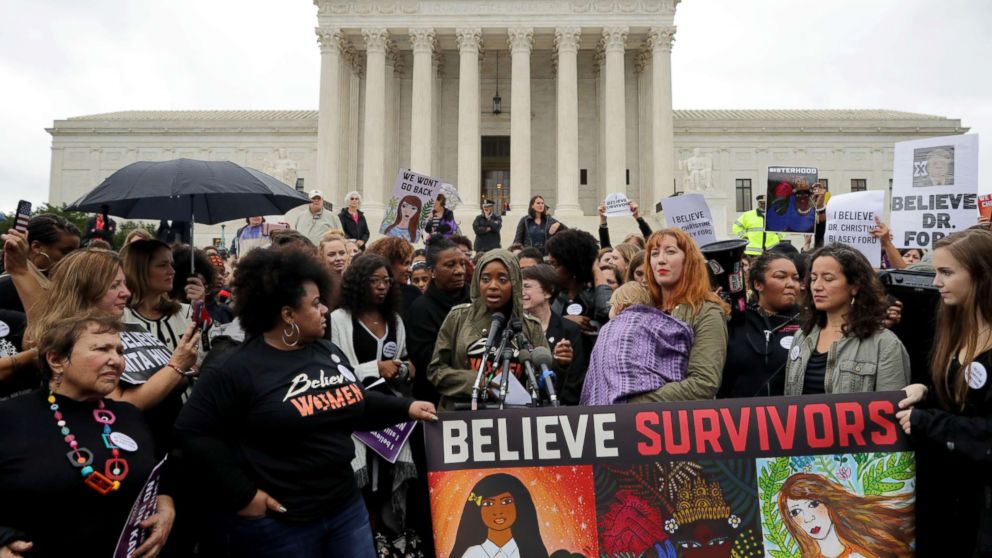 I'm proud of the number of women that showed up in defense of Dr. Ford. I'm proud to have had some part of their protest on the steps of the Supreme Court. I'm proud that the Women's March is still fighting for survivors. However, I would like to offer my opinion on what they should have responded when Trump called them "the mob."
I understand the attempt to tamper the speeches of men who would vilify them for committing acts of disobedience, for risking arrest and putting their bodies on the line. But, to the eyes of the oppositional parties and hard-right/alt-rights that have pushed their contempt of these women as mobs, as violent and dangerous, there is no way of appealing to their common sense.
There is no point in responding in long soliloquys about the beauty of the movement or the struggles that each woman faces because of the dangers of the Trump administration. The email sent to me ends touchingly, "This is who we are, who you are, Nichole: Moms, grandmothers, aunts, daughters, sisters. We're regular women, survivors and allies from cities and suburbs, and rural areas—who believe in our country, and are determined to make it better". It's supposed to better ground the public's understanding about who these angry women are and what they're trying to accomplish. They're simply trying to protect themselves and empower the women around them. That won't work.
Here's my proper response to the Trump administration and all the Republicans who shake their heads and declaim that the Women's March is violent, unruly, that women are hysterical, and that we should continue towards civility when protesting the dismantlement of our rights: f*ck you.
Let me say that once again, clearly. F*ck you.
We don't have to respond to an egotistical Twitter happy rapist and rape apologist. We don't have to respond to the smiling Southern gentlemen shtick while he demands cuts to entitlements that we've paid into for years. We shouldn't respond to the calls about our violent tactics while children have been separated from their parents, put into cages, abused and forcibly injected with psychotropic drugs. We should not and cannot legitimize administrations that consider erasing the transgender community while dismissing domestic violence as a legitimate reason for seeking asylum in the United States, and the list goes on and on. The damage heaped upon women, minorities, youth, the LGTBQ communities every group population in this country that isn't white men and privileged white women, is violence.
Where's your explanation for the violent and dangerous mobs of men in government destroying the lives of so many?
Civility and the call for civility is dead. Don't legitimize men who have only treated us with violence and death. Rage, be angry, and continue the fight. Don't waste energy with emailing a response to your supporters, and certainly not your opponents, explaining who you really are. Your supporters already know, they already applaud you. Your opponents couldn't care less.
(Photo Credit: ABC News)