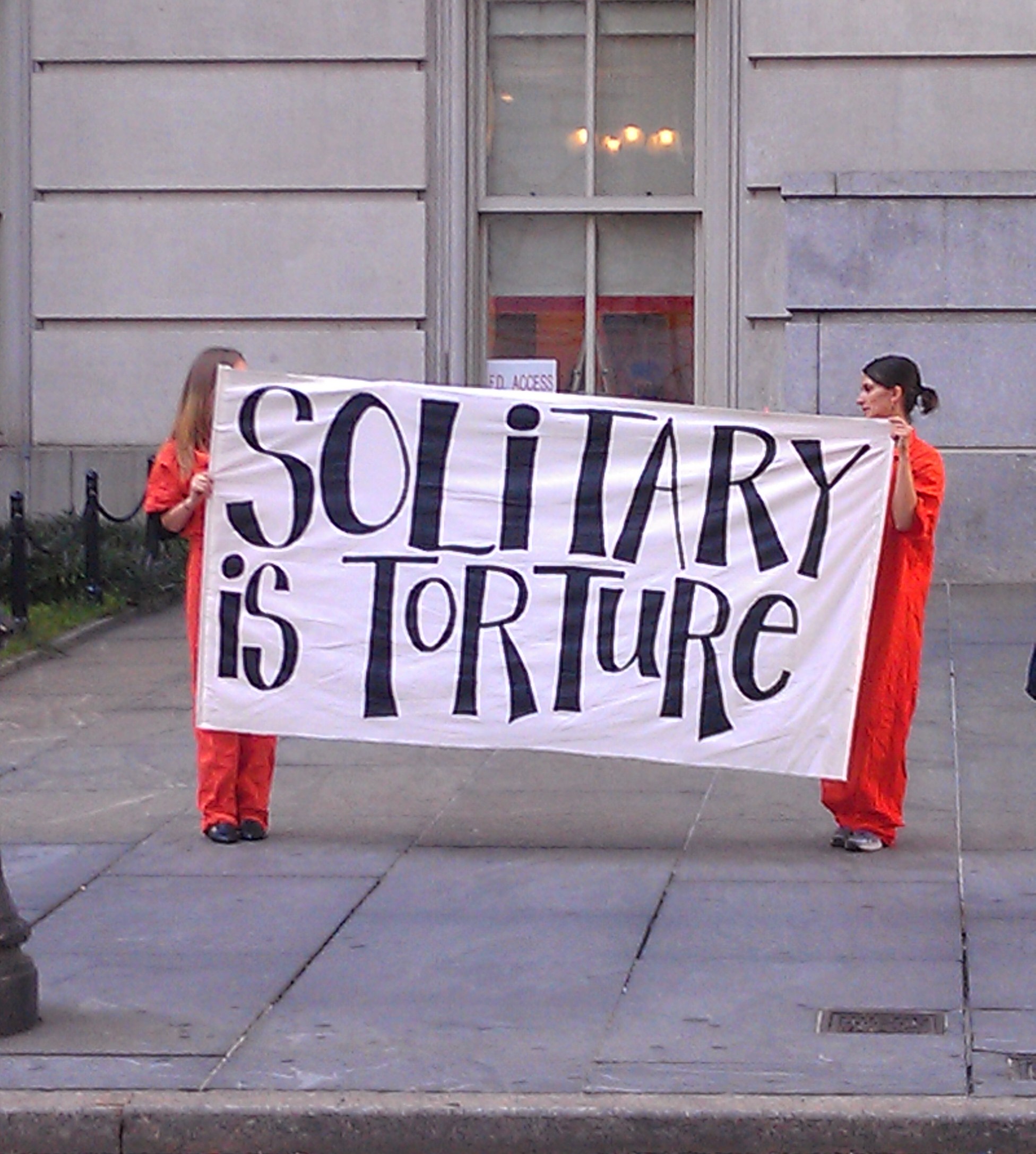 In 2012, under pressure led by Illinois Senator Dick Durbin, the US Bureau of Prisons began an internal audit of its `restrictive housing' policies. `Restrictive housing' means segregation and isolation. CNA Corporation was hired to do the study. At first, they were not going to include any women's prisons, despite the fact that every Federal women's prison has its own Special Housing Unit. Apparently, women just aren't special enough.
The report was completed in December and made public this week. One women's prison is included: USP Hazelton: "The USP Hazelton facility, which houses female SHU inmates, was included in the study in order to assess conditions in female restrictive housing. Currently, there are no female inmates in SMU or ADX status, largely because there is not a sufficient number to create specialized SMU or ADX female units."
In government speak, SHU means Special Housing Unit; SMU means Special Management Unit; and ADX means Administrative Maximum. There's one ADX unit, in Florence, Colorado.
Special Housing at some level is meant to be benign and protective: "Special Housing Units (SHUs) are housing units in Bureau institutions where inmates are securely separated from the general inmate population, and may be housed either alone or with other inmates. Special housing units help ensure the safety, security, and orderly operation of correctional facilities, and protect the public, by providing alternative housing assignments for inmates removed from the general population … Administrative detention status is an administrative status, which removes you from the general population when necessary to ensure the safety, security, and orderly operation of correctional facilities, or protect the public. Administrative detention status is nonpunitive, and can occur for a variety of reasons."
It's special and nonpunitive. It's protective and for your own good. The variety of reasons includes awaiting classification or reclassification; waiting transfer; being under investigation or awaiting a hearing; awaiting return. Other reasons include danger or threats from other inmates and danger to oneself. Of course, it's not that neat and clean.
There are three things you want to know about USP Hazelton.
First, "At USP Hazelton, 16 hours of psychiatry services are available per month for 600 female inmates. Given the traditionally high degree of expressed psychopathology in female incarcerated populations, this amount of dedicated psychiatry time is insufficient to meet the needs of the population. Understaffing in this area leads to potential under diagnosis, inadequate treatment, and delayed referral because the psychiatrist only has time to see the most severely mentally ill inmates."
Second, "Only the USP Hazelton Secure Female Facility did not have an SHU lieutenant assigned to manage unit operations. At Hazelton, the shift or operations lieutenant supervised the SHU, in addition to his/her other duties, and on occasion an extra lieutenant was assigned to the unit to supervise operations … The staffing of SHUs is consistent throughout the Bureau of Prisons facilities assessed. With the exception of the female unit at USP Hazelton, each of the SHUs was managed by the lieutenant that was designated as the SHU lieutenant, responsible for management and oversight of the unit."
Third, "In visiting the selected facilities, there was only one instance observed where a staff member was observed opening a cell door without having two officers present, in apparent violation of operational procedures. This was at the female facility at USP Hazelton and staffing levels in that SHU may have contributed to this violation, as there were few officers available to conduct the movements."
Why is USP Hazelton so `special' among the special housing units? Why is there no dedicated lieutenant? Why is there no recognition of the "traditionally high degree of psychopathology in female incarcerated populations"? Being marked as "special" in Federal prisons is bad for everyone, women, men, and especially children. Among the adults, women receive a special `special' marking, through omission. What makes Hazelton `special' is the lack of investment and concern. Having had mental health services in particular ravaged over the last decades, women enter prison to find further efficiencies carved out of their bodies and lives. The United States built a `special' hell for women, and sadly USP Hazelton is only one of its many levels.
(Photo Credit: Franciso Quinones / Solitary Watch)