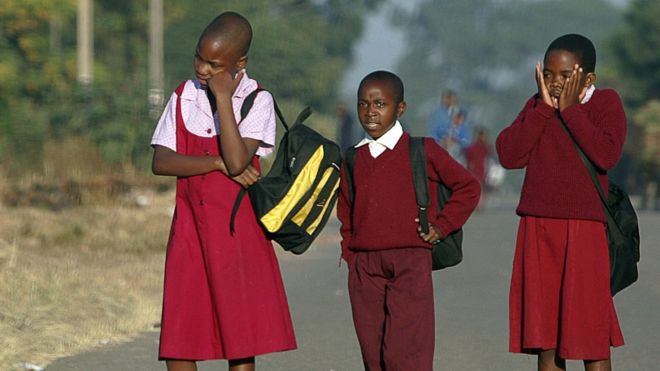 Linah Pfungwa is the mother of a six-year-old girl. Recently, the girl came home from school with multiple bruises. Linah Pfungwa's daughter reported that her teacher had beaten her with a rubber pipe because she did not have her parent's signature on her homework. Linah Pfungwa took pictures of her daughter, posted them to local social media, discovered that the practice of beating children in school was widespread, and said, NO! With support from the Justice for Children's Trust, Linah Pfungwa sued not only the instructor but the entire school system and, beyond that, the entire nation. Last week, the High Court of Zimbabwe agreed with Linah Pfungwa and declared that adults hitting children is a violation of the Constitution of Zimbabwe.
As Linah Pfungwa explained, "I believe that corporal punishment is violence against children and I do not believe that children should be subjected to any form of violence. I further believe that corporal punishment is a physical abuse of children. It amounts to deliberately hurting a child, which causes injuries such as bruises, broken bones, burns or cuts. In my opinion, there is no excuse for physically abusing a child. It causes a serious and everlasting harm and in some cases death."
Linah Pfungwa further noted that because of the beatings, her daughter couldn't sleep, didn't want to go to school, and was generally traumatized and afraid. That is not only wrong, it's a violation of the Constitution, she argued. As a parent, mother, woman, human being, Linah Pfungwa said that the way to engage with children, including when they should be disciplined, is through dialogue.
The High Court agreed, "The imposition of corporal punishment and any form of physical punishment to children by any person or persons including teachers, parents or relatives is ultra vires the provision of section 81, 51 and 53 of the Constitution of Zimbabwe."
This meant, first, that a provision that allowed for teachers' use of corporal punishment was declared unconstitutional and that that also extended to parents. Linah Pfungwa's lawyer, Tendai Biti, said, "We are very proud of the ruling as the papers showed there has been heavy assaulting of children in school."
While much remains to be done, from a further hearing at the Constitutional Court to retraining teachers – and parents – concerning the rights children hold to educating children themselves about their rights, this is a landmark decision and day, and we all owe that to the great work and labor of Linah Pfungwa. And yes, we all owe her praise and gratitude. With this decision, Zimbabwe joins 52 other nations that have outlawed corporal punishment, the most recent being France last December. Linah Pfungwa is one of the women – as women, citizens, residents, mothers, caregivers, witnesses and more – who are leading Zimbabwe, and the world, into a kind new world in which dialogue replaces violence, in which education means learning how to conduct ourselves as loving, decent, dignified human beings; how to encourage sharing and dialogue, rather than repression and violence; and how to form welcoming community.
(Photo Credit: BBC / AFP)