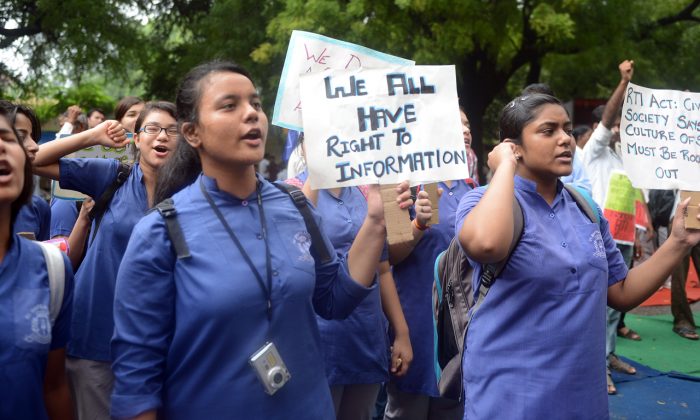 In the late 1980s, three activists – Aruna Roy, Shankar Singh and Nikhil Dey – moved to a village in Rajasthan, in the northwest of India, and set out to live by Gandhi's precepts. The plan was simple, ie to live simply. Out of that simple plan emerged, first, the "people's organization" Mazdoor Kisan Shakti Sangathan, "Movement for Workers' and Peasants' Power", or MKSS. MKSS has been at the forefront of India's Right to Information, Right to Work, and Right to Food movements, and they've had a stunning record of accomplishments, based broadly and deeply in the works and days of poor rural women.
What Roy, Singh and Dey found in Rajasthan is common enough. An agricultural zone, mostly single crop, relied on rain for survival. When the rains didn't come, as happened often, the men went off to find work and the women stayed behind. The men sent money, but it was seldom enough and irregular. So, the women had to find work and wages where there was none.
And so the women of Rajasthan organized, with and across the MKSS, and with Aruna Roy pulling, pushing, leading, following, listening, talking, organizing. After a long and mighty struggle, they won. In 2005 the Indian government enacted the National Rural Employment Guarantee Act, or NREGA. NREGA assures rural workers 100 days of paid employment, at minimum wage, in every fiscal year.
It was a major victory, especially for rural women. The only problem was wage theft and general corruption on the part of employers, both private and State. Again, what happened in Rajasthan is a common enough story. The women rejected and rewrote the master narrative.
They understood that the Right to Know is the Right to Live. They understood that part of their suffering and super-exploitation came from the fog at the contracts' end. And so, under the banner of MKSS and with the leadership of Aruna Roy, they pushed. They rejected their `destiny' of ignorance and submission, and demanded to see village records. And, again, they won. They won the right to know and the right to live.
Today, across Rajasthan, the information is in plain sight … literally. Across hundreds of thousands of walls, village governments are required to paint all of their budgetary decisions and contractual arrangements. It's some of the best and most exquisite graffiti in the world.
Aruna Roy and her colleagues didn't stop there. Once the information was available, they pushed for social audits. According to the Indian government, "Social Audit is an independent evaluation of the performance of an organisation as it relates to the attainment of its social goals. It is an instrument of social accountability of an organisation. In other words, Social Audit may be defined as an in-depth scrutiny and analysis of the working of any public utility vis-a-vis its social relevance. Social Auditing is a process that enables an organisation to assess and demonstrate its social, economic and environmental benefits. It is a way of measuring the extent to which an organisation lives up to the shared values and objectives it has committed itself to. It provides an assessment of the impact of an organisation's nonfinancial objectives through systematic and regular monitoring based on the views of its stakeholders. Stakeholders include employees, clients, volunteers, funders, contractors, suppliers and the general public affected by the organisation."
Who are stakeholders? Everyone … equally. That's the women's point. 100 days of employment is neither charity nor welfare. It is part of shared values and objectives, and it's not lodged in some impossibly complex cloud. It sits right in front of everyone, and everyone can and must evaluate its social relevance.
The social audit is, or can be, democracy in action. For MKSS, it involves obtaining information, through participatory research, and then holding meetings in which all stakeholders attend, and then finding out what's going on and whose responsible. The State of Andhra Pradesh has led the way in social audits, training and sending out thousands of researchers to engage with millions of residents, often door-to-door. The program is now being considered for national implementation.
At some level, all of this began with three people moving to a village in order to follow Gandhian precepts. At another, it's about the feminist Aruna Roy and the millions of rural women, first in Rajasthan and now across the country, who refused to be left out or written out, who organized, over decades, for a feminist understanding of democracy as a shared social engagement that is open and available to scrutiny and intervention. The Right to Information is the Right to Live … in a democracy.
(Photo Credit: RAVEENDRAN / AFP / Getty Images / The Epoch Times)