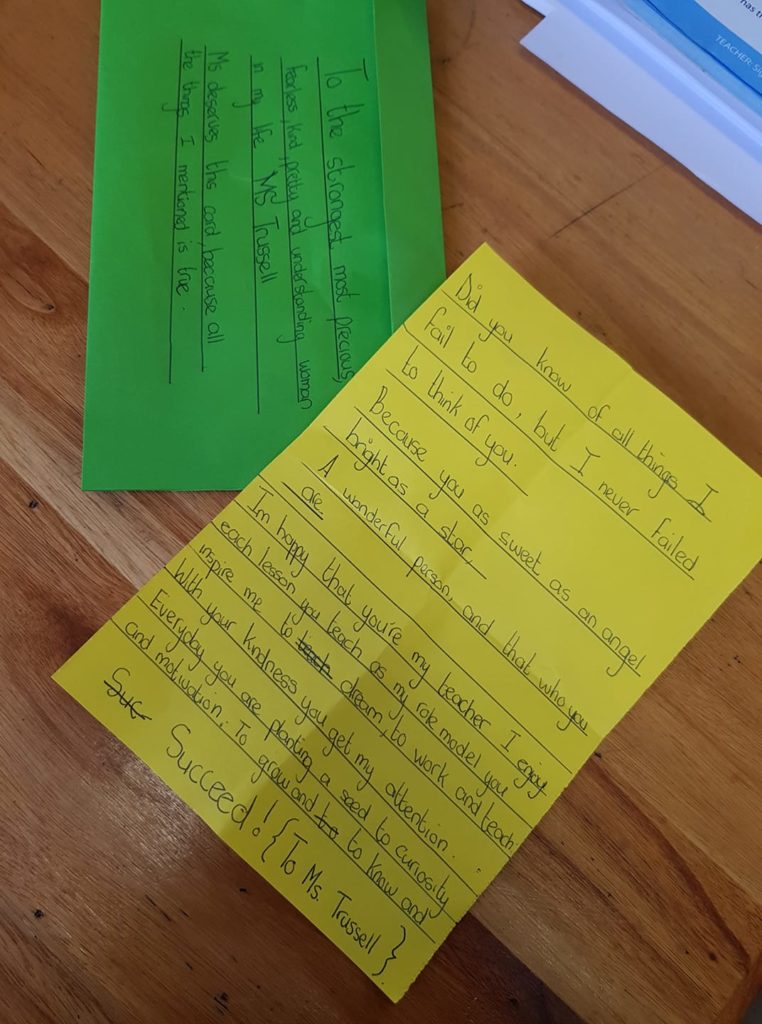 So you think you know what teachers do? Right? 
Wrong! You dont!!
You went to school so you think you know what teachers do?
We all know what teachers do, right? After all, we were all learners, students pupils at one stage. Each one of us, each a product of public education. We each sat in class after class for years. We encountered many teachers.
We had our Sub A teachers and our primary school teachers and our history teachers and our art teachers and our music teachers. We had our science teachers and our handwriting teachers and our English teachers and our math teachers. And we had gesondheidsleer teachers. And we had guidance teachers.
And we had principals.
And so you think you know teachers?
You get what teachers do?
You know what happens in classrooms?
You know which teachers are effective, you know which teachers left lasting impressions, you know which teachers changed lives, and you know which teachers were just the qaqqest teachers ever.
We know.
We know which teachers changed lives for the better. We know which teachers changed lives for the worse.
Teaching as a profession has no mystery. It has no mystique. It has no respect.
We were all students once, and therefore we know teachers.
We denigrate teachers.
We criticize teachers.
We can do better than teachers.
After all:
We know.
They teach.
We are wrong!!!!
We do not know what teachers do if we never walked a mile in a teacher's shoes!!
We need to honour teachers.
We need to respect teachers.
We need to listen to teachers.
We need to stop reducing teachers to arbitrary measurements of student growth and performance in exams.
Most of all, we need to stop thinking that we know anything about teaching merely by virtue of having once been students ourselves.
We don't know.
I spent twenty years of my life in mainstream, poor public schools as a teacher. Then I spent twelve years as a curriculum advisor in the education department, working at district, provincial and national levels. For the last 9 years I'd been teaching on continuing teacher professional learning programmes in the Centre for Pedagogy in the Ed Fac at Stellenbosch University. In addition, I did a host of other things in education at various levels and institutions. When my grandbaby came along in 2018, I took a decision to scale down and cut the travelling. I needed to spend time with KnoxCooper and besides, the travelling was tiresome.
I now had so much time on my hands. During the first term of this year I started itching. My Mondays to Fridays were free and most of what I did in the teacher professional learning programme happened during school holidays and over some weekends.
I literally came to a standstill and had lots of time to reflect.
And then I started itching.
I knew what the itch was about.
I knew I could not sit still.
I had to teach.
I had to teach children.
I knew I was made for this. When God wove me in my mother's womb, He planned for me to be a teacher.
And then the universe conspired and placed me right back into a school, teaching 160 grade sixes!!
How blessed I am!
And I'm simply loving it.
I missed managing a classroom. I missed reaching learners. I missed inspiring a love of learning. I missed inspiring a love for reading.
I wanted to inspire children again. I wanted to reach children again. I wanted to make a difference where it matters again.
I realised that I was respected more as a curriculum advisor and a lecturer and all the other hoity-toity profiles I held over the last 20 years, than how I was respected as an ordinary post level one public school teacher.
If you have never been a teacher, you simply have no idea.
You did not design curricula, plan lessons, attend parent meetings, assess projects and exams, design rubrics, set exams, prepare reports for parents or monitor learner attendance. You did not tutor learners, review their rough essays, or create study questions.
You did not assign homework.
You did not write daily lesson outcomes.
You did not teach poems or new words.
You did not mark homework.
You did not learn to write legibly on the black board while simultaneously making sure that none of your learners get killed behind your back, considering the low tolerance levels and high anger levels that learners come to school with.
You are not used to being told "Jou ma se poes", up to three times in one week by 12-and 13-year olds, because you're an old-school teacher and a strict disciplinarian.
You did not design lesson plans that succeeded.
You did not design lesson plans that failed.
You have never received the most endearing love letters from learners that wanna make you cry. (Like the one in the pic I received yesterday.)
You did not have to keep your learners quiet because the inspector is in the principal's office. (I prefer a buzz of activity in my classes.)
You did not learn how to teach functionally illiterate learners to appreciate great poems.
You did not design lessons to teach learners tight reading skills by starting with the lyrics to songs that they like.
You did not miserably fail some of the children you taught, because you had no books to give them.
You did not struggle to teach your learners how to develop a focal point for their essays, or bask in the joy of having taught a successful lesson, of having gotten through to them, even for five minutes.
You did not struggle with trying to make science vocabulary relevant to learners who did not have a single university or college, or even a library close to where they live.
You did not laugh, because you so desperately wanted to cry, when you read some of the qaq they write in their exams.
You did not struggle to reach children who proudly announce that they only came to school to make sure that their mothers don't lose their SASSA grants.
You have never spent all of New Years' Day crying five years after you'd left the classroom.
You did not.
And you don't know. You observed. Maybe you learned. But you didn't teach.
Let's show teachers just a little more respect. They are human too. They also have lives, and husbands and wives and sick babies and cats and dogs too.
The problem with teaching as a profession is that everyone everywhere in the world thinks they know what teachers do. And they don't.
So they prescribe solutions, and they develop policies, and they editorialize, and they politicize.
And they don't listen to those who know best. Those who can teach.
The teachers.