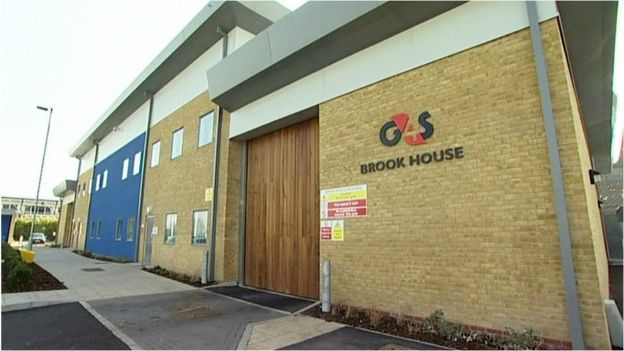 Yesterday, July 22, 2019, the U.K. National Audit Office issued The Home Office's management of its contract with G4S to run Brook House immigration removal centre, a report requested in response to a tv documentary, on BBC Panorama, aired September 1, 2017 that, using undercover footage, showed the abuse and worse heaped by staff on immigrant detainees at Brook House, a "notorious" Immigration Removal Center near Gatwick Airport. The Home Affairs Select Committee requested the report in March 2019. It took a year and a half for the abuse to make any difference whatsoever.
Brook House is "run" by G4S. The auditors "found" that "G4S made £14.3 million [$17.8 million] gross profit on running Brook House between 2012 and 2018." This single fact has grabbed the headlines: Brook House: "'G4S made £14m profit from immigration centre'"; "G4S made £14m profit from scandal-hit Brook House removal centre"; "G4S makes £14.3m from scandal-hit immigration centre amid lack of Home Office scrutiny, report finds". That G4S made huge profits off the misery of people seeking asylum and refuge is not surprising. In 2017, The Guardian reported that G4S earned a 20.7% profit margin at Brook House. There was supposed to be a limit to the profit margin of 6.8%, but what's a few percentage points among friends. When did stakeholders become shareholders? 
While many will focus on the private prison aspect of the story, the real story, and news, is in the contract, designed and approved by the State. According to the design of that contract: "The abuses documented in BBC's September 2017 Panorama were not a contractual breach and did not lead to substantial penalties under the contract. Under the contract, the Home Office can only award deductions for specific incidents of underperformance. Inappropriate use of force or verbal abuse of detainees are not counted as a performance failure under the contract. The Home Office and G4S's investigation of the footage counted 84 incidents. Most of these were either already reported or were not required to be reported under the contract … The Home Office concluded that the behaviour depicted in Panorama did not constitute evidence of systemic failures or a material breach of the contract and that it was not necessary to try to terminate G4S's contract."
Use of force or verbal abuse of detainees are not counted as a performance failure under the contract. The Panorama documentary alone had 84 instances of use of force or verbal use. According to the auditors, many others occurred regularly throughout the period under review. Use of force and verbal abuse was systemic but not a sign of systemic failure … because under the terms of the contract abuse of immigrants by State, be they public or private agents, is not failure. It's success.
When stakeholders become shareholders, asylum seekers and refugees become prisoners, hostage to a global economy in which their abuse is a sign of success and a victory for something called "justice". Brook House has been repeatedly designated a hellhole, and yet, there it is, still standing, still regularly being "discovered" by the media, the State, and everyone else who refuses to listen to the reports of migrants. How many times must we `discover' Brook House is a hellhole before shutting it down?  How many times must we `discover' the architecture of our intensifying inhumanity before we tear down the walls and build a new house?
(Photo Credit 1: BBC) (Photo Credit 2: Left Food Forward)