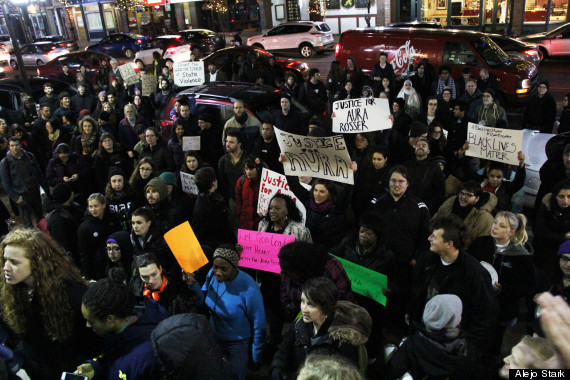 A year ago, Aura Rosser moved from Detroit to Ann Arbor to start a new life, and by many accounts, she was succeeding. On November 9, however, she and her partner were fighting. Her partner called the police. Two police officers arrived. One of them shot and killed Aura Rosser, who apparently held a knife in her hand. Then the police department went silent. The ACLU and the Ann Arbor Independent filed Freedom of Information Act applications. Students and townspeople organized. The officers were named. The Ann Arbor City Council voted to equip police with body and car cameras. The lack of cameras did not kill Aura Rosser. A man with a gun killed Aura Rosser.
Students, led by Kyera Singleton, have mobilized communities across Ann Arbor and beyond. Singleton explained, "It's really important that we break the silence about who's a victim of police violence. We can't be silent when it happens to a woman and then go out and march when it happens to a man. … These national movements often take place around the bodies of men, and then black women may get erased."
Aura Rosser's sister, Shae Ward, agrees. She knew Aura Rosser and doubts that she would have actually attacked anyone, much less someone with a gun. Who was Aura Rosser? According to Shae Ward, "She was very artistic. She was deeply into painting with oils and acrylics. She's a culture-type of gal. She was a really sweet girl. Wild. Outgoing. Articulate." She was also the mother of three children.
Now, communities are trying to raise money for the funeral and for the children. Many are asking where the State is in all this. They argue that the State, in this instance Ann Arbor, killed a young Black woman, and the very least it could do is to bear the expenses of her funeral. Ann Arbor has opted to purchase cameras for police bodies and cars.
Shirley Beckley, 71 years old, went to the City Council and demanded a different kind of payment. Respect. Dignity. She asked for three minutes of silence. This request actually confused the City Council, but finally, after the Mayor laughed, they allowed for three minutes, three whole minutes, of silence.
Black women's lives matter. Cameras will not stop the State assault on Black women's lives. They will only record and document the assaults. In the same way that prisons have not reduced crime, because they never were intended to, cameras will not reduce State violence against Black women, people, or communities. Only a fundamental change in policing practices and cultures will begin to do that, and that change begins with this: Black women's lives matter.
(Photo Credit: Huffington Post / Alejo Stark)