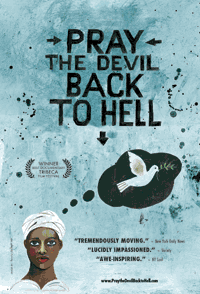 The rebels fought for resources. Charles Taylor fought to stay in power. Young boys were recruited to fight in a war they barely understood. And the women of Liberia, they fought for survival, theirs and Liberia's.
Pray the Devil Back to Hell is a gripping, tear-jerking, yet empowering story of the resilience of the human spirit and the capacity of our survival instinct to triumph over the greatest challenges.
The film's early scenes are set in 2003 when a group of Liberian women begin organizing themselves to get an audience with President Charles Taylor. Taylor was disinterested: his full attention lay in proving his military prowess as he fought rebels across the country. The women persisted: dressed in white dresses and white headscarves they gathered in hundreds and waited by the roadside for Taylor to pass by and notice them. For days, they continued meeting, until he finally relented.
Leymah Gbowee was one of these women. She says she was exhausted by war's sorrows and destruction and yearned for a return of normalcy. Together with other women groups she formed the Liberian Mass Action for Peace, a coalition of women's groups that included both a Christian and a Muslim women's association. They were up against men who were not afraid of raping or killing women in their community. Their religious conviction was not unique however. As Gbowee says of Taylor, who would later be charged in an international court on actions committed during those violent times, "he could pray the devil back to hell." Taylor like many Liberians went to church and prayed.
So these women took courage, prayed for peace and believed their prayers answered when Taylor finally agreed to meet with African leaders in Ghana for peace talks. Gbowee and hundreds of other women followed him there in eager anticipation.
To their dismay however, Taylor and the other warlords were not interested in ending the war. Resolving never to quit, the women decided to press on in faith, and thus began the sit-ins.
I spoke with the film's award-winning director Gini Reticker.  She says, "the role of women is often neglected when telling history." For years, international journalists covered the Liberian war, yet Reticker found very little footage on the struggle of the women of Liberia to end the war; this in spite of their very open and significant. It was not difficult to find them, they sat in market places, called on the president and even traveled to Ghana for peace talks. They were central to the peace effort, and it would be difficult to overstate their importance to the peace effort, and to compelling progress at the peace talks.
Reticker says she "made a point not to include violent images… its almost pornographic." Instead through five women, of different vocations and backgrounds, the story of Liberia is told, or told anew. This retelling is different from the story most people know, for as Reticker says, the traditional approach has been informed by the fact that "the sight of a young Liberian man holding a gun is a more compelling story than that of a woman organizing for peace."
In times of increasing global tensions, and endless news of strife and crises within countries, conflict and the potential for conflict threaten to disrupt more lives than they have in several decades. The example of this group of women in Liberia, determinedly waging peace against great odds gives many communities around the world, besieged by the trauma of war, the hope that they too can prevail.
For this reason, the film has among other places been shown in the Congo, in Iraq and in Darfur. Following the film's screening women in Kurdistan and Georgia have written peace agendas for the future of their communities.
For victims of war, and particularly raped women, the film undoubtedly takes them back to those traumatic times, opening up old wounds, but perhaps also uniting and emboldening them and the rest of society in common resolve in their present struggles. These empowering stories, and the accounting of a lengthy healing process, are a testament to how far Liberia and the survivors of its civil war has come.
And for others the film will offer courage, hope and a determination that no struggle is too big to overcome.
(Photo Credit: Global Citizen Journey) (Video Credit: YouTube)